Change Your Toothbrush Every Three Months
July 26, 2011 5 Comments
By: Ken Nelson, DDS, Dentistry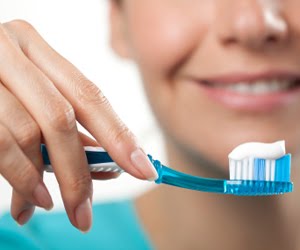 Remember . . . Change your toothbrush every 3 months or every 3,000 smiles!
Many of us do not even give our toothbrush a second thought.
We receive a new toothbrush every time we visit our dentist for a check-up and dental cleaning and that is enough for us right? WRONG! Sadly enough most people change the oil in their car more often then they change their toothbrush.

Be sure to change your toothbrush, or toothbrush head (if you?re using an electric toothbrush) before the bristles become frayed. When the bristles get this way they do not effectively clean the crevices of the teeth.
Studies show that a new toothbrush can remove 30% more plaque than a toothbrush that is three months old. The American Dental Association has long recommended that patients change their toothbrushes every three to four months. Many toothbrushes now come with color indicators to indicate when it is time for a change.
Something else you should know is that old toothbrushes may harbor harmful bacteria that can cause infection such as gingivitis and periodontitis. Consider running your brush through your automatic dishwasher to disinfect between replacements.
Just as you change the oil in your car because you want to protect that investment change your toothbrush because there is no bigger investment then you and your family.
Remember 3 months or 3,000 smiles!
West Bay Dental, PC --- No Cavity Club List -- August 2011
These children, 12 and under, scored a cavity free check-up at their last dental appointment. We congratulate them and their parents for practicing good oral health.
Grace Avila
Mitchel Christensen
Wil Rouech
Katie Tallman
Christopher Tallman
Miranda Fish
Dylan Slachta
Calista Hernandez
Jayden Kloska
Parker Holzhei

Special congratulations to Katie Tallman, who was the winner in our children's no cavity drawing and to Brian Slachta who won the gift card in our adult drawing.



Or Contact Dr. Ken Nelson at:
800 S. Euclid Ave, Bay City, MI 48706
(989) 686-5410


---
(Prior Story) Ask The Experts Article 6124 (Next Story)
---

Ken Nelson, DDS, Dentistry




Dr. Nelson has served patients at West Bay Dental since 1985. Dr. Nelson provides most dental services with an emphasis on cosmetics, full mouth reconstruction, oral surgery and implants.

More from Ken Nelson, DDS, Dentistry
---
Send This Story to a Friend!
Letter to the editor
Link to this Story
Printer-Friendly Story View
---
--- Advertisments ---