Holiday Over-eating Recovery
Got 3 Days?
November 26, 2011 Leave A Comment
By: Julie McCallum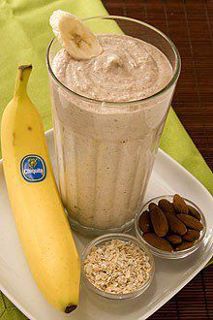 There are many different recipes for Shakeology including this Banana Smoothie
Do you over eat at the Holiday Meals?
Do you usually gain weight over the holiday season?
Got 3 days ?
Well here is an option, to recover from all those extra calories and high fat foods consumed during the Holidays.
The 3 day
Shakeology
cleanse. And it does not include any workout at all.
(It is three shakes a day for three days.)
Statistics show that the average person has 25 pounds of weight in your intestines. Want to get slim and thin? This is a good way to get rid of that bulk.
Personally I lost 7 pounds in three days on this cleanse and this is probably why it stayed off.
I was never starving or hungry through out the three days, actually I didn't even feel like I needed the third shake.
(If you can only do it for 2 days, that's better than nothing)
It is approximately, 800 to 1,100 calories per day. It's also good to do before starting a new workout program or if feel you need help breaking through a plateau.
You can do anything for ONLY 3 days. Right?? Child's play. This is what it entails :
THREE DAYS IN A ROW, Daily Regimen:
1 cup of green tea to start the day
Breakfast:
1 scoop
Shakeology
(140 calories) 1/2 cup of fruit (60 to 90 calories)- optional Ice to taste 8 to 10 oz. of water
Optional Snack 1 (85 calories): 1 piece of fruit (apple, pear, orange, banana mango, etc.)
Lunch: 1 scoop Shakeology (140 calories) Ice to taste 8 to 10 oz. of water 1 cup of green tea or a detox tea
Optional Snack 2: (you can have the second snack before or after dinner) 1 scoop
Shakeology
(140 calories) Ice to taste 8 to oz. of water
Dinner: Salad with grilled white fish or poultry (roughly 340 calories) Salad Ingredients: Greens' 3 servings of vegetables, plus 4 oz. of grilled white meat (fish or poultry) 2 tablespoons of dressing - no more! (Olive oil and Apple-cider vinegar recommended)
Have Questions ? Email me
JujuMcCool@BeachbodyCoach.com
---
(Prior Story) Health/Fitness Article 6507 (Next Story)
---
---
Send This Story to a Friend!
Letter to the editor
Link to this Story
Printer-Friendly Story View
---
--- Advertisments ---