This is "Ron White" Funny . . .
January 8, 2012 2 Comments
By: O. J. Cunningham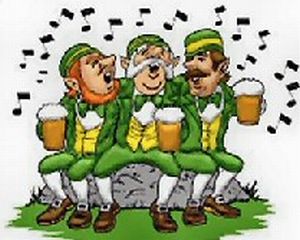 "But it did happen to me sister quite a few times!"
A conversation between three patrons in an Irish pub went like this:
"As good as this bar is," said Angus the Scotsman, "I still prefer the pubs back home. In Glasgow there's a wee place called McTavish's. The landlord goes out of his way for the locals.
When you buy four drinks, he'll buy the fifth drink!"
"Well, Angus," said Raleigh the Englishman, "at my local in London, the Red Lion, the barman will buy you your third drink after you buy the first two!"
"Ahh, dat's nothin," said Pat the Irishman, "back home in Cork, at my favorite pub, the moment you set foot in the place they'll buy you a drink and then another, all the drinks you like.
Then, when you've had enough drinks they takes you upstairs and sees dat you gets laid, at no charge, all on the house!
The Englishman and Scotsman were suspicious of the claims; nonetheless the Irishman swore every word was true.
But they still asked, "Pat, did this actually happen to you?"
"Not meself personally, no," admitted Pat the Irishman, "but it did happen to me sister quite a few times!"
---
(Prior Story) That's Funny Article 6565 (Next Story)
"The BUZZ" - Read Feedback From Readers!
Anonymous Says: On January 24, 2012 at 10:41 AM

Real tasteful.
Better Than U says: On January 24, 2012 at 01:55 PM

Seriously . . . Dude . . . LIGHTEN UP . . . The headline even SAYS it's RON WHITE FUNNY . . . What did you expect? Bible Stories?
---

O. J. Cunningham




O. J. Cunningham is the Publisher of MyBayCity.com. Cunningham previously published Sports Page & Bay City Enterprise. He is the President/CEO of OJ Advertising, Inc.

More from O. J. Cunningham
---
Send This Story to a Friend!
Letter to the editor
Link to this Story
Printer-Friendly Story View
---
--- Advertisments ---