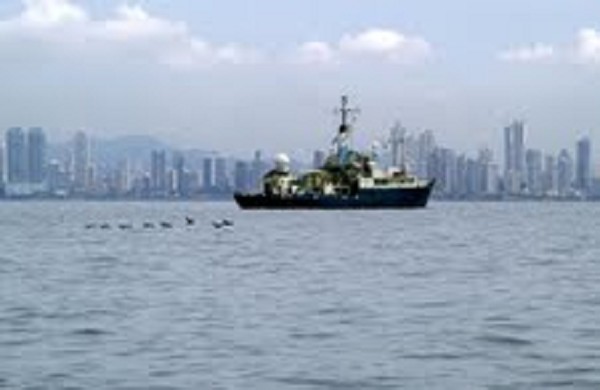 R/V Knorr works off Panama City, Panama, trailed by flocks of birds. (WHOI Photo)
---
GLOBAL WARMING! Bay City Built Ship Explores Asia, Europe Pollution
Defoe-Built Knorr Research Vessel Passes Million Miles, Seeks Answers
The Research Vessel Knorr, built by the Defoe Shipbuilding Co. in Bay City, found Titanic in 1985 and now its crew is working on bigger stuff: finding the cause of global warming.
Crew members on Knorr have joined with scientists to measure chemical pollutants transported to the Arctic and learn how they may be sparking new chemical reactions in the ocean and atmosphere and contributing to warming in the Arctic.
Dallas Murphy of WHOI explains the project: "Our exports to the Arctic have indeed disturbed the balance of nature, thus introducing changes that cannot be adapted to. The entire world is warming, but the warming in the Arctic is more extreme than anywhere else.


"Arctic-rim cultures have watched their climate lurch from one state (ice) to something approaching its opposite (little or none) in a single generation. It's not their fault; they emit no greenhouse gasses.
"Reputable, vocal scientists such as James Hansen, Mark Serreze contend that a seasonally ice-free Arctic Ocean is both inevitable and imminent. Ice is the identity of the Arctic, the foundation of the ecosystem, the entity around which humans and animals have adapted. There is no adapting to its absence."
The Knorr, operated by Woods Hole Oceanographic Institution (WHOI), took scientists 7,394 nautical miles over six weeks on expeditions to sample and study Arctic water and air. It was the northernmost journey on record for the 42-year-old Knorr.
Amy F. Neavalot reports the Knorr has passed a milestone: one million miles and counting.
Two round trips to the moon. Forty trips around the Earth. That's how far the research vessel Knorr has cruised in 36 years at sea.
Knorr, capable of traveling around the world for ocean research, is best known for carrying researchers to discovery of the Titanic wreck in 1985.
The 279-foot vessel, which was launched in 1970 and travels about 11 nautical miles per hour, passed the million-mile mark last year in the Golfo de Ancud, along the coast of Chile.
Captain A.D. Colburn said Knorr passed the milestone while traveling to Puerto Montt, Chile, after a 46-day science expedition in the Southern Ocean off Antarctica. WHOI commented on its website: "The crew marked the occasion by ringing the ship's bell and blowing the whistle. That night on shore, they toasted the event with champagne."
Knorr and the research vessel Melville, also Defoe built, are among the ships in the current University-National Oceanographic Laboratory System fleet to have topped one million miles.
The Knorr's activities have broadened, the institute reports. "In the late 1950s, pilots flying over the Arctic began having trouble seeing long distances, their vision cut short by a mysterious, reddish-brown fog. What they were seeing is now known as 'Arctic haze,' a mix of dust, black carbon, and chemical pollutants churned out by factories and vehicles in Europe and Western Asia. With little springtime rain to clear the Arctic air, it tends to float for weeks at a time over parts of Earth's northern pole.
To reach the Arctic, Knorr traveled from Cape Cod through the Long Island Sound, where scientists took air samples to analyze pollution emitted from New York City. The ship then motored across the Grand Banks and Georges Banks bound for the Norwegian coast.
"The weather going across and up was pretty rough the whole way, and we were heading almost right into it," said Knorr's captain, Kent Sheasley.
Getting there was slow going. At times, the vessel's progress was reduced to 3 knots, or about 3.5 miles per hour. But scenic springtime views of Iceland, the Faroe Islands, the west coast of Norway, and finally an area of ice-free Arctic Ocean made up for high seas and gales, he said.
Though powerful, Knorr is not an icebreaking vessel, lacking a reinforced hull and the specific bow design for plowing through sea ice, the skipper explained. Still, scientists on board needed to get close to the ice pack to compare differences in seawater near and far from the ice edge.
"The chemical reactions involved and ice conditions required for them to occur are not fully known," said the expedition's co-chief scientist, chemist Patricia Quinn of the National Oceanic and Atmospheric Administration (NOAA) Pacific Marine Laboratory in Seattle. "If we learn more about what causes them, we will most likely have a better understanding of Arctic chemistry in general. This really is basic research and all the implications are not fully known."
The researchers will examine how chemically reactive industrial particles affect the formation of clouds and the destruction of ozone in the atmosphere, for example. Data from the region are scarce, Quinn said, so gathering current concentrations of pollutants will provide baseline information to gauge changes in the future.
Without icebreaking capabilities, scientists could only skirt the ice edge and relied on Sheasley to navigate Knorr "as close to the ice as he felt safe and comfortable," said Quinn. In search of this edge, they passed Svalbard, Europe's northernmost territory, located inside the Arctic Circle.
"We had a fairly large gap in the pack ice, so we were able to get up to 80°14'N latitude," Sheasley said -- a new record for Knorr. "We stayed there for the better part of a day. The visibility was only about four or five nautical miles. It was obviously cold outside while looking at the ice pack, which was about 200 meters off the ship, and we were surrounded by sea smoke. It all added together as a beautiful, quiet, and somehow eerie scene."
However, incoming reports on sea ice conditions indicated they needed to depart soon.
"As we made our way back south a little, to get around the ice edge, the gap that we had been sitting in closed in, down to the coast of Svalbard," Sheasley said. "We were lucky with timing, as from then on, we would not have been able to get back up above 80° without running into heavy ice."
Sheasley also maneuvered Knorr within slender fjords off the northern tip of Norway and Russia so scientists could measure air quality near those countries' coastal smelters. Once, Knorr sailed downwind of a small fleet of Norwegian fishing boats, and scientists on board turned that encounter into a science experiment.
"I decided to call one of the boat captains to ask if they minded us getting very close, as they had very clean exhaust, and we wanted to check it out a little better," Sheasley said. "The captain didn't skip a beat, though I'm sure he thought us crazy, and said 'I'll stay steady and you get as close as you want to smell my exhaust.' It was fairly funny, especially given the language difference, though he spoke very good English."
Though the crew avoided potentially dangerous encounters with sea ice, there seemed no way to avoid ice buildup on Knorr's decks, lines, and rails.
"The biggest battle seemed to be keeping everything from freezing," Sheasley said.
Knorr crew members chipped and pounded away a steady supply of frozen sea spray on the vessel and cleared away snow. This provided scientists safe and routine access to their equipment on deck. Knorr's forward decks had undergone $240,000 in structural modifications to accommodate 11 heavy, instrument-filled steel containers resembling small mobile homes, called vans.
Each van was secured to decks on the bow, upwind from the ship's smokestacks, so that dozens of instruments inside, and mounted on their exteriors, could draw in air samples.
"It was a daily routine to thaw out the air and water lines between (scientists) vans on deck," Sheasley said. "We also did have ice buildup around the ship, as well as a constant light dusting of snow while in the higher latitudes."
"We got far enough north to measure Arctic haze," Quinn said. They highest concentrations of particulate sulfate were measured during the northern-most portion of the cruise, on the edge of the ice pack. The researchers determined that this sulfate was transported from a northern mid-latitude region and found evidence that its source might be burning crops in Eastern Europe.
"Our goal now will be to determine the climate impact of these pollutants and how they, in addition to greenhouse gases, are contributing to the warming of the Arctic," Quinn said.
These measurements also will provide a baseline for Arctic air quality before further melting of the Arctic ice pack results in more ship traffic and more pollution, said Tim Bates, a research chemist at Pacific Marine Environmental Laboratory and co-chief scientist on the cruise. Next, Quinn and several other scientists on board will turn their attention to the West Coast, as they prepare to look at air quality off California.
The ICEALOT expedition, part of the International Polar Year, was supported by NOAA's Atmospheric Composition and Climate Program. Funding for Knorr's modification came from NOAA, the Office of Naval Research, and the National Science Foundation.
R/V Knorr is named in honor of Ernest R. Knorr, a distinguished hydrographic engineer and cartographer who was appointed Chief Engineer Cartographer of the U.S. Navy Hydrographic office in 1860. Knorr was one of the leaders of the Navy?s first systematic charting and surveying effort from 1860 to 1885. ###
---
(Prior Story) Outdoors Article 007140 (Next Story)
---

Dave Rogers




Dave Rogers is a former editorial writer for the Bay City Times and a widely read,
respected journalist/writer in and around Bay City.
(Contact Dave Via Email at carraroe@aol.com)

More from Dave Rogers
---
Send This Story to a Friend!
Letter to the editor
Link to this Story
Printer-Friendly Story View
---
--- Advertisments ---