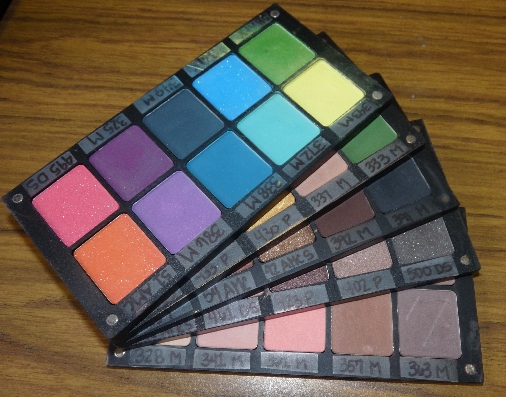 Look Mom! I'm a Make-Up Artist!
January 8, 2012 Leave A Comment
By: Diane Szczepanski
My heart had palpitations when Ashley J. Beard, an independent "make-up" artist, wheeled her cosmetic case into the MyBayCity offices.
When I realized she couldn't carry her products case and that it had to be
wheeled
around, due to the amount of cosmetics inside, I KNEW it was going to be a fun interview.
Owning 53 lip glosses, 5 mascaras, 6 different foundations and more eyeshadow and eyeliners than I can count, does not make me a professional like Ashley. But, it does make me a pretty serious connoisseur of all things we women use to enhance our features.
Ashley and I were about to become fast friends.
---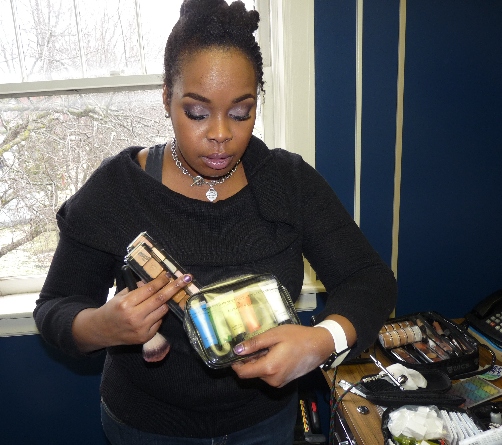 Showing me some of the products in her traveling carry case
One of the first things a person notices about Ashley, is not only how naturally lovely she is, but also the beautiful application of cosmetics, which completely embellishes her own beauty.
The second thing you notice as she begins taking out her products, is how enthusiastic she is about what she does. She explained, "On my 'day job', I am a computer geek, and this is my creative outlet, a chance where I get to play".
When asked how she got started in this line of work, she said, "I was encouraged by friends in college, because I always liked cosmetics". She went on to say, "I started by just playing with different techniques and products, to find out what I liked. It was a lot of trial and error".
---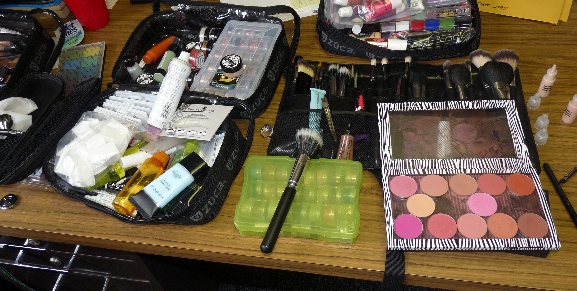 A rainbow of products and colors to choose from
I let Ashley use my face as her canvas for the next 45 minutes or so, while she explained to me what she was using and why.
One of the things I noticed was that the products were not all one brand line and asked her about it. She explained she picks and chooses her favorite products from a variety of lines and price ranges.
She purchases department store grade, to drugstore brands to theatrical brands from a costume shop in Ann Arbor. "One of the brands of eyeshadow that I like, that is good quality like MAC and Urban Decay, is a line called 'Inglot'". (Palette is pictured in lead photo of this article). She is also fond of 'Styli-Style' brand eye pencils, for their lasting quality and price.
Al the cosmetics she used on me held true to color without fading or creasing, until I removed them later that night. On a personal note, I will say a lot of the 'NYX' line of cosmetics are quite good for their prices and lasting quality as well, in my opinion.
Also, just from my own experience, using the right brushes during make-up application (of at least fairly good quality) is crucial. A professional painter would rather use a lesser quality paint with the best quality brush they can afford, rather than the other way around.
I happen to like Eco-Tools brand. They are cruelty-free, affordable, available just about everywhere and work very well for the price. But there are many good quality brushes out there.
---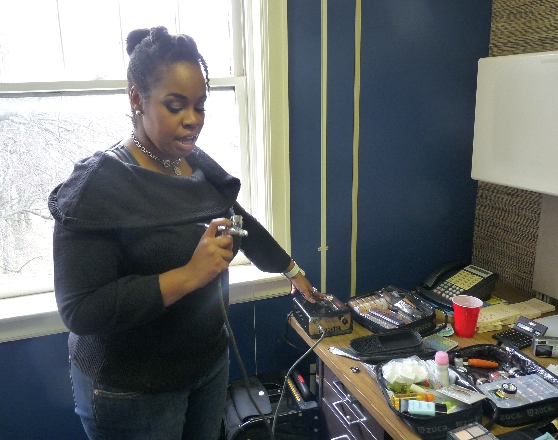 Ashley explains the different types of foundations she has available and the airbrush machine she uses
---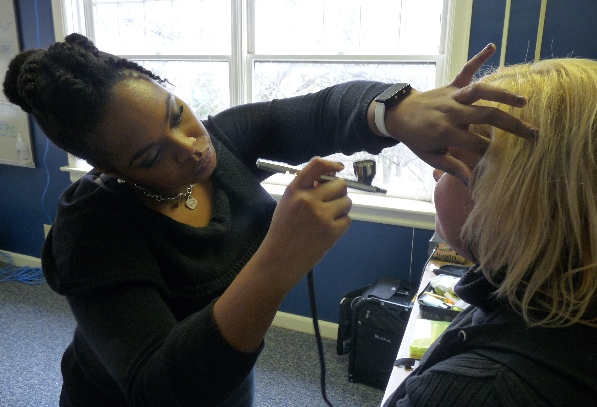 Using an airbrush makes for flawless application
Knowing the right foundation to use, if you choose to wear one, has always been a tough decision for many of us. Ashley explained the differences in water based (good for sensitive skin), alcohol based (lasting performance, but tends be drying) and silicone based (for a more dewy look).
The airbrush machine and foundation she used was a new experience for me. She explained airbrushing is good for creating a flawless, even skin tone. This method is very popular with brides and others who will be having photographs taken.
---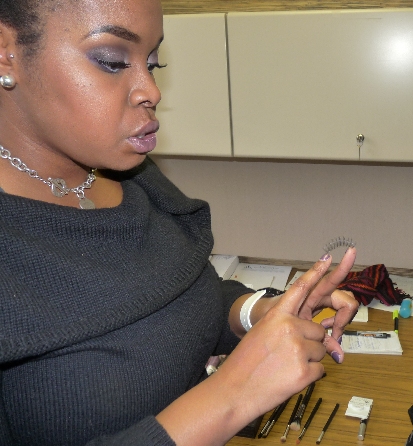 Showing me some false eyelash tricks of the trade
As most of us women know, all the rage right now are full, dramatic eyelashes. If you don't want the cost and upkeep of lash extensions, false eyelashes are an appealing, economical alternative.
As with many things, false eyelashes take a little practice. Ashley gave me a LOT of really good tips. She first recommends measuring the lash as to how it will fit on the eye, before applying any glue.
If it needs to be trimmed always do so from what would be the outside edge of the lash, doing a little at a time until you have the correct fit.
She recommended flexing it into a U shape a few times, to make it a little more bendable. "It will be a lot easier to form it to your eye if it's flexible", she explained.
Another thing you should do is curl and put mascara on your own natural lashes so it will blend in better with the false ones. Doing an eyeliner application, prior to adhering the false ones, will also help camouflage the false eyelash strip line.
A good quality, clear or preferably black, eyelash glue, is important. Once the glue is spread on the strip, it will need to get a little tacky before trying to apply to lid. Let it set for a minute or so before attempting, as it will not slide around as easily.
From there, you apply as close to the natural lash line as possible. You may add more mascara to blend in your own lashes and the false ones, if you choose to. Don't be discouraged if it takes a few times to get used to it, Ashley noted.
Also, some brands are easier than others to work with, although it's a personal preference. Both Ashley and I like the 'Red Cherry' brand line and I also like 'Eylure'. Both come in many different varieties, depending on how dramatic you want to look.
---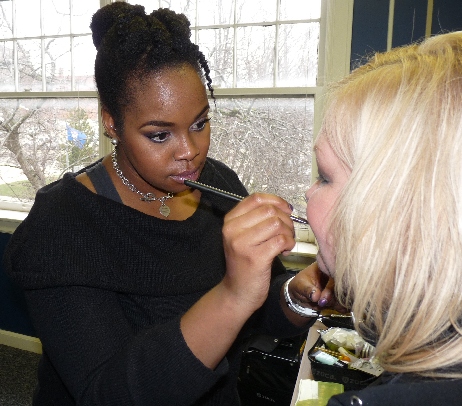 Ashley applies lip color with a special brush
The finishing touch of any cosmetic application is lip color. Ashley carries a variety of lip colors and I chose a pretty salmon pink. As she was finishing up with me, she told me more about herself and her interest in doing more theatrical make-up.
"It's fun and challenging, because depending on how the character is supposed to look, you need to know how to play with facial features and lighting", she remarked.
Ashley has also attended many cosmetic artistry workshops and recently got back from one in Chicago that she described as "very interesting!". She is looking forward to more workshops in her near future.
---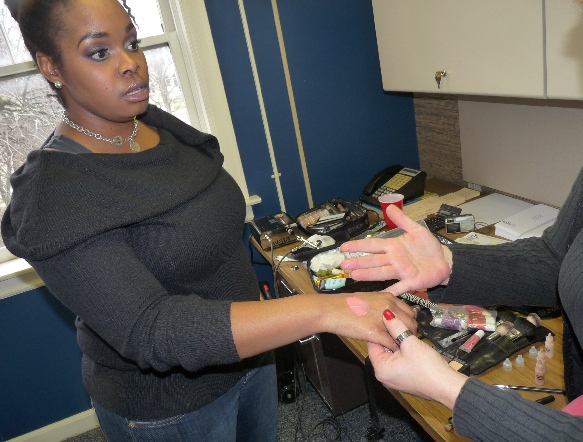 Using the proper amounts of lip color is key
To get a feel of being a make-up artist, she let me play with a few of the products as well. She asked me to put the amount of lip gloss/stain on my finger, that I thought I should use on her.
She laughed, because I guess I had enough on my finger, "for me, you, everyone on the second floor of the offices and probably the first floor too".
That, my friends, is why SHE is the pro!
Ashley offers a variety of sessions, in a range of prices. Sessions typically last approximately 30 or more minutes, depending on how extensive the client wants to get.
A popular one, is a 'Glam Session', for a girls night out. An estimate of time, for 6-8 girls for instance, she would need roughly 4 hours ahead of when your evening out is to start.
Sessions are by appointment and she travels a wide area. For your next cosmetic need, to get a tutorial session from Ashley, for your next fun night out or for your next photo session, contact Ashley by emailing her at:
AshleyBeard@gmail.com
Or check out her website at:
www.ashleyjbeard.com
---
(Prior Story) Community Article 06605 (Next Story)
---

Diane Szczepanski




Business-woman by day, confessed boot addict by night and 'wanna-be' writer, music lover and proud Mom of an awesome guitar playing, teen son.

More from Diane Szczepanski
---
Send This Story to a Friend!
Letter to the editor
Link to this Story
Printer-Friendly Story View
---
--- Advertisments ---