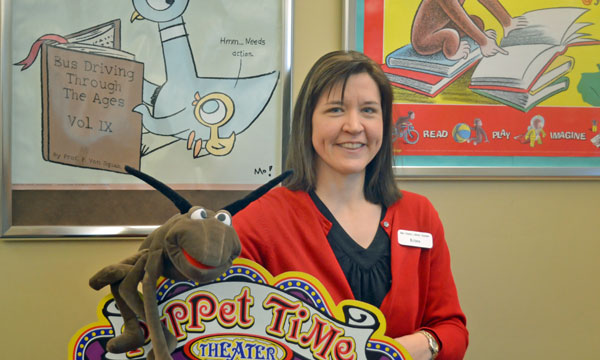 Children's Librarian, Krista Pedersen, showing how much fun puppets can be.
---
Bay County Libraries
Come and Play and Grab a Book on the Way Out!
January 8, 2012 14 Comments
By: Stephanie Meyer
If you are looking for fun for the entire family during the long winter months, then look no further than the Bay County Library System.
There are two convenient locations in the Bay City area ready for your enjoyment. On the East-side, the Alice and Jack Wirt Library is an impressive structure nestled into the cities' downtown. On the West-side, the Sage Branch is located on Midland St. and is a historical beauty preparing for its 128th birthday celebration.
When you walk into the children's section of the Wirt Branch, the warm, welcoming feeling you receive is likened to being greeted into your favorite aunt's home and the Children's Librarian, Krista Pedersen, is like your favorite aunt. "We have a family friendly environment," says Pedersen, "This is a place for families to explore and play together while developing imagination and knowledge."
The library creates the right environment to do just that, play! A magnificent wood tug boat large enough for the children to run in adorns the front of the children's section and close by you will see buckets of dinosaurs, blocks, puppets and an arts and crafts table. It goes without saying that there is an amazing selection of books to meet the interest of any child. Need some help picking them out? These librarians come with big smiles and a willingness to help.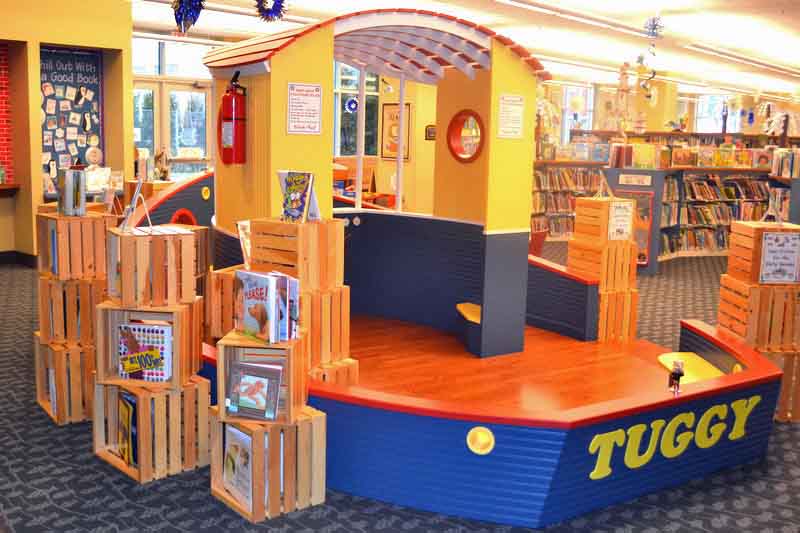 Your child will love to be the captain of "Tuggy" the tug boat at the Wirt Branch.
Beyond the day-to-day fun, each branch offers a diverse selection of age appropriate children's events and programs from birth to 8th grade. Registration is required, many events do fill up, and all children under 8 must be accompanied by an adult.
Story time is a great way for the littlest members of the library to not only hear a story read to them, but also sing and dance and get the wiggles out. If you have a child that likes to read and socialize, the Wirt Branch hosts two book clubs for 1st-3rd graders and a separate group for 4th-6th graders who meet over pizza and discuss the selected book.
Did you know you can take the family to see a movie and get a snack for free?! Yup, the library has that too. Sign up on-line or at either branch for the
Library Tidings
newsletter which contains a complete list of activities by location and age group.

Computer labs are located in the children's section of both branches.

Rows of books to fall in love with.

Lego® tables
To build and create.
The Bay County Library System understands that busy families can't always come to them or have limited time when they do, so they created a website with a treasure trove of information and services. One service lets you request books on-line so they are available to you when you come in to the branch.
Do you have a Kindle or a device that supports eBooks? Download eBooks through the OverDrive program for your children and the books will return themselves in two weeks. Does your child have a report due, but you are snowed in? There are numerous reference sites through the "Homework Help" section of the website that will help get that project done with ease. The "Fun and Games" section alone could keep your children busy for hours.
The Bay County Library System is truly a gem in the community. It fosters not only a love of books for your children, but a love of play and imagination. So bundle the kids up and check out all of the amazing services at your local branch. They will love it and so will you.
Highlights of Local Upcoming Events for Monday, Jan. 9th - Sunday, Jan. 15th:
Free Event! Celebrate Sage's 128th Birthday: Thursday, Jan 12th, 4:15 PM (Grades K-5)-Sage Branch:
Come sing Happy Birthday to the Sage Branch and have some cake!
Free Event! Movies at Wirt (Children under 8 must be accompanied by an adult, Snack will be provided):
Scooby-Doo! Legend of the Phantosaur
, Saturday, Jan. 14th, 2 PM
Free Event! Young Eagles Plane Rides, Saturday, Jan, 14th, 9 AM-12PM-Midland Barstow Airport:
Any youth ages 8-17 can receive a free plane ride. A signed permission slip is required at registration.
Beach Party at Mid-Michigan's Children's Museum, Saturday, Jan. 14th, 10 AM-5 PM:
Wear your tropical/summer attire and get $1.00 off admission. Play in the sandbox, make and take a tropical craft, try fun fishing and learn fishy facts from the Bay County Health Department.
Free Event! Free Movie Sunday, Cars, Sunday, Jan. 15th, 2 PM, State Theater
---
(Prior Story) Community Article 06632 (Next Story)
---
---
Send This Story to a Friend!
Letter to the editor
Link to this Story
Printer-Friendly Story View
---
--- Advertisments ---