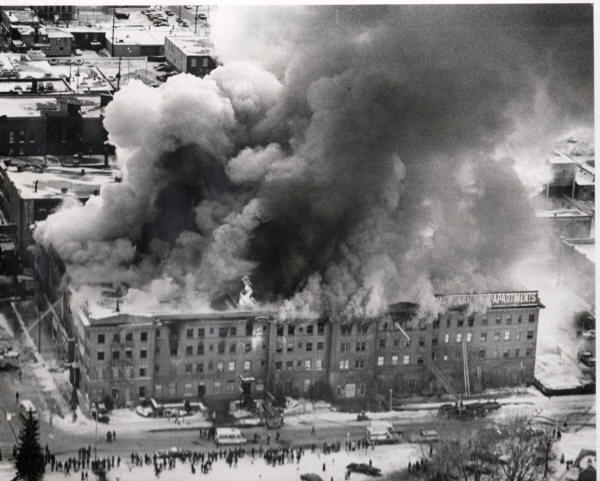 Photo of Wenonah fully engaged in fire was taken by Wes Stafford from an airplane.
---
Wenonah Toll Could Have Been High as 50 With Earlier Fire, Chief Observed
Spectacular, Deadly Blaze Put Bay City on Front Pages of the Nation
January 15, 2012 Leave A Comment
By: Dave Rogers
Donald Besaw, Bay City fire chief at the time of the Wenonah Park Building blaze in 1977, found something to be thankful despite the loss of 10 lives and injuries to about 60 persons.
Chief Besaw said the fact the fire was in daylight hours caused the toll to be lower. "If she would have gone up at two or three in the morning, we'd have lost 50 or more in there. People just sleep more soundly at that time of night."
Some 147 persons were reportedly official residents in the converted four story hotel, while police estimated that 141 tenants and perhaps 20 guests were in the building when the first fire alarm was made at 7:44 a.m.
The Wenonah, a landmark that had been the pride of Bay City when built in 1908, had been a showplace that hosted campaigning President Richard Nixon in 1960 and 1966 and Senator Hubert Humphrey in 1964. It was noted as the site for big band dances and civic gatherings.
Later, actor Charlton Heston contacted The Times and sent a $100 check to start a fund to preserve the mosaic of Princess Wenonah that was part of the lobby floor. A native of St. Helen, Michigan, Heston had recalled visiting the hotel as a boy with his parents. The check was returned but the mosaic, rescued from a farm after demolition of the building, was located for years in City Hall and is now preserved in the Bay County Historical Museum.
The building had about 120,000 square feet, 40,000 square feet on each of three floors. The 69-year-old L-shaped structure stretched 400 feet along Water Street, 200 feet along Center Avenue and 155 feet on Saginaw Street. The original 302 rooms had been made into about 103 apartments by owner John Rapanos of Midland.
Bay City made national news because of the fire, however, not the sort of publicity the city really wanted. Many papers featured dramatic photos of people jumping to escape the flames furnished by wire from the Associated Press.
Local medical services were strained. Twenty-five of the injured were treated at Mercy Hospital, Samaritan Hospital treated 18, nine went to Bay Osteopathic Hospital, six to St. Mary's in Saginaw and one to Hurley Hospital in Flint.
A total of 71 Bay City firefighters along with nine from Bangor and 10 from Midland fought the blaze, plus volunteers and employees of the city light department and private firms. The on-duty crew of 24 firefighters was joined by off duty personnel called in for the emergency plus fire command personnel.
Times reporter Nancy Clay interviewed Mr. and Mrs. Ronald Johnson who escaped the blaze, along with their three-year-old child, by jumping from a second floor window to a ledge. The couple was slightly injured by the child was unhurt.
Ms. Clay was part of reporting team also comprised of Howard Cogan, Tim Younkman, David Phillips and Karl Albrecht.
Citizen volunteers pitched in, one man turning a cranky hose valve on the second floor for busy firefighters. A civilian crew hoisted one of the fire department's 40 foot ladders to assist the short-handed crew of firefighters.
The deadly blaze came only weeks after a consulting firm had recommended a 24 percent cut in the fire department staff and the city manager had hoped to reduce salaries to trim tax levies.
Ladders were too short to reach the upper floor and the department had only one old net at that time, officials said. That net was on a truck that was the last to arrive, according to Chief Besaw.
"Long after I'm gone somebody is going to pick on me for directing the fire the way I did. I was not happy with the placement of the rigs but we were committed, we couldn't move because we were trapped by the lines."
Firefighters meeting in a post-blaze conference agreed there was nothing they would have done differently. Besaw, however, said had he not had his hands full he probably would have called Midland, Saginaw and Essexville earlier. Along with Bangor Township, Consumers Power, Bell Telephone, Durussel Tree Service, Flint, the city light department and local landscaping services assisted.
The late Chief Besaw commented to this reporter for an article that appeared in Firehouse Magazine, with outstanding photographs by Bay City Times staffers Leonard Falce, Dick Van Nostrand and Wes Stafford. The Detroit Free Press dispatched photographer Lona O'Connor who got here in time for aftermath shots.
Even as the fire continued, amateur photographers came streaming into the newsroom of The Bay City Times, some with excellent shots of the blaze and the work of firefighters. Among the amateur photographers were Pastor Ron Fuller of Messiah Lutheran Church, Donna Bukowski, Jack Tuttle, Paul Baker and John Casteneda.
City police identified at least two volunteers who helped pull people to safety, including Bill Rentschler, 1005. N. jackson St., and Joe Gurley, 808 N. Monroe St., along with staff members of the Army Recruiting Station whose office was part of the hotel building.
Outside the Bay County Historical Museum on Saturday unable to gain access to the standing-room-only presentation by firefighter Robert Davey, was one of the amateurs who had been at the scene. Clarence Satkowiak, a former bellboy at the hotel, showed his pictures from that fateful day to others who were turned away at the door.
Eyewitness reports from that day, Dec. 10, 1977, were the most dramatic. Cheryl Klopf, 22, a barmaid at the Lion's Den across Saginaw Street, was living in a $160 a month apartment on the third floor of the Wenonah. She was interviewed by Mike Wendland of The Detroit News, former Times reporter.
"I saw smoke coming under my door. So I jumped out of bed and did a foolish thing. I should have known better, but I opened the door anyway. All of a sudden this thick foul smelling smoke poured in all over the place. I slammed the door and ran to the window."
When ladders deployed by firefighters were too short to reach her, Ms. Klopf, admitting she "got pretty hysterical," jumped from the third floor ledge. "The next thing I knew I was in Mercy Hospital with a fractured hip and a cracked pelvis." She had lost everything she owned. "But at least I'm alive," she told reporter Wendland.
Seventy-five year old Pauline Clark, a deaf widow, was more fortunate. She had arisen at 6 a.m. to begin packing for a move from her second floor apartment in the building. Seeing people in bed clothes on the fire escape alerted her to the danger and she was able to run to safety downstairs to the first floor lobby.
Another young woman was even luckier. Jackie Stinchcomb, 19, told reporters she and her one-year-old daughter had been evicted from the Wenonah on Friday, the day before the fire, commenting: "It was the best thing my landlord ever did for me."
---
(Prior Story) Columns Article 6657 (Next Story)
---

Dave Rogers




Dave Rogers is a former editorial writer for the Bay City Times and a widely read,
respected journalist/writer in and around Bay City.
(Contact Dave Via Email at carraroe@aol.com)

More from Dave Rogers
---
Send This Story to a Friend!
Letter to the editor
Link to this Story
Printer-Friendly Story View
---
--- Advertisments ---