Gen. David Bell Birney Medal, Kearny Cross, Surfaces at State History Meet
Historical Society of Michigan Gives 17 Awards at Traverse City Conclave
September 25, 2011 Leave a Comment
By: Dave Rogers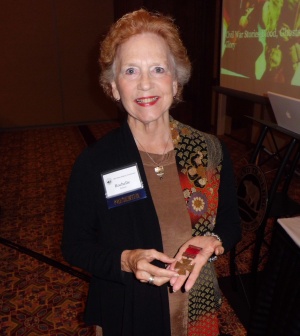 Rochelle Balkam displays Kearny Cross of Birney's Division awarded to her ancestor, William Renwick, for capturing a flag at Spottsylvania.
The Historical Society of Michigan presented its 2011 State History Awards at the 137th Annual Meeting and State History Conference last weekend in Traverse City.
Seventeen awards were presented this year in a variety of categories.
One of the history presenters, Rochelle Balkam, Michigan History instructor of Eastern Michigan University, Ypsilanti, displayed a rare original of the Kearny Cross, a Civil War medal devised by Maj. Gen. David Bell Birney in honor of Maj. Gen. Philip Kearny, also an abolitionist.
As a teenager, Gen. Birney lived for a time in Bay City with his father, local pioneer James Gillespie Birney, first anti-slavery Presidential candidate. Exploits of Birney and his military sons are included in a forthcoming book, "Apostles of Equality: The Birneys, the Republicans and the Civil War," by D. Laurence Rogers of Bay City, due for publication release Oct. 28 by Michigan State University Press.
This was the fifth year that the Historical Society presented its capstone Lifetime Achievement Award, which honors men and women who have dedicated themselves to preserving Michigan's history over a significant amount of time.
The 2011 Lifetime Achievement Award was presented to educator, author, and filmmaker Glenn Ruggles, a teacher at Walled Lake.
Ruggles has been deeply involved in oral history projects with many organizations, including the Sterling Heights Public Library, the Walter P. Reuther Labor Library, and the Michigan Supreme Court Historical Society. He led numerous history organizations and was a regular columnist for the Elk Rapids Town Meeting newspaper.
In the category of Distinguished Volunteer Service, the Society recognized Rod Wilson, president of the Rochester Hills Historical Society, Wilson has spearheaded restoration and education efforts in his community.
Wilson also spent countless hours developing and leading educational programs. He created the Downtown Rochester Historic Walking Tour, worked with a multi-agency task force to develop interpretive signs for historic sites along Paint Creek Trail in downtown Rochester, and established a research committee within the Rochester Avon Historical Society to compile documentation on local buildings and sites.
The Educator award went to Richard Cahow, who began his 40-year career with Kalamazoo Public Schools in 1970. He taught AP history at Kalamazoo Central High School for 32 years before retiring in 2010.
In the Communications: Newsletters and Websites category, the award was presented to the Kalamazoo Public Library for its website All About Kalamazoo History. The library's Local History Department took the lead in web-based historical information several years ago by launching an online index of the Kalamazoo Gazette.
The Rochester/Avon Historical Society received the Local Society award. This active society has gained enthusiastic municipal support for such endeavors as their award-winning restoration of a 1930s mural, historic building preservation, oral history program, walking tours, and regular public meetings. They maintain both a website and a Facebook page, and collect artifacts and historical material pertaining to the local area.
The Institutions award went to the Marquette Regional History Center, which organized outstanding public support for the creation of its new facility.
The 2011 State History Award in the Restoration/Preservation category was presented to the Detroit Public Library for their preservation of the Burton Historical Collection. The Burton ranks as one of America's premier cultural resources. Founded in 1915, the collection includes thousands of original archival collections that document the history of New France, the Great Lakes region, the Old Northwest, and Michigan. Beginning in 2008, the Detroit Public Library began a project to develop an online public access catalog to help researchers around the world access the Burton Collection. Staff members of the Burton and students from Wayne State University have cataloged 4,000 archival collections. These have been added to WorldCat (the national bibliographic database) and MeLCat (the Library of Michigan's Electronic Library), thus allowing searchable access to the catalog citations. The project has resulted in a 56 percent increase in the number of researchers using the Burton Collection between 2007 and 2010.
In the Media category, David Schock was honored with a State History Award for his documentary titled STARbySTAR: Naomi Long Madgett, Poet and Publisher. The poet laureate of Detroit, Madgett is one of America's most influential black poets. Schock tells Madgett's story through carefully intertwined historic photographs, interviews with acquaintances, and conversations with Madgett herself. The film reveals a talented, determined woman who found her own voice through poetry. The documentary chronicles her journey, struggles, and achievements.
Four books were recognized with State History Awards in the Publications: University and Commercial Press category. The first honor was posthumously awarded to Godfrey Anderson's "A Michigan Polar Bear Confronts the Bolsheviks: A War Memoir," edited by Gordon L. Olson and published by William B. Eerdmans Publishing Group of Grand Rapids.
The second book to receive a State History Award in this category was Craig Fox's "Everyday Klansfolk: White Protestant Life and the KKK in 1920s Michigan," published by Michigan State University Press.
"Everyday Klansfolk" sheds new light on this aspect of Klan history. Fox's book examines Klan activities in Newago County from 1923 to 1925, when nearly 20 percent of the county's native-born white men and 10 percent of its women joined the Klan, statistics typical for other communities at the time. The archival research is extraordinary and the book relies heavily on the rich collection at Central Michigan University's Clarke Historical Library. Fox's work provides a valuable tool that allows readers to better understand this painful chapter in our nation's history.
Blaine Pardoe's "Lost Eagles: One Man's Mission to Find Missing Airmen in Two World Wars," published by University of Michigan Press, was the third recipient in this category. Frederick Zinn, an American aviator from Galesburg, Michigan, pioneered the methods used for recovering and identifying the bodies of missing airmen. He continued his work through World War II, creating the Missing Air Crew Report (MACR) that Gen. George C. Marshall ordered all branches of the armed forces to adopt.
###
---
---

Dave Rogers




Dave Rogers is a former editorial writer for the Bay City Times and a widely read,
respected journalist/writer in and around Bay City.
(Contact Dave Via Email at carraroe@aol.com)

More from Dave Rogers
---
Send This Story to a Friend!
Letter to the editor
Link to this Story
Printer-Friendly Story View
---
--- Advertisments ---