WHEELZ 104.5 Presents Comedy Night at the State on February 18
Featuring Bob & Tom Show comedians: April Macie & Bob Zany
February 14, 2012 Leave a Comment
By: Mike Bacigalupo - State Theatre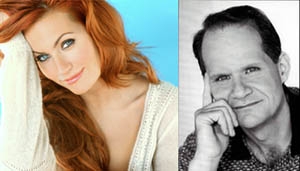 Comedy Night at the State, featuring Bob & Tom Show comedians: April Macie & Bob Zany
WHEELZ 104.5 Presents Comedy Night at the State, featuring Bob & Tom Show comedians: April Macie & Bob Zany Saturday 02/18/12 7:00 PM
TICKET INFORMATION
April Macie
Do you remember the girl in your high school who had a horrible rumor spread about her? It might have involved a football team, or a dog and some peanut butter or maybe processed meat. Well, that girl in Easton, Pennsylvania was April Macie. So, where did she turn for comfort? While some might turn to the Lord, April turned to promiscuity. Promiscuity and then comedy. With her irreverent brand of overtly sexual humor she attempts to break down troubling double-standards and lend her voice to women everywhere. April would like to add that she doesn't really know what irreverent means, but she's heard a lot of other comics use it and thought it sounded kinda' cool.
April Macie travels the world collecting stories and experiences, which she then translates into humorous, relatable tales in front of audiences worldwide. April has been to over 23 countries, 12 of those performing stand-up comedy (not fellatio) for the troops, was a finalist on NBC?s Last Comic Standing in 2006, has appeared on E! Entertainment, Fuel TV, HSN, Sirius and XM Radio, Bob & Tom, Access Hollywood, and was labeled an 'emerging talent to watch' by the Hollywood Reporter at the Just for Laughs Comedy Festival in 2005. April is a regular guest on the Howard Stern show, where in 2008 she was voted the 'Funniest and Hottest' comedian in America. She is currently in the documentary, 'I Am Comic' which premiered at the 2010 Slamdance Film Festival and is currently airing on Showtime and will also be apprearing on Showtime in the stand-up special 'Vegas Is My Oyster' premiering August 5th. Currently, she spends most of her time traveling the United States as a headlining stand-up comedian.
April has slapped a boyfriend on the toilet for renting out their home for porn shoots, stood on the North Korean border, entertained troops next to the detainee camp in Guantanamo Bay, imported a young Englishman for the summer, only to see him turned away at the border months later for overstaying his visa. She has had numerous crappy jobs-including: a nanny, Hooter?s waitress, clowns assistant, telemarketer ? fired from all of them, occasionally smokes weed out of an apple and goes to Chucky Cheese with her friends, thinks double standards are ridiculous and hopes to change the world by empowering women, 'One dick joke at a time.'
Bob Zany
In 1977, Bob Zany started his career where most performers want to end up --on national television. At the tender age of fifteen, the native Southern Californian appeared on the infamous Gong Show. Halfway through his stand-up routine, which he read from a piece of paper, Bob Zany was pulled off the stage by a man dressed like a nun wielding a net. Eleven years later, Zany made a triumphant return to The Gong Show, this time as a celebrity judge. Though the initial experience was painful, it marked the first of over 100 appearances on national television.
In 1981, while attending Mt. San Antonio College, Bob Zany applied for a job as a newcaster at the campus radio station but was turned down. Later that year, Zany auditioned for the owner of The Ice House in Pasadena. The audition took place in the middle of the afternoon in a club that seats 300. From the only occupied chair came the voice of the owner, 'You're not ready.' Bob Zany looked around the empty showroom and said 'Neither is your club!' Undaunted, he talked the owner into letting him produce his own show so he could have the stage time, and for the owner, an audience.
The result was The Bob Zany Show. The shows sold out consistently-- with everyone Zany knew from his hometown, West Covina, and then some--in attendance. After one show, Bob Zany was approached by Frazier Smith, the host of a top-rated radio show on KLOS/LA. After a short time doing guest spots on Frazier's show, Zany was hired by KLOS as a personality with his own show on Saturday mornings.
His other accomplishments include the creation of Bob Zany's Comedy Outlets, with over 50 locations throughout California and Nevada; a comedy album Hi Home, I'm Honey; a soon-to-be published diet scrapbook, Laugh at Fat, Bay-bee!, which chronicles his 175-lb weight loss; numerous roles in feature films; and the highlight of his career to date, being hired by his idol, Steve Martin, to appear on George Burns' Comedy Week.
Bob Zany's stage persona has evolved over the years, but the dramatic weight loss in 1991 caused the need for a major overhaul...along with the 175-lbs, he lost 30 minutes of his act! Bob Zany spent the following year doing late night spots at Hollywood clubs, trying to 'reinvent' himself. The result is the cigar-smoking, audience-interactive crowd favorite Bob Zany we know and love today.
---
---
---
Send This Story to a Friend!
Letter to the editor
Link to this Story
Printer-Friendly Story View
---
--- Advertisments ---