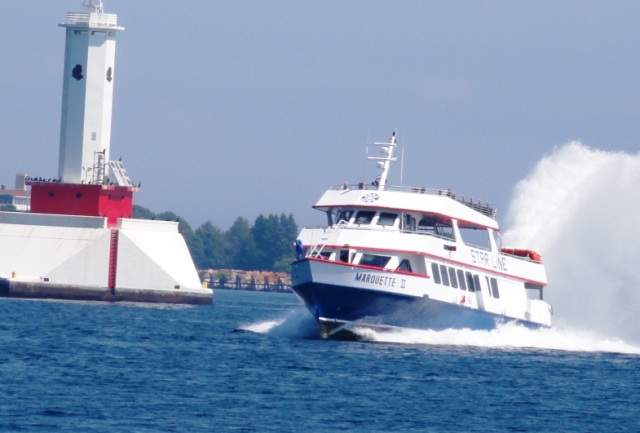 "Basically, we need to find a way to get those 60 days without making one boat line go out of business. That's where we're at right now."
---
Arnold Line Ferry Starts Runs to Mackinac Island Months Early
Leaders Considers Running Ferries Year Round with Transportation Authority
March 25, 2012 Leave A Comment
By: Dave Rogers
After a short off-season because of the lack of ice in the Straits, ferry service is up and running again to Mackinac Island.
The first boat went from St. Ignace to Mackinac Island at 8 a.m., Tuesday, March 6, reported Channels 9 & 10, Traverse City.
Arnold Transit is the only line running at the moment, since that lines' boats can navigate through light ice, the TV station reported.
Because of the warmer season, the line only stopped running for a month.
The line stopped running around a month ago after a ferry got stuck in the ice.
For now the ferry will run only between St. Ignace and the island on a limited schedule.
The Mackinac Island Town Crier newspaper also reported that Star Line Mackinac Island Ferry will operate as usual in 2012. According to the company's new chief operating officer, Linda Pfeiffelmann, Star Line will operate as part of Northern Ferry Company, under the city's ferry franchise agreement, but will have no financial ties to Arnold Line.
"It will operate the same as last year," Mrs. Pfeiffelmann said. "Where the money is spent is where the money stays."
Last year, the boat companies shared tickets and combined some schedules to meet requirements of the city's franchise, the newspaper reported.
A proposed sale of the company was called off in January, and operating staff has been recalled for spring operations.
Mrs. Pfeiffelmann was appointed by the board of directors to manage Star Line after her husband, Tom, was forced to retire for health reasons.
"He's still going to stay involved with the company and assist me for the coming year," Mrs. Pfeiffelmann said. "We're looking forward to a real good 2012 season."
Remember the days when Mackinac Island shut down completely when ice formed on the Straits?
Well, those days may be over.
Mackinac Island leaders are considering forming an authority to oversee transportation that could have a goal of running ferries year round.
Matt Mikus, reporter for the Mackinac Island Town Crier, said attendees at a recent meeting acknowledged that making all boat lines operate in the winter would be prohibitively costly for the companies. He wrote that the City of Mackinac Island's Transportation Committee is considering forming a transportation authority with responsibility for transportation issues.
Island leaders say residents want waterborne access to the mainland for as much of the year as possible, and are asking the city to help the boat lines provide a suitable ice-breaking boat or to consider purchasing a city-owned icebreaker to ensure year-around service.
City attorney Michael Cavanaugh suggested that the city consider forming a transportation authority under the Michigan Public Transportation Authority Act of 1986.
The transit authority would be governed by a board of directors appointed by the mayor, with council approval. The authority would operate as an independent public body and be responsible for its own income and expenditures. Because the board is appointed and not elected, it would not have direct accountability to the public, wrote Mikus.
An authority would be allowed to purchase, own, lease, or operate transportation facilities, and could issue bonds to pay for operation of acquiring facilities, like docks, restrooms, reception areas, and shelters for ferry passengers. The authority would also be eligible for a number of federal funding programs and state grants to help finance purchases.
The city would retain the rights to issue ferryboat franchises, collect franchise fees, and regulate schedules and services.
"I think we need to pursue this," committee member Frank Bloswick said. The other committee members are Armin Porter and Dan Wightman.
Mayor Margaret Doud said she believes an authority can seek grants to help subsidize winter ferry service, in reply to a question from Mr. Porter. She added that Bill McDonough, CEO of the Beaver Island Boat Company, is willing to come to Mackinac Island to offer advice on how Beaver Island's transportation authority operates.
"This is all new to all of us," Mayor Doud said, "so we want to tread lightly and make sure we do this right for everyone."
The committee also noted that the franchise agreement for next year needs to be changed. Requiring all franchisees to run boats in the winter, they noted, has cost both Shepler's and Northern Ferry a considerable amount of money.
In 2011, the city made the boat companies operate ice-to-ice, pay a 7% franchise fee, run a minimum number of schedules, and not charge more than a maximum amount for a ticket, as set by the city. Then the boat companies sold inexpensive passes for unlimited use to residents, the primary users of winter service, so winter revenues further declined.
Historically, Arnold Transit has provided service until at least the first of the year, longer if business warranted it. Just prior to the latest franchise policy, however, as it became known that Arnold was being purchased, the city worried that winter service could be discontinued by the new owner. To ensure winter service, the city charged Shepler's and Star Line a 2.5% franchise fee, but allowed Arnold Transit to pay only 2% as incentive to continue winter boat service. Schedules and ticket prices were left up to the individual boat companies.
New Arnold owner Jim Wynn, however, suggested all boat companies be required to provide the same service and, last winter, the city instituted the new policy, and, at Mr. Wynn's suggestion, raised the franchise fee to 7%. "We all agree that it's senseless to have two boat lines run in the winter," Mayor Doud acknowledged January 30. "We need to sit down, bring both lines in, and figure out an arrangement for next year. Let's get together and work something out so we have concrete winter service."
Two franchises were issued last year, one to Shepler's and one to Northern Ferry, which combined the operations of Arnold and Star Line. Negotiations for the 2012 season might have to be with all three companies if the agreement between Star Line and Arnold is terminated.
Citizen Clark Bloswick of Mackinac Island said the city should look into finding a way to pay for its own ice-breaking tug to allow for year-around service. The same suggestion was made earlier this year by economic development consultants who studied Mackinac County development opportunities, and pointed out that private businesses are already investing much more than the cost of a small icebreaker to provide transportation to the Island.
"What we need is a ferry capable of going through the ice," Mr. Bloswick told the committee. "I don't think the city needs to look at purchasing property. You got to find a way to get us a boat that can operate into the winter and maybe all winter. The city has to find a way to help the boat company get a boat.
"I hope that's what it would be about, not buying property and getting into the boat business. Just help one boat line, get one good boat." Our main goal is to get ice-to-ice service," Mr. Pettit said. "The other goal is to have flourishing ferry boat services to the Island.
"Basically, we need to find a way to get those 60 days without making one boat line go out of business. That's where we're at right now."
City attorney Tom Evashevski added that the ferry franchise allows the city to look over boat company ledgers, which would allow the city to determine how much it would cost to continue service into the winter. The committee asked Mr. Evashevski to request permission to review the ledgers. Afterward, the committee would hold a meeting with the boat lines to amend last year's franchise agreement, which was to be effective for two years.
---
(Prior Story) Outdoors Article 6862 (Next Story)
---

Dave Rogers




Dave Rogers is a former editorial writer for the Bay City Times and a widely read,
respected journalist/writer in and around Bay City.
(Contact Dave Via Email at carraroe@aol.com)

More from Dave Rogers
---
Send This Story to a Friend!
Letter to the editor
Link to this Story
Printer-Friendly Story View
---
--- Advertisments ---