Bob & Tom's Pat Godwin & Costaki Economopolous To Perform at State
WHEELZ 104.5 Presents Comedy Night at State Theatre on March 17
March 4, 2012 Leave a Comment
By: Mike Bacigalupo - State Theatre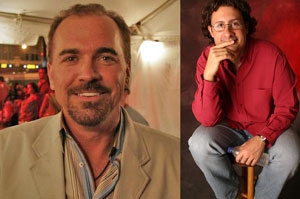 Comedy Night at the State Theatre, featuring Bob & Tom Show comedians: Pat Godwin & Costaki Economopolous - Saturday 03/17/12 7:00 PM
WHEELZ 104.5 Presents Comedy Night at the State Theatre, featuring Bob & Tom Show comedians: Pat Godwin & Costaki Economopolous Saturday 03/17/12 7:00 PM
Pat Godwin
Pat Godwin has blossomed into one of the most clever and prolific, comedy songwriters in the business. Pat first got national airplay with the holiday classic he crafted with his brothers James and Jack called, 'Let's Put Christ Back in Christmas' from the album Reindeer Games. After that, it wasn't long before Godwin's talents were being used on radio morning shows; a medium Pat is more than familiar with. He's appeared on every top morning show you can think of, worked for 6 years as a part of Philadelphia's Morning Zoo, 3 years for The Bob & Tom Show, and was a frequent guest and contributor to both Howard Stern's radio and TV shows.
It comes as no surprise that Godwin is enjoying some success, seeing as how he possesses one of the most entertaining and original live shows in the business. He was featured on NBC's Last Comic Standing last year. Because he has such strong material and highly developed improvisational skills, no two shows are ever the same - not even close. And don;t let that sly boyish smile fool you; it only takes about three seconds on stage to realize that Pat's comedy has an edge to it. With a mix of quirky, personal musings and off-the-cuff remarks, Godwin can segue in to any one of his songs, performed in an endless array of musical styles. He recently headlined The Irish Comedy Tour employing his vast catalog of Irish material and original drinking songs like, 'Switch To Beer' and 'Maybe It's Time To Go Home'.
Though Pat's been charming audiences in clubs for years and has been featured on every major radio morning show in the country, one of his greatest achievements came with the release of 2005's 'Under the Bed'. Godwin wrote and recorded an eclectic compilation of new tunes, and live favorites, as well as exorcising some of the demons left behind from a relationship gone wrong. But don't let that dark description scare you; 'Under the Bed' is hilarious, and getting heavy rotation on the nationally syndicated Bob and Tom Show. It contains the Number 1 most requested song, 'Gangsta Folk,' as well as the International Songwriting Competition award winning, 'First Date,' and the smash hits 'Nobody Speaks English, Anymore' and 'Voices In My Head.' The new CD Captured Live will be released in the fall of 2010.
Costaki
In the spring of 1993 Costaki was doing graduate work at the University of Georgia. He spent most of his time hammering out a thesis on the influence of political satire on our feelings about government. His off time was spent honing his stand-up skills in pizza joints and bars around town. When he had to turn down a couple of gigs to work on the paper, it made his stomach hurt. He hung in there, finished the thesis, got his master's degree, and within a year was a full-time comic on the road. He has been creating funniness for audiences all over the country 40+ weeks a year ever since.
His humor has been described as smart, pointed, hip, sharp, insightful, socially relevant, and gut-laugh funny. A fellow comic once referred to Costaki as a 'casually brilliant joke philosopher.' His take on politics and religion will leave you thinking and laughing. And his light swagger, playful squint, and wry smile tell you that perhaps there's more to this multi-layered joke than you first recognized.
Costaki began to make some noise in the business by reaching the finals of the Seattle Comedy Competition, where he was discovered and invited to the prestigious Montreal Comedy Festival. He was just one of ten finalists in Comedy Central's Laugh Riots national talent search. Over the years, Costaki has performed in 47 states, covering the country's best clubs, dozens of colleges, private shows, and some of the worst bars in America.
Also a talented writer, Costaki's jokes have appeared on the Tonight Show, the Late Late Show, and Best Damn Sports Show Period. He was a writer for BET, where he was staffed on two of their hit shows. He wrote jokes for Bette Midler;s Kiss My Brass tour, Costaki spent Spring Break one year in Cancun writing on the MTV show Parental Approval. He also wrote daily for the Complete Sheet, a DJ prep service that goes out to almost 500 stations worldwide.
But he is easily best known for 'The Economonologue,' a weekly segment on the syndicated Bob & Tom Radio Show that reaches some 5 and a half million people in 150 markets. This national exposure has opened the door to Costaki's dream: people coming to see his live performances 'on purpose.'
After a recent performance with Jake Johannsen, Costaki's mother said, 'You were better than that other guy.' And really, is there anything more to say after that?
---
---
---
Send This Story to a Friend!
Letter to the editor
Link to this Story
Printer-Friendly Story View
---
--- Advertisments ---