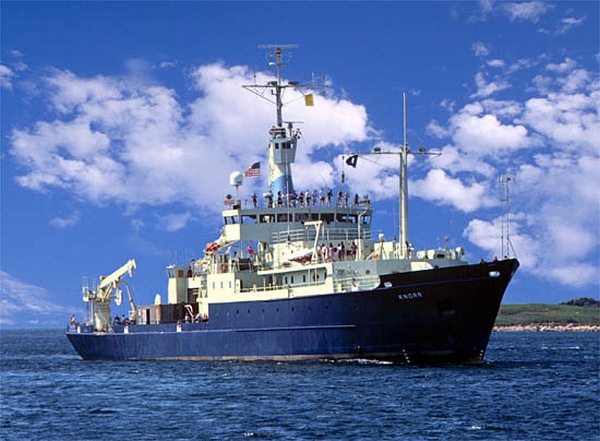 Defoe Shipbuilding had shut its doors by the time R/V Knorr made history by being the vehicle that found RMS Titanic in 1985
---
Titanic Find Puts Bay City Ship Knorr in Pages of World Maritime History
April 15, 2012 1 Comments
By: Dave Rogers
The Defoe Shipbuilding Company was less than a decade away from closing when it built the Research Vessel Knorr in 1968.
Defoe had shut its doors and its yard had become part of a scrap yard by the time R/V Knorr made history by being the vehicle that found RMS Titanic in 1985.
RMS has a dual meaning, according to British Navy sources: it stands for Royal Merchant Ship and also Royal Mail Steamer.
The research vessel Knorr is owned by the U.S. Navy and operated by Woods Hole Oceanographic Institute (WHOI) for the ocean research community. Knorr is best known as the ship that supported a team of WHOI and French researchers in 1985 as they discovered the wreck of the RMS Titanic.
Launched in 1968, delivered to Woods Hole in 1970, and completely overhauled in 1991, R/V Knorr has traveled more than a million miles -- the equivalent of two round trips to the moon or forty trips around the Earth, according to WHOI.
The ship's anti-roll tanks and ice-strengthened bow enable it to work in all of the world's oceans and to the edges of the Polar regions. The ship can carry a crew of 22 and a scientific party of 32 to sea for as long as 60 days.
Knorr was designed to accommodate a wide range of oceanographic tasks, with two instrument hangars and eight scientific work areas, a fully equipped machine shop, three oceanographic winches and two cranes. Knorr is equipped with sophisticated navigation and satellite communication systems, as well as unique propulsion systems that allow the ship to move in any direction and to maintain a fixed position in high winds and rough seas.
In 2006, the ship was refitted to support a new 'long-coring' system that can extract 46-meter (150-foot) plugs of ancient sediment from the seafloor. Weighing nearly 11 metric tons (25,000 pounds), the new piston-coring system is the longest in the U.S. research fleet (twice as long as existing systems). Knorr and its long-corer will allow scientists to sample deep sediments that are rich with historical information about the oceans and climate.
R/V Knorr was named in honor of Ernest R. Knorr, a distinguished hydro-graphic engineer and cartographer who was appointed Chief Engineer Cartographer of the U.S. Navy Hydro-graphic office in 1860. Knorr was one of the leaders of the Navy's first systematic charting and surveying effort from 1860 to 1885.
Its original length and beam were 245 and 46 feet, respectively. Beginning on February 6, 1989, it underwent a major mid-life retrofit or "jumbo-izing" at the McDermott Shipyard in Amelia, Louisiana. A midsection was added to the ship to stretch its length by 34 feet to 279 feet, and fore and aft azimuthing propulsion systems were added to make it one of the most maneuverable and stable ships in the oceanographic fleet while on station.
By the time it was returned to the Woods Hole Oceanographic Institution in late 1991, the retrofit had consumed 32 months. The P6 Section was the first scientific cruise after the retrofitting. The R/V Knorr was designed for a wide range of oceanographic operations, possesses anti-roll tanks and an ice strengthened bow, and like its sister ship, the R/V Melville, it is used for ocean research and routinely carries scientists from many different countries.
"Knorr has worked all the world oceans and most of its seas," says former crew member Dallas Murphy. "She's been to the ends of the Earth -- in the Southern Ocean near Antarctica and north of 80° North. By 2005 she'd logged one million nautical miles in the service of science.
"There's an element of melancholy to the story of the Knorr. Her working life is approaching its end. Even now a new generation of research vessel is in the design stages to replace Knorr and her sister ship Melville" (also Defoe built.) ###
---
(Prior Story) History Article 6889 (Next Story)
"The BUZZ" - Read Feedback From Readers!
Newshamt Says: On April 16, 2012 at 10:05 PM

I watched those ship being launched from across the river. Defoe also put out a couple of Nuclear ships as well if memory serves me. Defoe may have been able to stay in the shipping business had it not been for the narrow bridges.
---

Dave Rogers




Dave Rogers is a former editorial writer for the Bay City Times and a widely read,
respected journalist/writer in and around Bay City.
(Contact Dave Via Email at carraroe@aol.com)

More from Dave Rogers
---
Send This Story to a Friend!
Letter to the editor
Link to this Story
Printer-Friendly Story View
---
--- Advertisments ---