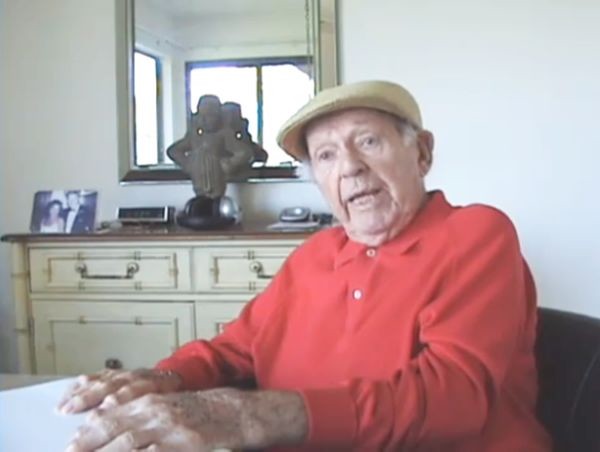 Harry Jarkey, Wenona Beach legend still fondly remembers Bay City and area folks.
---
Harry Jarkey, 99, Says Hello to All His Bay City Friends; Send Him a Wish!
August 16, 2012 4 Comments
By: Dave Rogers
Harry Jarkey turned 99 the other day.
The legendary Wenona Beach Casino performer lives in California but he still remembers Bay City: "I love the people of Bay City, they are the greatest! Tell 'em I love 'em all."
Jarkey was born in Nashville, Tennessee on August 11, 1913 (we happen to share a birthday and stay in touch on that day, but mine was 24 years later).
Jerry Jopke, retired General Motors sales executive living here, is a close friend of Jarkey and is putting the entertainer's address in the Bay City Times next week so folks here can contact him.
"One of the best nightclub comics to ever deliver a punch line was Harry Jarkey," say Detroit fans Tim Kiska and Ed Golick who have posted Harry's life story on a website "We're Just Wild About Harry Jarkey": http://www.detroitkidshow.com/jarkey.htm.
Kiska and Golick have written a book, "Detroit Television," available on amazon.com, that contains much information about Jarkey's early career.
"He was the son of a merchant, but show business was in his blood. His uncle worked with the Singer Midgets (of Wizard of Oz fame) and his first cousin was singer Dinah Shore. As a youngster Harry formed a dance act with his sister Estelle, performing at various functions in and around Nashville. In high school Harry acted in three plays a year and worked with the prestigious Ralph Bellamy Players."
"Fresh out of high school and looking for a show biz gig, Harry signed with Leo A. Seltzer's Walkathon circuit as a midnight emcee. On more than one occasion Harry crossed paths with another struggling young walkathon emcee named Red Skelton.
"Harry took root in Detroit, where he played at such popular local nightspots as The Bowery, the Hi-Lo Club, Club 509 and the Corktown Tavern. While in Detroit Harry met Amos Jacobs, who at the time was earning $10.00 a performance as a singer/comedian on Chuck Stanley's Happy Hour radio program. Amos later changed his name to Danny Thomas, and the rest, they say, is history. The two remained lifelong friends.
In 1935 Harry began a thirty-year association with the Wenona Beach Casino in Bay City, where he headlined for twelve weeks every summer. It was at Wenona Beach where the young comic came into his own. In a 1977 interview Harry describes the experience. "It used to be like a house party at the Casino. The same people kept coming out. Some of them sat in the same chairs, the same tables. I packed them in close. In three weeks the guy next to you was an old buddy, and you didn't even know him."
The authors recall that Harry's first exposure to television was Educator Cracks, an early audience participation show on WWJ-TV. In 1957 WXYZ-TV general manager John Pival thought Harry would be the perfect host for a new morning talk show. "Our Friend Harry" was a two-hour variety program with music, news, interviews, human-interest stories and films. Harry's friends on the show celebrity guests such as Van Heflin, Chuck Conners, Jeff Chandler, Betty White and King of Sweden Gustav VI Adolf also appeared on the show. 'Our Friend Harry' ended its run in 1959.
"Fun House," a Saturday morning game show for kids, debuted on August 1, 1959. It featured cartoons, races, games and stunts. Harry was ably assisted on the show by Ricky the Clown, Detroit Polka legend Stan Wisniach and Jimmie Stevenson.
"Harry's frantic pace would have worn down a lesser man," recalled Kiska and Golick. "He worked the clubs during the week, drove one hundred miles to Wenona Beach for Friday night, drove back to Detroit for Saturday morning's Fun House show and then back again to Wenona Beach for the Saturday night show."
Fun House closed its doors for the last time in 1961, but Harry continued performing throughout the 1960s and 70s at places like The Roostertail in Detroit, Windsor's Elmwood Casino and Chicago's Playboy Club.
Harry retired from show business at the age of 75. He moved to southern California to be near his best friend, Danny Thomas. Harry's last appearances were on behalf of Danny's charity, St. Jude Children's Research Hospital.
The veteran comedian still keeps in touch with a few of his friends from the old Wenona Beach days. "I've been all over the world and there isn't any place I've been where I haven't run across someone from Bay City, Midland or Saginaw who remembered me and my act. They've always greeted me like a long-lost buddy. It's nice -- I'm grateful."
Thank you, Harry, for a lifetime of entertainment. ###
---
(Prior Story) Arts/Theater Article 007268 (Next Story)
"The BUZZ" - Read Feedback From Readers!
abosco0717 Says: On August 16, 2012 at 12:44 AM

Happy Birthday Harry. I just turned 69 in July but I still remember you and the families of Bosco's, Militello's, and Lupo's enjoyed your performances and talked about what a great person you are. Come visit us in Bay City on your 100 Birthday. We can make it an event and possibly have the Bay City Elks sponsor you (I am a Past Exalted Ruler). I am one of 5 Tony Bosco's in Bay City. I am the youngest and there's only two of us left. I was at The Danny Thomas home last year on a tour of LA.
God Bless You

Tony Bosco
trtabor Says: On August 16, 2012 at 04:08 PM

Hello old friend Harry. We always enjoyed your
imitation of my father in law, Florian Hiss.
He enjoyed it too. Many happy memories pal. I am just a kid, 88 last May. sorry to tell you my dear wife Sally
passed away 2 weeks ago.
BJBREN Says: On August 23, 2012 at 10:33 PM

CATCHING THE CASINOSEVERL TIMES A WEEK WAS GREAT,THE JOKES AND ROUTINES KET GETTING BETTER BECAUSE WE KNEW THE M BY HEART AND COULD GO ALONG WITH HARRY,MANY HAPPY RETUNS AND THANKS FOR EVERYTHING, SINCERLY , BJ BRENNAN,JACK SLATTERY, TOM BRENNAN,DON THOMSON..
rt2943 Says: On December 09, 2013 at 10:08 PM

I met Harry Jarkey when I was the Piano Player at the Club Gloria in Columbus,Ohio, and he hired me to bring a 5 piece band from Columbus to the Winona Beach Casino in Bay City, Michigan for the summer.
I'm now 84 years old and Harry and I are still close friends.....in retirement.

Thank you Harry for rescuing me from the Club Gloria, and from Columbus.

Artie
---

Dave Rogers




Dave Rogers is a former editorial writer for the Bay City Times and a widely read,
respected journalist/writer in and around Bay City.
(Contact Dave Via Email at carraroe@aol.com)

More from Dave Rogers
---
Send This Story to a Friend!
Letter to the editor
Link to this Story
Printer-Friendly Story View
---
--- Advertisments ---