Two Dozen Bay Cityans Were Stationed at Pearl Harbor During Japanese Attack
"Those Aren't Our Planes! Don't Be Silly; Whose Could They Be?"
December 11, 2011 1 Comments
By: Dave Rogers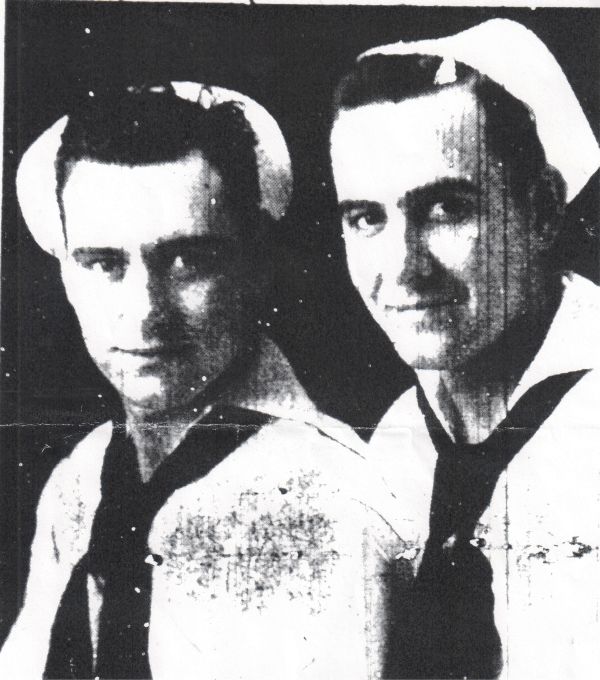 Robert, left, and James Headington, were sailors aboard the USS Oklahoma, battleship sunk at Pearl Harbor Dec. 7, 1941.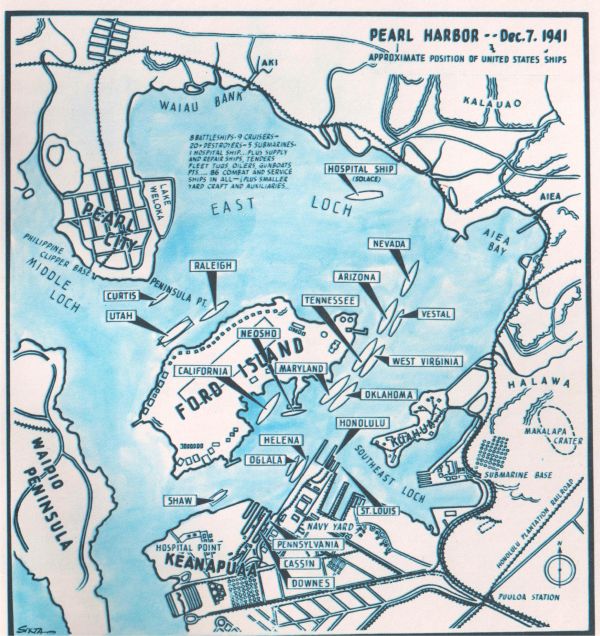 Pearl Harbor map gives position of U.S. ships at the time of the attack.
The Japanese surprise attack on Pearl Harbor, Hawaii, Dec. 7, 1941 --70 years ago today -- struck close to home for two dozen Bay City families.
Seaman First Class Robert W. Headington, of 501 Sidney Street, Bay City, Michigan, was a 19-year-old printer aboard the battleship USS Oklahoma on Dec. 7, 1941. His brother, James, was a 21-year-old petty officer. Their father, William, was a city police traffic officer.
The Oklahoma was moored outboard the newer battleship USS Maryland off Ford Island in the harbor of Honolulu, Hawaii, when two waves of surprise attacks by 523 Japanese planes struck. Three torpedoes were launched into the Oklahoma's side and two more hit the ship as she sank. Strafing killed crewmen as they clambered for safety from the mortally wounded vessel.
Seaman Robert Headington was one of 415 men to die of a total complement of 1,354 aboard the Oklahoma. Today he is memorialized at the National Memorial Cemetery of the Pacific in the Punchbowl in Honolulu.
James Headington survived the bombing, returned to Bay City after the war and married Delores Jane St. Peter. She died in 2004 in Little Rock, Arkansas, and he followed July 31, 2006, age 86.
The Headington boys were among more than a dozen Bay Cityans stationed at Pearl Harbor when the momentous attack rudely interrupted that lazy Sunday morning.
This reporter interviewed Bay City teacher Eren Learman in 1961, just two decades after the attack. She had been at Hickam Field, working as a clerk while visiting her brother, Lt. Birdsey Learman, of Essexville, who was stationed at Scofield Barracks with an Army cavalry unit.
Miss Learman, a University of Michigan Social Work graduate who had served briefly as Bay County Friend of the Court, and later returned to that post, said she first thought the Navy was firing guns in practice.
She and her friend, Helen, wife of an Air Corps officer, then saw the planes and were baffled. "Those aren't our planes," said Helen. "That's silly, whose could they be?" she wondered aloud.
Finally, she exclaimed "I guess we're at war," to Helen and her two small daughters, after a detonator from a Japanese bomb fell on their front porch.
Among other localites known to have been at Pearl that day were:
Ambrose Buda, 1123 S. Van Buren St., stationed on the hospital ship USS Solace that was not bombed by the Japanese;


Arthur Pobalis, 500 S. Jackson St.;


Jesse E. Reynolds, 908 E. Clara St., aboard the cruiser USS San Francisco;


Robert R. Skelton, of 2012 Fourth Ave., also aboard the USS San Francisco that was in drydock for repairs but went undamaged and cleared the harbor Dec. 16;


James McPeak, Jr., of 905 E. Clara St., and Ernest Trovinger, 304 Stanton St., were aboard the carrier USS Lexington, luckily out of the harbor during the attack;


Miss Elizabeth Meier, an intermediate school teacher, and her mother, Mrs. Michael L. Meier;

Mr. and Mrs. Howard Luther, of 309 N. Linn St., were in Honolulu where Mr. Luther was a housing administrator;


James Henry Bagwell, 1412 Center Ave., supply clerk for the Hawaiian air corps, stationed at Hickam field;


Ward Groseclose, 404 S. Euclid Ave., also at Hickam Field;


Lt. Jack Ferris, with his wife and two children and Mrs. Ferris' mother, Mrs. Isabel C. Miller;


Miss Cornelia Richardson, 300 W. Midland St., hostess at Hickam Field;


Ensign Robert D. Ellery Jr., with Patrol Wing No. 2;


Herbert L. Taylor, 606 Lafayette St., former machinist at Bay City Shovels, with the 15th Coast Artillery at Fort Kamehameha;


Karl Learman, of 509 Main St., Essexville, brother of Lt. Birdsey Learman and Miss Eren Learman, civilian worker at Wheeler Field;


Also at Hickam Field were Robert J. Revia, 1306 Elm St., and George W. Brown, 303 N. Catherine St.;


Seaman Jean Basin, 405 Harvard St., stationed with Torpedo Squadron No. 6 aboard the aircraft carrier USS Enterprise; the Enterprise was still at sea when the attack hit, but the ship's planes engaged the Japanese and sunk a submarine;

"A day that will live in infamy," President Franklin D. Roosevelt famously proclaimed in a radio address to the nation that day.

The death and damage toll may not have been as bad if a 50 minute period advance warning opportunity had not been squandered in a monstrously tragic mistake.

Americans knew a flight of 12 B-17 bombers was enroute from California and radar operators at Point Kahuku saw the mass of aircraft at 7 a.m. but assumed they were ours. "If the approaching planes had been considered as non-friendly there could have been an alert 50 minutes before the attack," wrote Capt. William T. Rice (USNR, ret.).

###

---
(Prior Story) History Article 6544 (Next Story)
"The BUZZ" - Feedback From Readers!
frank_starkweather Says: On December 19, 2011 at 01:15 PM

Dave: West Point graduate, Dr. Douglas Cummings, told me about a plaque on the wall of Trinity Episcopal Church. I went there and found a big (est. 2'x3') marble plaque mounted on the western wall of the sanctuary, halfway down. It contains the following message: "Rush Howard Willard, Lt. Army Air Corps, died in the service of his country, Jan. 14. 1942"

I was thinking of calling Gerry Higgs about this person, as she has gathered a lot of information about early fliers.

Dr. Cummings and I are wondering if he was at Pearl Harbor (five weeks earlier), injured during that attack, passing that date in January, 1942. We speculated he might have died in air battles with the Japanese, but we are not aware of such direct engagement until the Battle of Midway which didn't happen until June, 1942. Cummings wondered if he was part of an American contingent in, say, the Philipines, or other Eastern Pacific locations which the Japanese also attacked around the time they attacked Pearl Harbor.

I notice that the name of the airman is not found in the list of Bay City people in your article.

Can you shed any light on this person?

Frank
---

Dave Rogers




Dave Rogers is a former editorial writer for the Bay City Times and a widely read,
respected journalist/writer in and around Bay City.
(Contact Dave Via Email at carraroe@aol.com)

More from Dave Rogers
---
Send This Story to a Friend!
Letter to the editor
Link to this Story
Printer-Friendly Story View
---
--- Advertisments ---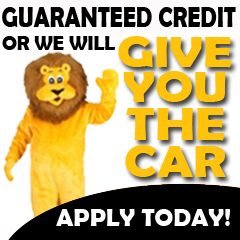 0200 Nd: 05-20-2013 d 4 cpr 1




SPONSORED LINKS
---
LOCAL LINKS
(Ads not affiliated with Google)
---
---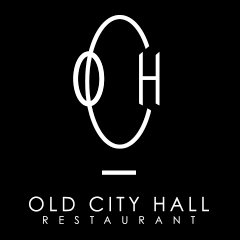 ---
---
Ads By MyBayCity.com
View Our Inventory
Available Vehicles


http://www.rivertownautoplaza.com/newandusedcars.aspx
---
Ads By MyBayCity.com
Steelhead & Salmon Video
bugwatermedia.com


Video Production & Fishing DVD Sales
---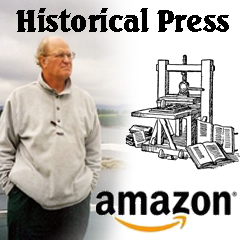 ---
---