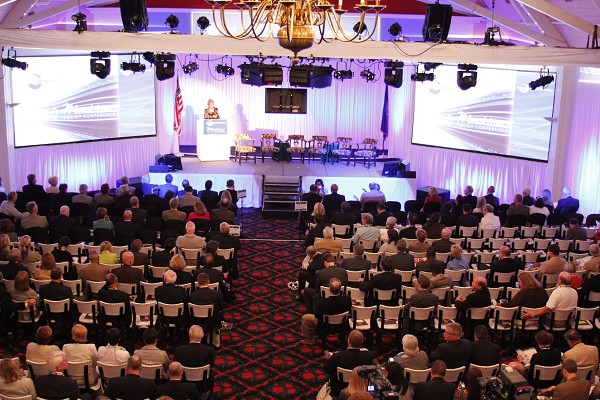 Detroit Regional Chamber Conference seeks "big picture" of growth at Mackinac Conference.
---
Planning Unified Michigan Theme of Detroit Regional Chamber on Mackinac
"Outsource to Detroit" Among Global Competitive Strategies Eyed
The Detroit Regional Chamber of Commerce has its annual policy conference May 29-31 on Mackinac Island.
More than just schmoozing, boozing and golf hopefully will emerge, given the theme of "unifying Michigan."
For a $2,500 registration fee you get the right to rent a room at the Grand Hotel for a few hundred smackers a night and stroll the longest porch in the world. Rubbing elbows with the hoi polloi of the business and political worlds is an added bonus.
The annual Mackinac Policy Conference is the largest and longest running policy forum in Michigan, and one of the most prominent in the nation, attracting over 1,500 government and business leaders each year to discuss key issues facing our region, state, and nation.
Following the 2010 Mackinac Policy Conference, the Detroit Regional Chamber started a new tradition -- a Conference To-Do List was created to ensure that the conversation on the Island produced concrete results.
"We've continued that tradition and are building on the momentum using the To-Do List as a tool to move our region and state forward," said Chamber CEO Sandy K. Barauh.
The 2011 Mackinac Policy Conference To-Do List has seven tangible action items that the Detroit Regional Chamber committed to follow-up on.
1. Improve collaboration between East and West Michigan businesses and key institutions.
2. Incorporate Southeast Michigan's leading and most promising clusters into the regional economic development strategy.
3. Work with Harvard Professor Michael Porter to convene the Great Lakes governors to accelerate the development of a Great Lakes "super regional" strategy.
4. Convene relevant institutions and leaders to drive the "Outsource to Detroit" initiative.
5. Convene business, labor and educational leaders to develop and document the factual benefits of doing business in a globally competitive Michigan, and the benefits of the global marketplace to Michigan.
6. Establish a mentorship initiative engaging graduates of the Detroit Regional Chamber's Leadership Detroit program.
7. Support the Governor's education agenda and the new Education Achievement System.
The final report will be issued at the 2012 Mackinac Policy Conference.
The list of speakers is impressive, from Harold Ford, former Member of Congress and TV show regular, to a guy who makes and sells salsa, Dave Zilko, who also is a private equity firm partner in Detroit.
The brief agenda looks like this:
Policy Front and Center:


With regional and national experts and elected officials appearing throughout the agenda, the Conference will focus on the major policy and electoral issues facing Michigan.
Thomas Friedman and Fareed Zakaria:


Two of the nation's most prominent authorities on the U.S. in the globalized world will provide their expertise and insight on how Michigan can embrace the realities of the 21st century global market.
Election 2012:


Political strategists Donna Brazile and Tucker Eskew join Harold Ford Jr. on stage to bring first-rate electoral analysis as the country prepares for the 2012 presidential election.
Governor Engagement


From planning the agenda to stage appearances, Michigan Governor Rick Snyder will again play an integral role in the Conference.
Detroit Now:


With the Motor City at one of the most critical junctures in its history, the Conference will tackle the key issues impacting Detroit, including city finances and urban revitalization.
You Decide:


2012 top issues impacting businesses and residents throughout the state will take the stage in the form of a "point, counterpoint style" debate. Attendees will get a chance to cast their vote and view real-time polling results.
Fab Five:


The region's most prominent county executives join Detroit Mayor Dave Bing to discuss collaboration and moving the city and region forward with Wayne County Executive Robert Ficano, Oakland County Executive L. Brooks Patterson, Macomb County Executive Mark Hackel and Washtenaw County Board of Commissioners Chairman Conan Smith.
A session Wednesday will bring together U.S. Sen. Debbie Stabenow, a Democrat, and the two top Republicans contesting to challenge her in November, former U.S. Rep. Pete Hoekstra and Detroit charter school founder Clark Durant. Attendees also will have an opportunity to vote in a presidential straw poll.
Autos and Innovation:


The Conference again has a heavy auto focus and welcomes Bill Ford to discuss the future of the industry as well as a panel featuring experts on the role the auto sector plays in global innovation.
East West Collaboration:


The Conference continues to evolve into a statewide conversation, and will again feature participation from prominent CEOs and business leaders from West Michigan and around the state.
21st Century Health Care:


Former Utah Governor and former U.S. Secretary of Health and Human Services Michael Leavitt shares his expertise on how the private sector can better shape national health care policy, contain costs and improve patient care.
---
(Prior Story) Government Article 07042 (Next Story)
---

Dave Rogers




Dave Rogers is a former editorial writer for the Bay City Times and a widely read,
respected journalist/writer in and around Bay City.
(Contact Dave Via Email at carraroe@aol.com)

More from Dave Rogers
---
Send This Story to a Friend!
Letter to the editor
Link to this Story
Printer-Friendly Story View
---
--- Advertisments ---