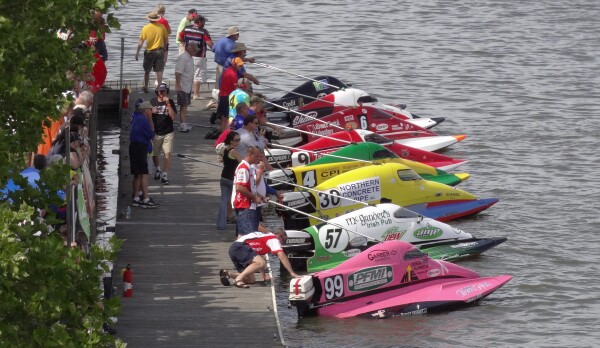 2012 RIVER ROAR -- Formula Light starting line shows off the colorful boats.
---
25th Annual River Roar In Downtown Bay CIty
June 24, 2012 3 Comments
By: Stephen Kent
The River Roar returned to Bay City and found perfect weather and great crowds waiting. This year the riverfront had both concerts and a carnival with rides and amusements.
Of the three classes, the Formula Light boats provided some excitement with a couple of crashes on Saturday. There were no injuries, but the crowds certainly got a thrill.
Formula Light was won Sunday by 21 year old Carlos Mendana from Florida. Essexville's James McGuire took 8th. Bay City's Gary Barber took 7th after crashing his boat on Saturday.
The formula 2 races was won by Dan Lick from Minnesota. He was thrilled with his victory. Formula 1, the "big boats", was won for the fourth time by Terry Rinker, who's bright yellow boat couldn't be missed.
MyBayCity.com was on hand to catch some pictures again this year and this time we also took some video. Check the YouTube link for a little taste of what the crowds enjoyed.
---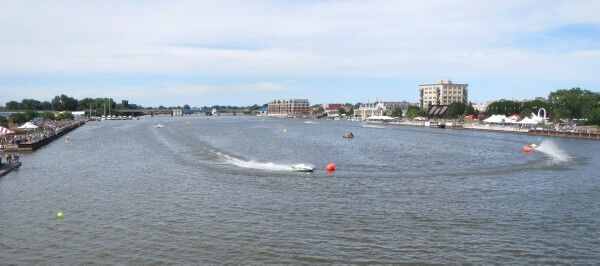 The course is an oval just under half a mile in length. The formula 1 boats can hit
130 MPH in that short straight away.
Try this Goggle Map Link to see the area in a satellite view.


---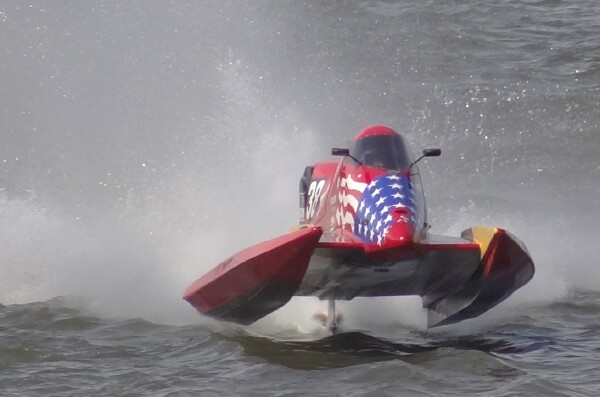 These boats are fast. They all catch some air on the straight-away
---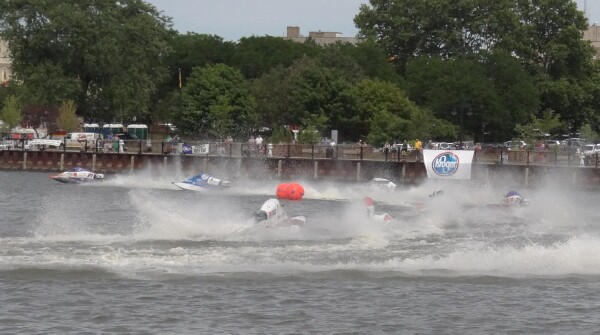 With the pack going full speed, the chop around the turns can be formidable.
---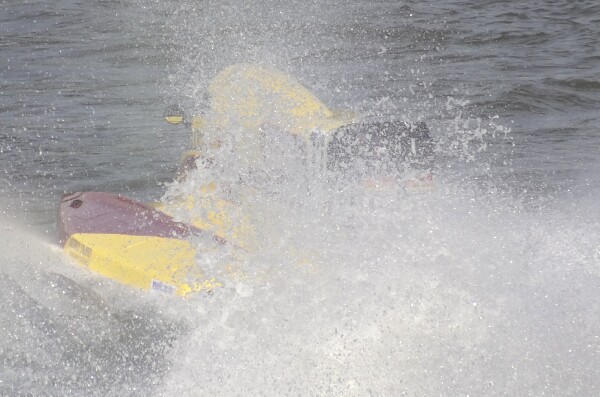 Driver's view. How do that do it at that speed?
---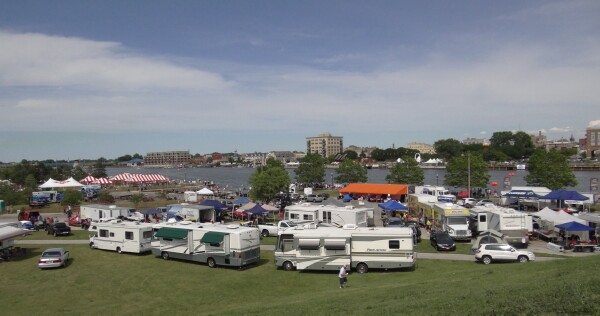 An overview of part of the pit area shows many of the RV and support vehicles used by the teams.
---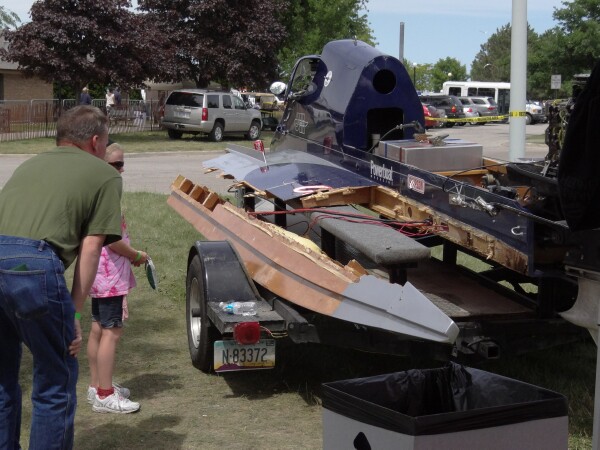 Sometimes you just can't get it all right.
Nobody was hurt, but the boat certainly took some damage!
---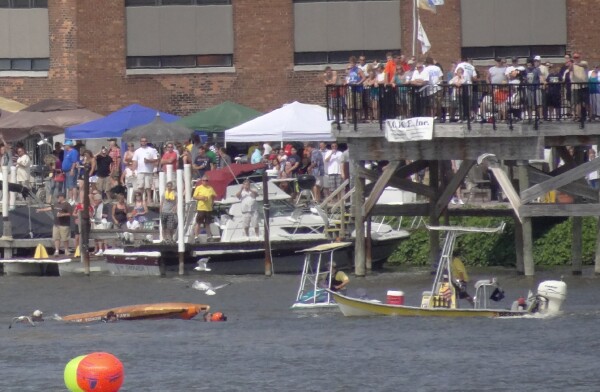 Another crash right in front of Waterfall Park and Pier gave these spectators a first hand view.
---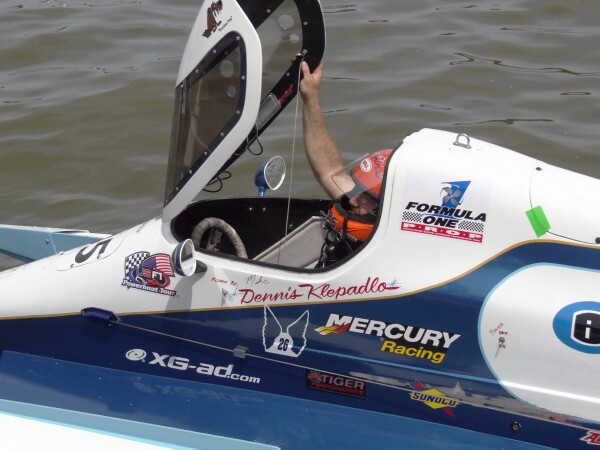 That's a small, tight fit for a driver.
---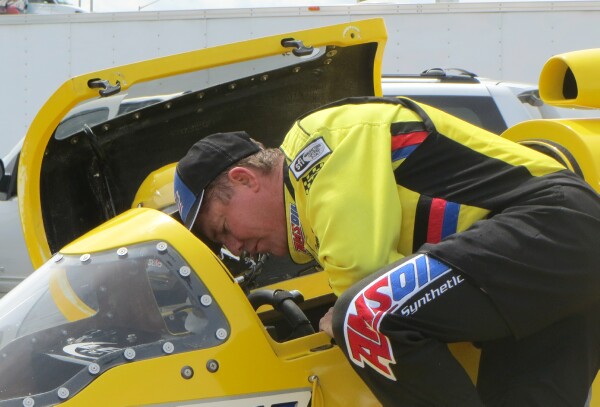 Formula 1 winner Terry Rinker checks out the controls.
---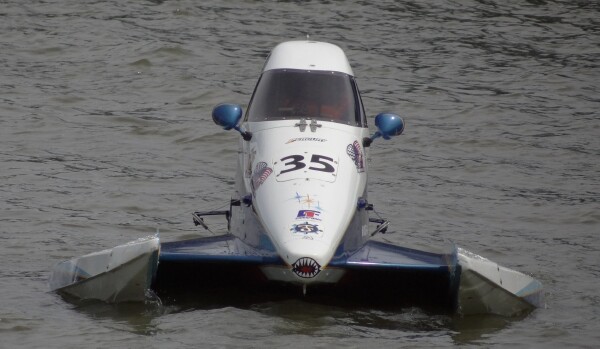 Front view of the number 35 boat.
---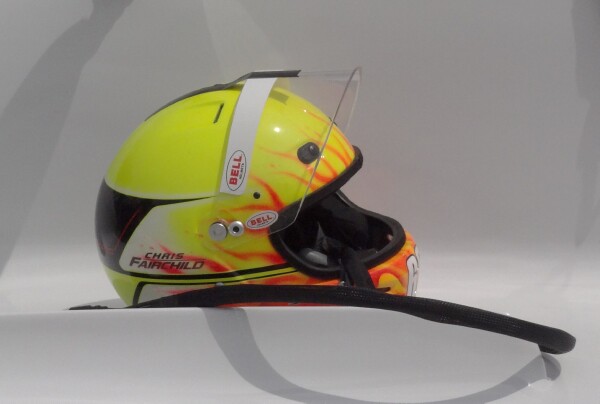 Helmet required!
---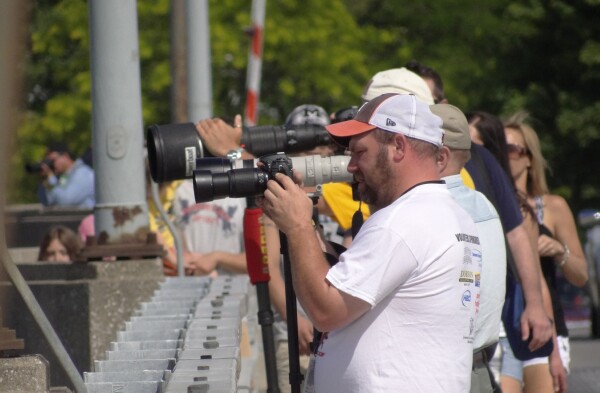 The bridge makes for some great photos, if you don't mind trucks and buses right behind you. Hope those drivers are watching the road and not the boats!
---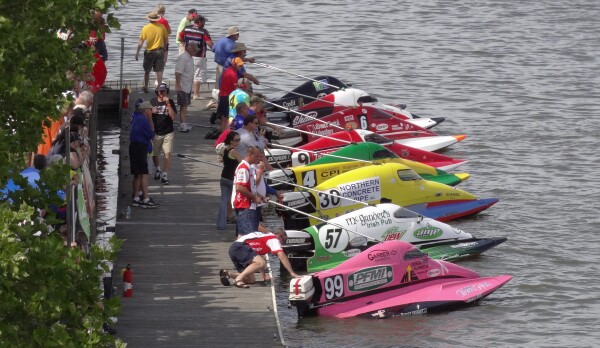 Formula Light starting line shows off the colorful boats. The race featured two female drivers. One is in the pink boat (her dad raced in formula 2). The other is in the Yellow and green boat number 4.
---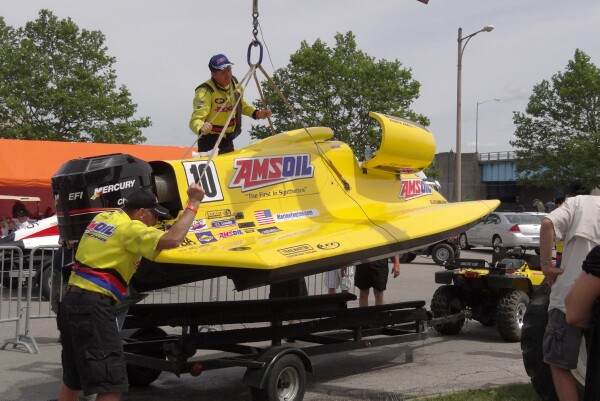 Every boat and driver gets an official weigh in after the races.
---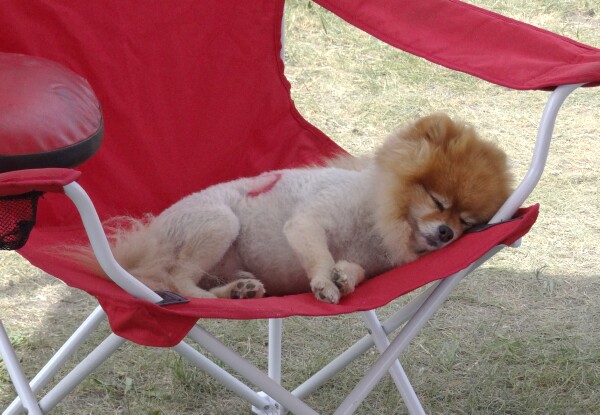 OK, this little guy has had all the excitement he can take.
But what's a photo spread without a cute puppy picture?
---
River Roar Articles over the years
2012 - 25th Annual River Roar In Downtown Bay CIty
2011 Dow River Roar's High Speeds, Sharp Turns Make for Thrilling Weekend in BC
River Roar 2010 Damp But Great Fun
2009 DOW River Roar Review
River Roar 2009 Delights Crowds
Gearing Up For 2009 DOW RIVER ROAR Dow Title Sponsor for 2nd Year
PHOTO GALLERY RIVER ROAR WEEKEND IN BAY CITY JUNE 2008
Ratt & Roll & River Roar -- With Special Guest Jackyl
2008 River Roar Makes Waves
In the Pits with Rinker Racing and Team AMSOIL 2007
You Know It's Summer In Bay City When . . . THE RIVER ROARS! 2007
Poison & Ted Nugent Rock the 2007 River Roar in Bay City
19th Labadie River Roar Highlight of Weekend 2006
RIVER ROARS FOR 18 YEARS - 2005
Bay City River Roar # 17 - 2004
River Has Been Roaring for A Century in Bay City
READY TO ROAR! - 2004
River Roars on First Day of Summer 2003
RiverRoar 2002!
---
(Prior Story) Events Article 07113 (Next Story)
---

Stephen Kent




Steve Kent and his family have lived in Bay City for 30 years. He is VP of Technical Services at MMCC which produces MyBayCity.Com. Kent is active in many Bay City civic organizations.

More from Stephen Kent
---
Send This Story to a Friend!
Letter to the editor
Link to this Story
Printer-Friendly Story View
---
--- Advertisments ---