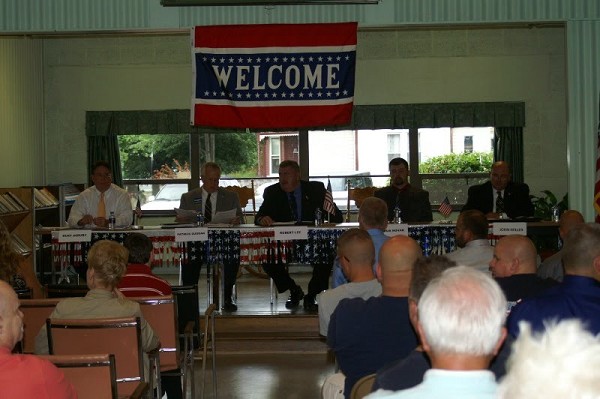 Candidates for County Prosecutor and County Sheriff answered questions from citizens.
---
CANDIDATE FORUM DRAWS LARGE CROWD AT FREMONT CENTER
Bay City's South End Citizens District Council held their annual "Candidate Forum" on Thursday evening at the Bay County Child and Senior Center in Bay City.
This Forum was for the Bay County Sheriff and Prosecuting Attorney races. A large gathering of over 90 spectators watched the candidates make Opening and Closing statements as well as answer eight (8) questions each.
Thomas Baird chairman of the South End CDC served as Moderator of the 6th Annual Candidate Forum which saw the candidates give the public some background information on themselves.
Candidates for the August 7, 2012 primary for Bay County Sheriff were incumbent Democrat Sheriff John Miller and fellow Democrat Robert Lee. Republican Joshua Novak will face off against the winner in the general election in November.
The two Democratic candidates (Kurt Asbury and Patrick Duggan) for the Prosecuting Attorney's position both appeared and answered all the questions that were put to them. This winner of the August primary will be unopposed in the general election in November.
This public forum for the electorate is an opportunity for the candidates to get their views out to the voters in advance of the primary election. The Bay Arenac Great Start Collaborative assisted in presenting this forum again this year.
The Candidates each spoke for three minutes, telling the forum general information about themselves and why they are running for these offices. Then they answered three questions that were presented to them prior to the Forum.
Current Prosecuting Attorney Kurt Asbury touted his record as Prosecutor and his long (28 years) career in the Bay County office. He talked about that he is a hands-on attorney, handling cases just like he did during his years as Assistant Prosecutor. He highlighted that he wants his office to become paperless and more efficient in the future to better serve Bay County. He spoke at length about his wanting to keep career criminals off the streets of Bay County.
Bay County resident and current Assistant Saginaw County Prosecutor Patrick Duggan commented on his lifelong commitment to Bay County. He also spent many years in the Bay County office before moving to Saginaw County a few years ago. These two candidates faced each other in 2008 with Asbury coming out on top. Duggan discussed ways of making the Prosecutor's office more efficient by finishing trials through to the end. He also talked about the evils of plea bargaining.
Both candidates presented their goals for the next four years in a clear and concise way to the people in attendance at the Forum.
Three men are running for the Bay County Sheriff's position including to veteran police officers Robert Lee and current Sheriff John Miller. Both of these men discussed their lifelong careers in law enforcement. One of these Democrats will face off against Joshua Novak in the general election on November 6, 2012.
This is expected to be one of the hotly contested races in Bay County in 2012.
Current Sheriff John Miller touted his 38 year career in law enforcement and the last 16 years as Sheriff. He talked at length about his leadership skills and how he gets along with other law enforcement agencies in the area. He shared with everyone on how the DARE program has been a success and how he keeps criminals in jail and doesn't release them out early into the community. He also stated that he has a good working relationship with the Bay County Board of Commissioners.
Recently retired Bay County Sheriff deputy Robert Lee talked about new ideas that he would like to see started in Bay County. He feels things are not currently working well within the Sheriff's department. He spoke about the cooperation that he would bring within the Department and the development of a K-9 program for the Bay County Sheriff's department. He would work hard to get every grant that is available for his department to make it more efficient and help educate his deputies. He stressed that he would like to continue to serve Bay County even though he had retired.
Republican Joshua Novak spoke about his limited background in law enforcement and his willingness to serve the people of Bay County. He did detail all of his experience on his dealing with security matters. His big talking point was about his plan to take 1/2 salary over the four years and save the County over 200,000 dollars. Novak said this saved money could be used to hire more deputies and put them on the road. Novak agreed with Lee and Miller on most of their concerns in keeping Bay County a safe community. He will face the winner of the August primary.
At the conclusion of the Candidate Forum, the candidates did mingle with the public and answer any and all further questions. All of the candidates thanked the South End Citizens District Council for providing this opportunity to get their message out to the people of Bay County. The South End Citizens District Council announced that they would be holding another "Candidate Forum" in October for other offices in Bay County.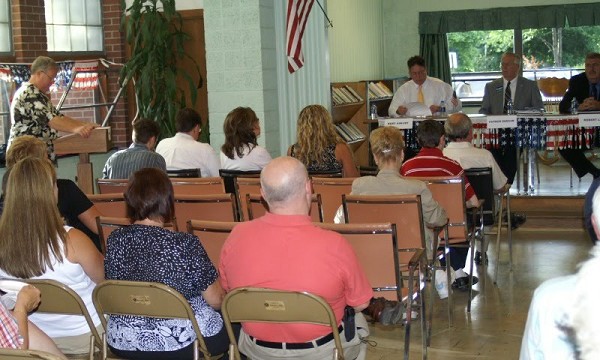 Tom Baird, (Far Left, Standing) facilitates the question-answer session during the Fremont Center Forum
Photo courtesy of Tom Baird
© MyBayCity.com
---
(Prior Story) Government Article 7105 (Next Story)
---
---
Send This Story to a Friend!
Letter to the editor
Link to this Story
Printer-Friendly Story View
---
--- Advertisments ---