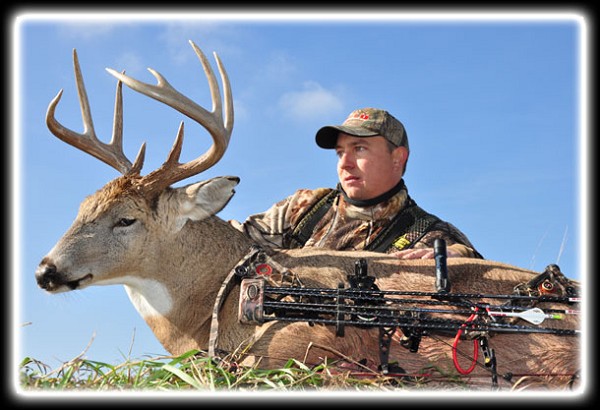 Tim Roller -- Pictured with a Whitetail Deer harvested in Kansas while filming Whitetail Journey TV Show
---
Bay City's Tim Roller Premiers 6th Season of Deer Hunting TV On July 1
Whitetail Deer Hunting Featured on Sportsman Channel Every Sunday at 6:30PM
July 1, 2012 Leave A Comment
By: O. J. Cunningham
The sixth season of Tim Roller's Whitetail Journey previews this Sunday (July 1, 2012) on the nationally distributed Sportsman Channel. (Charter Channel 217)
Roller was born and raised in Bay City, Michigan and is a Bay City Handy graduate. He was recently inducted into the Bay County Sports Hall of Fame as part of the Bay City Handy (1987) State Championship Baseball team.
Roller was also part of the fishing team that hooked and landed the World Record Brown Trout in the Manistee River on September 9, 2009. In addition to his TV success, Roller is also the force behind the Wild Addiction Radio project that can be heard weekly via podcast at iTunes and at
Wild Addiction Radio
BugWater Media, LLC, with radio and television studios located at 509 Center Ave, is the parent company for Roller's radio and television productions with corporate offices in Bay City.
"Keeping busy is an understatement," Roller said about his weekly routine. "This is a busy time for us . . . to be sure," Roller said.
Roller also said that BugWater Media has two Whitetail Deer Hunting DVDs planned for release by the end of the calendar year. "This hunting DVD project has been in the works for over a year," Roller explained. "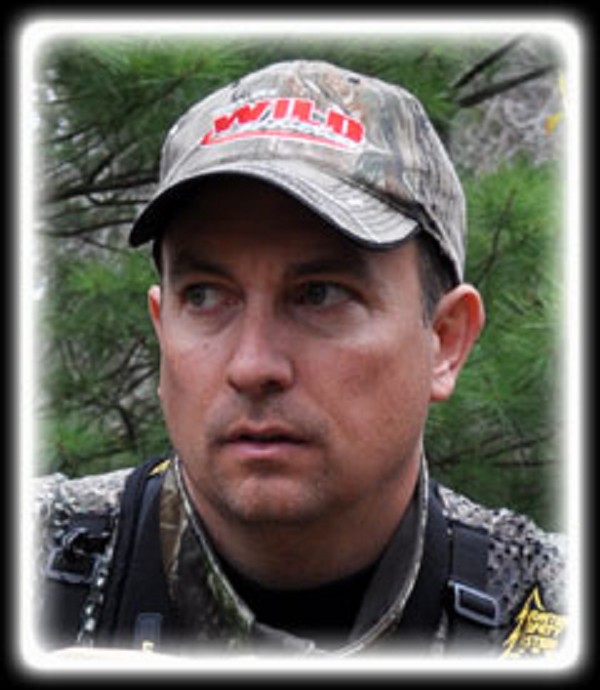 Tim Roller -- Whitetail Journey
National TV -- Sportsman Channel
Photo by O. J. Cunningham
© MyBayCity.com
You can join the Whitetail Journey team each Sunday as their Journeys take them across the Midwest in search of mature Whitetails, all on their terms. This is 100% wild, fair chase, real-world hunting.
"We're all very excited about the new season, said Producer, Tim Roller. "During the next six months, you'll see the highs and the lows, and everything in between," Roller went on. "We've got just an exceptional group of talented hunters," he continued. "Each week, it's all about the journey . . . chasing after that next Whitetail Deer," Roller said.
Tim Roller's Whitetail Journey airs nationally on Sportsman Channel July through December at 6:30PM in the "WHITETAIL BLOCK" of programming featured from 6-8PM each Sunday.
Host/Producer Tim Roller, along with the Whitetail Journey Pro-Staff, put you in the tree as they chase trophy-class Whitetails across the Midwest each year!
Whitetail Journey is one of four (4) nationally recognized Whitetail Deer hunting programs featured in the newly formed "WHITETAIL BLOCK" broadcast from 6-8pm each Sunday.
Television Programs are:
6:00 pm ET -- Backwoods Life
This week Kevin starts off bow hunting whitetails in Missouri, and then joins Woody in Illinois for more bow hunting whitetails. Michael then heads to Illinois for the first shotgun deer season. Get ready for some close encounters and one of Kevin?s best hunts ever on film.
6:30 pm ET -- Tim Roller's Whitetail Journey
Join host Tim Roller and pro-staffer Fred Andalora as they preview a brand new season of Whitetail Journey.
7:00 pm ET -- Buckventures
Matt Duff, Brandon Danker, and Brandon Adams all take some bow hunting frustration out with a rifle at River Mesa in NW Oklahoma at River Mesa.
7:30 pm ET -- Livin' the Hunt
Winning member, Pat Burgess from Michigan, joins Livin' The Hunt on an early season muzzle loader hunt in Oklahoma with Mt' Hide Outfitters chasing whitetails.
---
(Prior Story) Outdoors Article 07137 (Next Story)
---

O. J. Cunningham




O. J. Cunningham is the Publisher of MyBayCity.com. Cunningham previously published Sports Page & Bay City Enterprise. He is the President/CEO of OJ Advertising, Inc.

More from O. J. Cunningham
---
Send This Story to a Friend!
Letter to the editor
Link to this Story
Printer-Friendly Story View
---
--- Advertisments ---