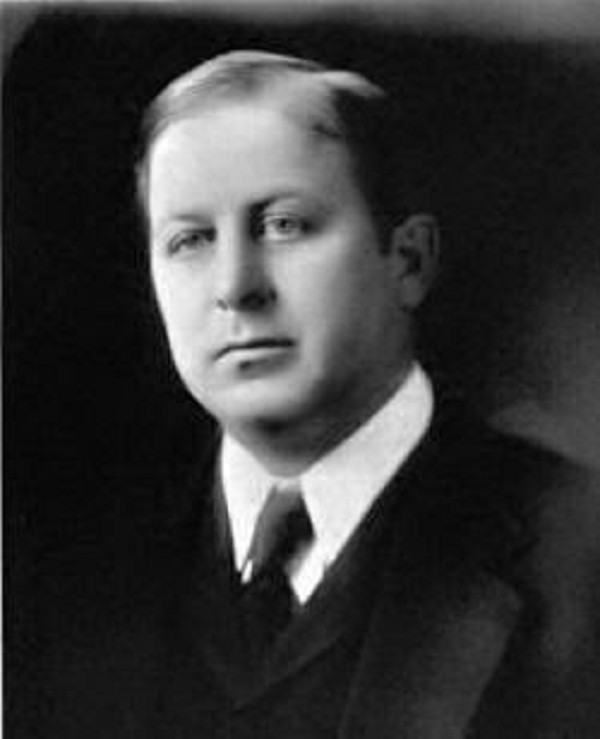 Native Bay Cityan and national political and diplomatic figure Charles B. Warren, 1870-1936.
---
Bay City Native Charles B. Warren "Almost" Became U.S. Attorney General
Mystery Lawyer in Controversial Sugar Trust Deals, GOP Fundraising
Close, but no cigar, as the saying went at the county fair.
Native Bay Cityan Charles Beecher Warren not only was an important diplomat and served as ambassador to Japan, he made more history by refusing the job of attorney general and by his political activities.
"A familiar face in Republican Party circles, Warren was a mystery to the general public though he could boast extensive experience in the corporate, legal and civic spheres of metropolitan America," wrote Roger Hodgkins for Limina, a University of Michigan alumni publication.
Part of Mr. Warren's life remains pertinent for study today because it involved the President's power of appointment. This is especially so in a toxic partisan atmosphere such as is occurring now.
With political pundits recently focusing on conflicts of candidates resulting from corporate connections, Warren's story gains even more importance.
The refusal came, apparently in frustration and/or a fit of pique, after he was offered a recess appointment by President Calvin Coolidge in 1925 following two rejections of his nomination by the U.S. Senate.
"It was the first time since 1868 that the Senate had rejected a Presidential cabinet appointment and it brought the guillotine down on Warren's national career," wrote a commentator recently.
His cronyism as a poker-playing buddy of President Warren G. Harding, and a campaigner for two Presidents, deserves more press and academic attention. Harding died in 1923 as the Teapot Dome scandal rage and was succeeded by Coolidge, his vice president.
Those connections put the native of Bay City in a position to influence international affairs as well as to come within a hair's breadth of a cabinet appointment.
He was appointed ambassador to Mexico in 1923 but resigned within the year to mastermind Coolidge's nomination at the 1924 Republican National Convention.
Warren's biography is featured on Marv Kusmierz's bay-journal.com and a close reading of his life is merited by those of us interested in the exploits of local residents, present and past.
Warren's fundraising letters to major corporations were leaked to the press just before the 1920 Presidential election "with Democrats citing the letters as evidence of an attempt by big business to buy the Republican party." Sound familiar 92 years later?
"One of Warren's major corporate interests, a longstanding involvement with the Michigan beet sugar industry, proved both profitable and controversial," wrote Hodgkins in 2002.
Detroit lawyer Warren was hired by the Michigan Sugar Co., which controlled eight plants in the state, and tasked with ensuring that no beet sugar plants were built in the state to compete with the dominant American Sugar Refining Co.
"The air of illegality surrounding Warren's actions was not easily dissipated, and his involvement with the 'Sugar Trust' became a matter of considerable controversy when the Senate considered Warren's cabinet nomination in 1925," wrote Hodgkins.
Mr. Warren's diplomatic work began as the youngest lawyer on the Joint High Commission on Bering Sea Claims in 1896. Later he negotiated at the Hague with Great Britain in a North Atlantic fisheries dispute. He served as a commissioner to Mexico in 1923 and was appointed ambassador to Japan in 1921 by President Warren G. Harding. His 18-month posting coincided with a limitation of armaments conference and a significant easing of tensions between the U.S. and Japan, Hodgkins observed. He also helped draft the U.S. Selective Service Act in 1918 and was adviser on peace negotiations after World War I.
Warren's career also had its high points. For service as a colonel in the Army, he was awarded by the President the Distinguished Service Medal with this citation in the Military Records:
"For exceptional, meritorious and distinguished service to the government in connection with the administration of the Selective Service Law during the war. In all of his varied and important duties he displayed unselfish devotion, tireless energy and extraordinary executive ability." He was active in the great international charity movements antedating our entrance into the World war, and has received decorations from the French republic, the Kingdom of Belgium and Serbia.
John Isaacson, director of the website www.presidentialappointments.org, explains:
"The 'Recess Appointment' controversy has excited anger since the Constitution was ratified more than 220 years ago. The practical impact has always been to dilute the power of the United States Senate to totally block Presidential Appointments. This is an important part of the Checks and Balances built into our government."
The President could operate the government totally on recess appointments if necessary, Isaacson observed, although it would surely be politically unpopular. "Both parties use the Advice and Consent power to slow down, or prevent Presidential Appointments. Needless to say it irritates a sitting President, but is an important check on his powers."
How did a Bay Cityan rise from a mid-Michigan lumber town to be involved in international diplomacy and national politics? Warren's father, Robert L., was the founder of the Bay City Journal and also the Saginaw Daily Enterprise, which was one of the first daily newspapers printed in the Saginaw valley. He was elected to the state legislature and for many years he was president of the board of trustees of the Michigan School for the Deaf at Flint. In 1908 he was made a delegate to the Republican National Convention from the second district of Michigan and he was long a prominent figure in political circles in this state."
Charles B. Warren spent his boyhood in Bay City and moved with his parents to Albion, where he attended Albion College for two years. Entering the University of Michigan as a junior, he became editor of the school newspaper. He earned a law degree in 1891 and also "read" the law with prominent Detroit lawyer Don M. Dickinson, whose name is still well known in Michigan law circles.
Warren's connection with the influential Dickinson led to his early diplomatic assignments and started him on the road to prominence.
###
---
(Prior Story) History Article 7156 (Next Story)
---

Dave Rogers




Dave Rogers is a former editorial writer for the Bay City Times and a widely read,
respected journalist/writer in and around Bay City.
(Contact Dave Via Email at carraroe@aol.com)

More from Dave Rogers
---
Send This Story to a Friend!
Letter to the editor
Link to this Story
Printer-Friendly Story View
---
--- Advertisments ---