Rowley and Washabaugh Honored by Garden Club For Community Impact
Peg & Cathy Receive Prestigious Civic Improvement Commendation
July 22, 2012 Leave a Comment
By: O. J. Cunningham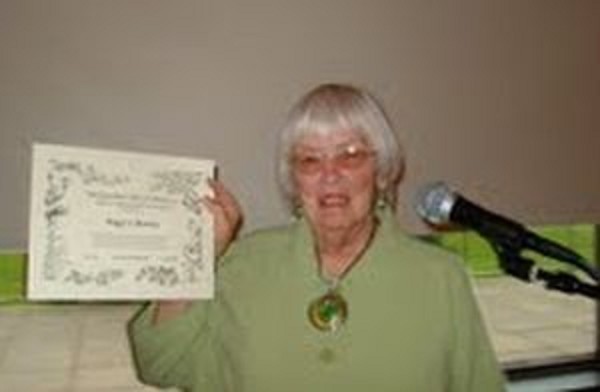 PEG ROWLEY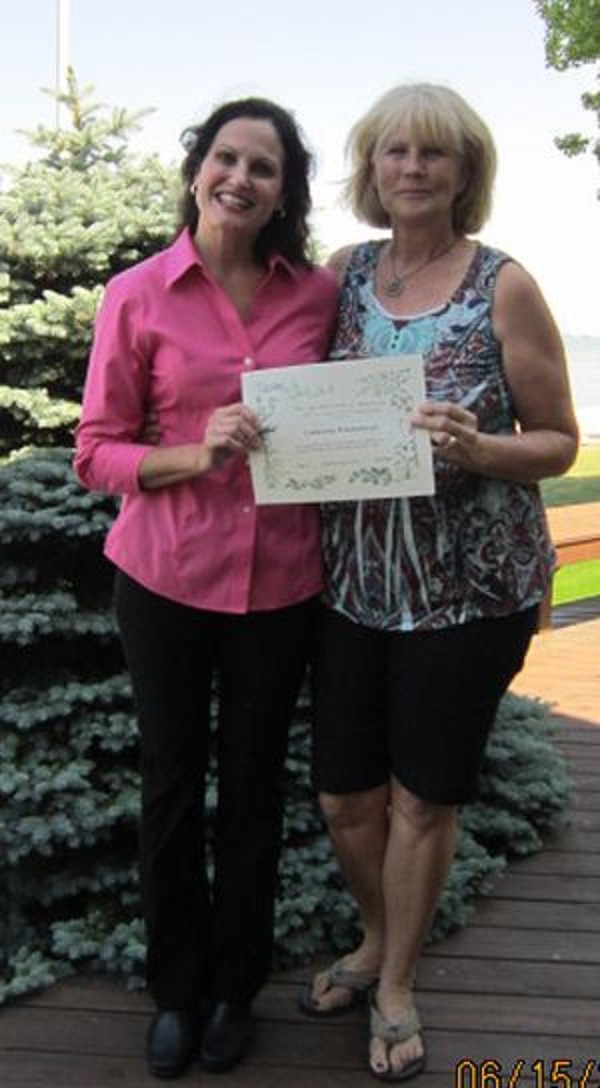 CATHY WASHABAUGH (L) WITH SUE GIRARD
When you think of Bay City, it's hard not to think of the trails, riverwalk and playscapes that are now forever part of the Bay City/Bay County landscape.
But not everyone who uses the trails knows how the vision of two determined local women, a generation apart, made the idea of a walk by the river become reality.
Recently,
Peg Rowley
and
Catherine Washabaugh
received the prestigious Garden Club of America Civic Improvement Commendation at the Bay City Garden Club's June Meeting. Rowley and Washabaugh were honored for their commitment to bettering our community through development of the Railtrail, Riverwalk and Playscapes.
A press release sent out by the Garden Club stated, "Without their steady commitment, our riverfront may have been totally different today. In the recent visioning secession conducted by the city the Riverwalk and trails were mentioned as connection corridors and highlights of our community."
Catherine Washabaugh
is a dedicated community volunteer who has expanded her mentor's vision and added her own signature. The river walk and rail trail system that now encompasses 17.5 miles began as one women's quest to make our waterfront parks and downtown a walkable family attraction and has become a centerpiece linking our Bay City community.
Some look at a task and say it is just "too big" -Cathy looks at a task and is on the phone contacting others to see how "we" can make it happen. During her tenure as chairman of the Rail trail committee the original trail loop has been completed and now extends into Bangor township reaching and "connecting" area parks and nature centers. This greenway system extends throughout our community and allows for viewing of natural, native plants and wildlife habitats. These "green belts" conserve land and water resources to promote sustainable communities and a higher quality of life.
Professionally, Cathy, a University of Michigan graduate, is a geological engineer working for the Michigan Public Service Commission since 1983. A very busy year for her, since that is also the year she married her husband Tom -who is also an engineer and president of Northern Concrete Pipe. They have 2 talented daughters, Julie and Jen, who currently attend University of Michigan.
Trails are a constant in Cathy's life and they connect all her favorite places. Places that she has helped to build - "Imagination Station", "Come Play by the Bay", "Safe Routes to School", "Spray by the Bay Spray Park" and the re-built observation towers at the Bay City State Recreation Area. She is a tireless member of the Friends of the Bay City State Recreation Area, the Bay Area Community Foundation, the Saginaw Basin Land Conservancy and the Saginaw Bay Watershed Initiative Network.
At the Bay City State Recreation Area's new spray park, environmental stewardship was a key consideration in development and planning which will soon include a rain garden and butterfly garden as well as interpretative learning pathways that will teach visitors about the sensitive native habitat. Cathy was instrumental in development of these features. Her love of the outdoors and preserving our natural resources has driven her to work with others to preserve our community's unique environmental footprint.
An avid bicyclist and runner, she uses the trails constantly, promotes and writes grants to expand and better the trail system while providing avenues to maintain the existing trails. Her contributions to our area will be here for generations. Her enthusiasm will inspire the next generation!
Peggy Rowley
is an enthusiastic community leader and volunteer who has spearheaded many projects that are still ongoing today to maintain and expand her vision of Bay City. She has been a mover and a shaker in Bay City for many years.
Peggy was the founder for many organizations, such as the Bay Music Foundation (1958), Bay City Public Schools' Roller Skating Program (1975), Bay City Fireworks Festival (1982), Jennison Nature Center and Tobico Marsh Interpretive Area (1983), the Riverfront Development and Riverwalk (1986) and the Railtrail (1997), just to name a few. The Riverwalk and Railtrail system encompasses 17.5 miles which began as Peggy's mission to make the Bay City Waterfront Parks and Downtown a continuous link with paved walkways on both sides of the bridges for residents and visitors to enjoy.
She spearheaded the Riverfront Development through the Bay Area Community Foundation in 1986, and built a two mile Riverwalk and an 820 foot pier halfway across the Saginaw River. She created a $25.00 per share fundraiser in which the community was given an opportunity to get involved. She helped raise $500,000 to match the amount granted to Bay City to construct a pedestrian crossing from the west shore of the Riverwalk to Bigelow Park, an island located in the Saginaw River. The grant was awarded and construction was done in 1993 and has become known as the "Cridge" for crooked bridge. It is a tourist attraction and draws many visitors to the area.
Peggy chaired the Bay Area Community Foundation Railtrail Committee in 1997 and helped build a nine mile loop connecting the Hampton and Portsmouth Township Railtrail.
She has served as treasurer and advisor on the Skatepark Committee and helped raise over $500,000 to build a fabulous Skatepark for the community in 2001. She was also instrumental in forming a committee to renovate the historic State Theater in Downtown Bay City.
Not only has Peggy been involved with community development, but also in Music. She started playing the violin at 5 years of age, played in the school orchestra starting in first grade, and received an eight week summer scholarship to Interlochen National Music Camp, which later in life inspired her to start the Bay Music Foundation which awards scholarships to musicians since 1958! The list of committees she has served on to improve the Arts in Bay City includes; Bay City Players, Studio 23 Arts Center, State Theatre, and the Bay Concert Band.
What started as a dream has become a reality for hundreds of residents and visitors each year to enjoy the Railtrail and Riverwalk all year round. As a mentor, she has involved others and inspired enthusiasm to continue to maintain the Riverfront and Railtrail. Her contributions to our area will be here for many generations.
---
---

O. J. Cunningham




O. J. Cunningham is the Publisher of MyBayCity.com. Cunningham previously published Sports Page & Bay City Enterprise. He is the President/CEO of OJ Advertising, Inc.

More from O. J. Cunningham
---
Send This Story to a Friend!
Letter to the editor
Link to this Story
Printer-Friendly Story View
---
--- Advertisments ---