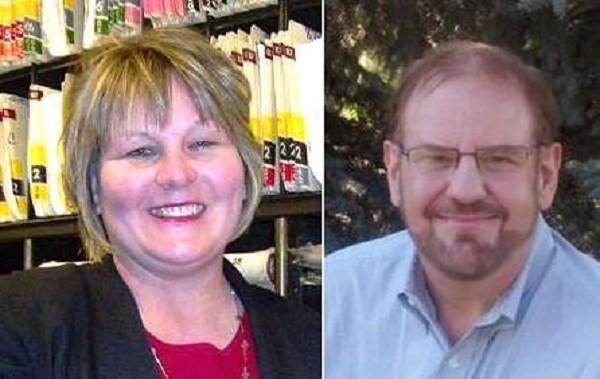 Combatants are former state representative Howard Wetters, (right) challenging County Clerk Cynthia Luczak in a dispute over services to the public.
---
FOILED? Ex-State Rep. Wetters Loses FOIA But Pushes Bid to Oust Clerk
County Building Feud, Redistricting Escalates to Aug. 7 Primary Battles
A Bay County Building feud has escalated to an acrimonious dispute over services in the county clerk's office and a primary election showdown.
Combatants are former state representative Howard Wetters and County Clerk Cynthia Luczak, both Democrats seeking nomination for clerk in the Aug. 7 primary election.
Running under the theme "restoring full time service," Mr. Wetters states: "I decided to run for county clerk the day I went to the office, found the office door closed and locked during regular business hours, and saw the clerk and her staff standing inside looking at me through a locked door."
However, Mr. Wetters has lost his Freedom of Information Act (FOIA) request to access videotape evidence that he asserts would prove his opponent is denying the public full access to services of the County Clerk's office.
On a 5-4 vote, the Bay County Commission has refused a FOIA request to allow access to videotapes of the hallway outside the county clerk's office. Wetters believe the tapes would show members of the public being turned away during regular hours.
On advice of Martha Fitzhugh, corporation counsel, the board voted against giving tapes to former state representative and recent MSU Extension Director Wetters.
Mrs. Fitzhugh told the board she could not find law applicable to a videotape of a county facility without specific justification for doing so. Security complications are involved in the denial, she said.
Mr. Wetters also has asserted in public discussions with the commission that the clerk's office could save $250,000 to $300,000 each election cycle by competitive bidding of ballot printing.
The clerk responded: "As with all service providers, you get what you pay for and sometimes it is worth it to pay slightly more than 'low bid' for quality service and the knowledge that the job will be done right the first time."
Mrs. Luczak has retaliated by posting the following on her election campaign website: "WHICH CANDIDATE WILL BEST SERVE YOU?" Under a photo of Wetters, she states: "History of volatile behavior; Ingrained career politician; Directed to attend anger management classes at taxpayer expense; Looking for his next 'gig' to continue collecting a public paycheck."
She complains that Wetters continually mis-spells her name "Luzcak," emphasizing "accuracy is important in the County Clerk's office!"
Mrs. Luczak told the news media in an interview that adequate funding for her staff has not been budgeted by the commission to allow her to provide full service in the clerk's office.
The commission has eliminated two positions in the clerk's office, along with cuts in personnel in other departments, sources said. On her website, she asserts that three positions have been cut.
Two former chairmen of the commission, Brian Elder and Patrick Beson, told MyBayCity.com in 2010 that they had had disagreements in the past with Mrs. Luczak over what she termed lack of staff due to inadequate funding.
Both Elder and Beson were defeated in their respective bids for office in the August, 2010 primary, Elder by Charles Brunner in the state representative race, and Beson for re-election to the county commission by fellow Democrat Brandon Krause.
Commissioners supporting Wetters' appeal were Democrats Michael J. Duranczyk, Ernie Krygier, Kim Coonan and Donald J. Tilley; opposed were Democrats Brandon Krause and Tom Ryder and Republicans Vaughn J. Begick, Joe Davis and Christopher Rupp.
Mr. Wetters was attempting to secure video evidence backing up his charge that many citizens have been turned away by Clerk Cynthia Luczak, who he says often closes her office early.
"Given the staff reductions and employees' use of their earned time off, there have been a few times in the past few years when the office has been closed at 4 p.m. because 2 of the available staff members were required to attend a Board of Commissioners meeting and there were no remaining staff available," the clerk stated on the website.
County sources also said Mrs. Luczak has refused to notarize documents, a duty now assumed by the office of County Executive Thomas L. Hickner. Persons turned away by staff of the clerk are told to go to the executive's office on the fourth floor to have their documents notarized, according to reports.
Mrs. Luczak states: "Again, if my opponent had the necessary knowledge to do this job, he would know that the service of Notary is a non-mandated service which requires one person to notarize and two people to witness each transaction. There are times when we do not have the available staff necessary to effectively notarize documents. When this concern was raised during budget sessions, county administrators and representatives of the Board of Commissioners made the recommendation to eliminate these services when they made staff cuts to the Clerk's office."
Persons seeking passports who formerly could obtain them at the clerk's office now must go to the post office for this service, according to reports, because the clerk is no longer providing that service.
Wetters had asked the commission to overturn a decision by Mrs. Fitzhugh disallowing access to the tapes from Jan. 1 to May 31, 2012.
Mr. Wetters is opposing Mrs. Luczak in the Democratic primary Aug. 7 for nomination as clerk. He has reportedly spent his own money on several mailing pieces to registered voters also accusing the clerk of failing to explain the invalidation of 10,735 ballots in the August, 2010 primary election and of failing or refusing to employ modern digital methods as urged by county administration.
MyBayCity.com received a response from the clerk to a FOIA request for explanation of the vast number of reportedly spoiled ballots, amounting to nearly half the votes cast in the August 2010 primary. However, no satisfactory explanation was offered and the ballots reported in numerical totals as "spoiled" apparently were counted anyway.
"The truth is, the spoiled ballots in that election were due to voter error," Mrs. Luczak says on her campaign website. "One thing to note is that if a voter chooses a candidate in more than one party, it does NOT void their entire ballot, only the race in which they disregarded instruction and crossed parties."
Clerks in several townships where hundreds of spoiled ballots were reported by the county clerk said they had only a handful each of uncounted votes. Mrs. Luczak, stating that no recounts had been requested, had no answer.
No explanation has been given for the high number of "spoiled" ballots in Bay County, the 10,735 amounting to about 48 percent of the 22,000 votes cast. Statewide 224,000 ballots were reported "spoiled," amounting to about 13 percent of the 1.6 million votes cast statewide.
By state law, ballots have been sealed for 22 months since the August 2010 primary but now apparently are available for scrutiny, although no effort has been made to do so.
The clerk's race conflict reportedly is linked to redistricting of the county board in which Mrs. Luczak and Democratic County Chair Tony Pawelski voted with Republicans.
Mrs. Luczak was chair of the redistricting board which last May voted to redraw lines, a change that has pitted incumbents against each other in three districts. Ryder is running against Tilley in a primary race in the new 6th district, Krause and Duranczyk square off in the new 1st District; Davis and Coonan face each other in the new 4th District.
A switch of the party representative in two races would give control of the commission to the GOP after decades of Democratic control.
In conclusion, Mrs. Luczak states: "You have a choice to make on August 7th, you can re-elect an EXPERIENCED and DEDICATED PUBLIC SERVANT or you can choose to invite chaos into the Clerk's office."
Mr. Wetters states his case on the website luzcakfactcheck.com: "Why now? Why for Bay County Clerk? Because you deserve to have a FULL SERVICE clerk.
My office will be open 8-5 five days a week
I will accept credit card payments in the clerk's office
I will notarize documents during regular business hours
I will modernize the clerk's office and save taxpayer's money
I will make public and genealogical records available on line I will store documents electronically rather than stuffing paper into filing cabinets
Why are the clerk's office doors locked?"
###
---
---

Dave Rogers




Dave Rogers is a former editorial writer for the Bay City Times and a widely read,
respected journalist/writer in and around Bay City.
(Contact Dave Via Email at carraroe@aol.com)

More from Dave Rogers
---
Send This Story to a Friend!
Letter to the editor
Link to this Story
Printer-Friendly Story View
---
--- Advertisments ---