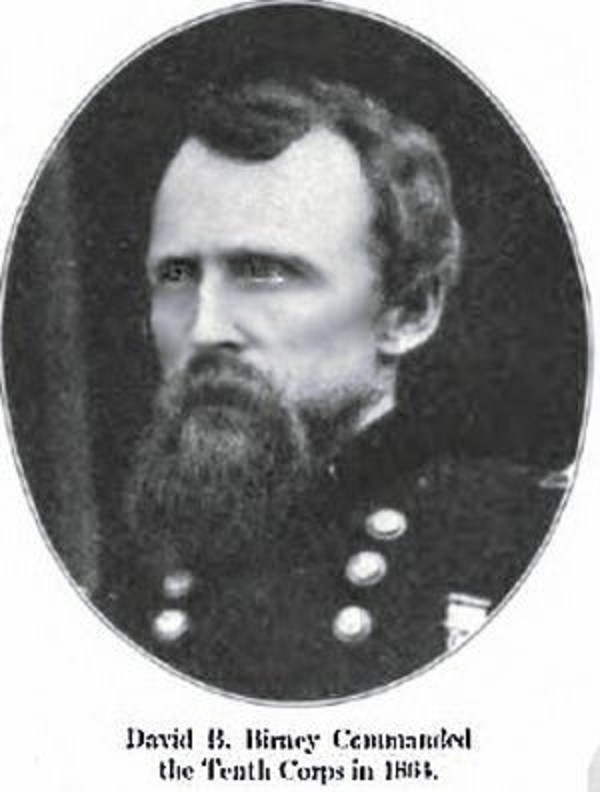 Maj. Gen. David Bell Birney commanded the X Corps in 1864.
---
SLAVERY VOTED DOWN: Presidential Election of 1864 Held Ominous Potential
Final Days of Maj. Gen. David Bell Birney Tell Tale of Grim Determination
(EDITOR'S NOTE: On the 150th anniversary of the Civil War, it is pertinent to recall the significant events that led to this nation's heritage of freedom. Bay Cityans have a constant reminder of the wartime election of 1864, pitting Lincoln and Johnson against McClellan and Pendleton, streets now bearing these names are familiar to us all perhaps without knowing their origin.)


It could be argued that the Civil War didn't end slavery in the United States.
Slavery really was ended in the Presidential election of 1864 when the Union Party's Abraham Lincoln defeated Democrat George B. McClellan.
Despite the battles and the deaths on both Union and Confederate sides for four years, the contest over slavery ultimately was decided by the democratic process of voting.
While Saginaw County supported Lincoln in 1860 by a vote of 1,479 to 1,206 for Stephen Douglas, in 1864 Saginaw backed McClellan 1,900 to 1,731. The Democratic candidates defeated Lincoln in Bay County in both 1860 and 1861, 324 for Douglas to 311 for Lincoln in 1860 and 584-462 for McClellan in 1864. Midland County voters were staunch Lincoln supporters, giving him margins of 157-43 in 1860 and 208-101 in 1864.
One of Maj. Gen. David Bell Birney's last acts on earth was to vote for the re-election of President Abraham Lincoln.
Birney's vote mattered little to Lincoln, but it was a courageous final contribution to the forging of the nation's legacy of equality for all.
A victory for the Democratic candidate, Maj. Gen. George McClellan, would likely have perpetuated slavery in the United States.
In his first inaugural address, Lincoln had spoken inspirationally of "the better angels of our nature." A perpetuation of slavery was not in his nature, nor in that of David Bell Birney.
Birney had shown extreme courage and foresight in the field during the three months campaign in 1861 by his refusal of the commanding general's order to arrest a fugitive slave. The Philadelphia lawyer had examined the articles of war and found nothing requiring an officer to uphold the system of slavery. Lincoln soon upheld that view by ordering the military to declare slaves "contraband" and not return them to slaveholders from whom they had escaped.
David Birney and brother William, both ultimately major generals, were anomalies in the Union Army: they were Southerners. Both were born near Huntsville, Alabama, William in 1819 and David in 1825. Raised among their father's slaves on a plantation at Triana, they were uniquely equipped by experience to understand, and successfully lead, black soldiers.
Both generals Birney had lived briefly in Bay City as teenagers when it was part of Saginaw County, and David returned for a time in 1848 to trade with the Indians for a Pennsylvania mercantile company.
The Independence Hall Association in Philadelphia has this historical perspective of those perilous days:
"The country had not elected an incumbent President for a second term since Andrew Jackson in 1832 -- nine Presidents in a row had served just one term. Also, Lincoln's embrace of emancipation was still a problem for many Northern voters.
"Despite Union victories at Gettysburg and Vicksburg a year earlier, the Southern armies came back fighting with a vengeance. During three months in the summer of 1864, over 65,000 Union soldiers were killed, wounded, or missing-in-action. In comparison, there had been 108,000 Union casualties in the first three years."
Gen. Birney had been stricken with malaria on the battlefield as his black soldiers closed in on Richmond in October, 1864.
He was heading the Army of the James, one of the rare cases in which a non-West Point graduate had commanded an entire army. William was there with him, heading a brigade of colored troops, many of whom he had recruited in Maryland.
The Union Army was closest to the Confederate capitol in that action, and was within sight of the church spires in town. It was in the Battle of New Market Heights, when Birney "left his sick bed to repulse the rebels who had scattered the cavalry of (Brig. Gen. August) Kautz," wrote biographer Oliver Wilson Davis, a fellow soldier.
Insisting on remaining in the field, Birney rode his charger Eclipse until he could no longer sit in the saddle, then issued orders from a horse-drawn ambulance.
In that single battle, New Market Heights, in September 1864, black soldiers won 14 Congressional Medals of Honor, an unprecedented outpouring of laurels for the nation's bravest.
Their commander never won honors for his courage, although he had been promoted to major general for stellar conduct at Chancellorsville a year earlier.
Using political connections long after the war, Daniel Sickles wangled a Medal of Honor for his service at Gettysburg that probably should have gone to Birney. The gallant Pennsylvanian replaced Sickles at the height of the battle when the former lost his leg to a rebel cannonball. Birney stood firm at the Wheatfield and prevented a Confederate rout.
Sent home from New Market Heights to Philadelphia to recuperate by Lt. Gen. U.S. Grant aboard the Greyhound, the dispatch boat of Maj. Gen. Benjamin Butler, the weakened Birney asked to be taken directly to the polling place. It was 11 October 1864, election day. Then he had a final battle when he reached the voting precinct.
Wrote Birney's biographer Davis in 1867: "His vote was challenged by one of the minions of the Copperhead ward-committee, attending at the polls for the purpose of throwing out the ballots of loyal men on technical grounds." Overcoming the challenge despite his illness, Birney cast his ballot for Lincoln and the entire Republican ticket.
The 1864 presidential election was one of the most critical in American history, states a writer for Digital History, amplifying:
"At stake was whether the war would end in unconditional surrender or a negotiated settlement, which might result in the preservation of slavery as a legal institution."
"It is not at all inconceivable that slavery could have survived if the President had not been committed to emancipation," a writer recently commented.
Observing that over 130,000 blacks were fighting to preserve the Union, Lincoln said in August 1864 that blacks were motivated by the "strongest motive...the promise of freedom. There have been men who proposed to me to return to slavery the black warriors. I would be damned in time & in eternity for so doing. The world shall know that I will keep my faith to friends and enemies, come what will."
The last act of Maj. Gen. David Bell Birney's life was to be carried to the polls to vote for Abraham Lincoln's re-election as President.
A description of Birney's final battle and death is contained in the new book, "Apostles of Equality: The Birneys, the Republicans and the Civil War." The book tells how James G. Birney, father of generals David Bell and William Birney, dedicated his life to the anti-slavery cause that resulted in the U.S. becoming a nation that opposed slavery rather than one that protected the evil practice.
Republicans and pro-war Democrats formed the National Union Party, which re-nominated Lincoln and Andrew Johnson (1808-1875), a former Democratic Senator from Tennessee, for Vice President. Johnson replaced Lincoln's first Vice President, Hannibal Hamlin (1809-1891), a former U.S. Senator from Maine.
The Democratic Presidential nominee General George B. McClellan, opposed the Emancipation Proclamation and ran on a platform which condemned Lincoln for "four years of failure" and called for a negotiated end to the war.
McClellan's running mate was anti-war Member of Congress from Ohio, George H. Pendleton.
Lincoln feared a loss at the polls. During the summer of 1864, he agonized, "it seems exceedingly probable that this administration will not be reelected."
There seems little doubt that a McClellan victory would have resulted in an agreement to maintain slavery in the United States.
The Independence Hall Association recalls: "The South was well aware of Union discontent. Many felt that if the Southern armies could hold out until the election, negotiations for Northern recognition of Confederate independence might begin.
"Everything changed on September 6, 1864, when General Sherman seized Atlanta. The war effort had turned decidedly in the North's favor and even McClellan now sought military victory.
The capture of Atlanta, a major southern railroad and manufacturing center, in September, electrified northern voters, who gave Lincoln a resounding victory."
The valiant David Bell Birney had been on the side of the angels in the election, as he was in life.###
---
---

Dave Rogers




Dave Rogers is a former editorial writer for the Bay City Times and a widely read,
respected journalist/writer in and around Bay City.
(Contact Dave Via Email at carraroe@aol.com)

More from Dave Rogers
---
Send This Story to a Friend!
Letter to the editor
Link to this Story
Printer-Friendly Story View
---
--- Advertisments ---