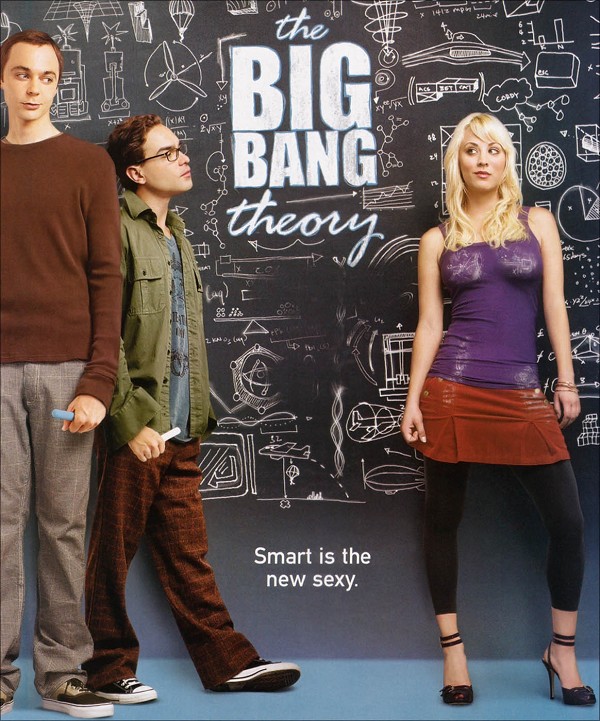 (L/R) I watch Sheldon, Leonard and Penny of Big Bang Theory every week. (2nd Most Watched -- 9 Million -- Behind America's Got Talent)
---
SyFy New Hits & Summer Nielson Ratings
Updated Every Thursday 7/26/2012
July 26, 2012 1 Comments
By: O. J. Cunningham
I always figured I was watching what everyone else was watching.
It's (obviously) not as straight-forward as that.
Come to find out, I only watch four (5) of the twenty most watched TV shows (According to Nielson) that are on each week.
I watch Big Bang, Two and a Half Men, NCIS, 60 Minutes and Person of Interest.
Look at the list.
Count how many are on your viewing list.
I think you, likewise, will be surprised.
(The number after the name is viewers in millions)
1. America's Got Talent (Tue.)NBC 10.2
2. Big Bang Theory CBS 9.0
3. The Bachelorette (Sun.) ABC 8.9
4. Bachelorette: After Rose ABC 8.8
5. America's Got Talent (Wed.) NBC 7.6
6. 60 Minutes CBS 7.5
7. Two and a Half Men (Thu.) CBS 7.4
8. NCIS CBS 7.2
9 The Bachelorette (Mon.) ABC 7.2
10. Big Brother (Thu.) CBS 6.3
11 Hell's Kitchen (Mon.) Fox 6.3
12 Masterchef (Mon.) Fox 6.3
13. Masterchef (Thu.) Fox 6.2
14. Hell's Kitchen (Tue.) Fox 6.0
15. Big Brother (Wed.) CBS 5.8
16 NCIS: Los Angeles CBS 5.8
17. Hawaii Five-0 CBS 5.7
18. Person of Interest CBS 5.6
19. CSI CBS 5.5
20. Big Brother (Sun.) CBS 5.4
WHAT'S NEW?
SyFy Channel (Charter Channel 70) unveils a pair of shows that are back for the summer season.
SyFy (formerly called Sci-Fi Channel) is a cable TV channel featuring mostly programming that relates to science fiction, supernatural, fantasy, reality, paranormal and horror.
Sci-Fi came into being in 1992 and is a subsidiary of Comcast and General Electric. The name newer "Syfy" was officially adopted on July 7, 2009.
The network made it greatest impact on TV viewers with its very successful original miniseries and subsequent four-season series Battlestar Galactica.
Syfy gained national prominence in 2003 with the airing of
Steven Spielberg Presents: Taken
, which won the Emmy Award that year for best miniseries. In 2006, it also began including several non-science-fiction programs in its line-up, such as Law & Order:
Special Victims Unit.

Spielberg's Taken also was the SciFi series that launched the career of Dakota Fanning.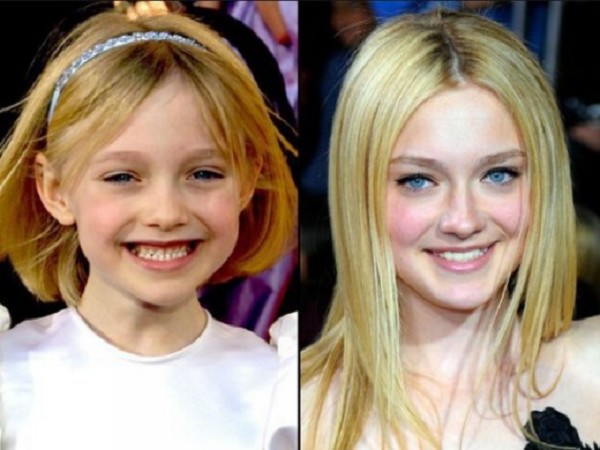 Dakota Fanning (Left) as she appeared in Taken (2006) and today.

Warehouse 13 -- features a pair of U.S Secret Service agents who are stationed at a covert location in South Dakota that houses supernatural objects. These objects have been collected over the centuries. New assignment: retrieve any lost objects and investigate reports of new ones.

The fourth season of the American television series Warehouse 13 premiered on July 23, 2012,[3] on Syfy. The new season will consist of 20 episodes.The show stars:


Eddie McClintock as Pete Lattimer
Joanne Kelly as Myka Bering
Saul Rubinek as Artie Nielsen
Allison Scagliotti as Claudia Donovan
Genelle Williams as Leena

Brent "Data" Spiner is scheduled guest star as Brother Adrian, leader of an intensely secretive sect.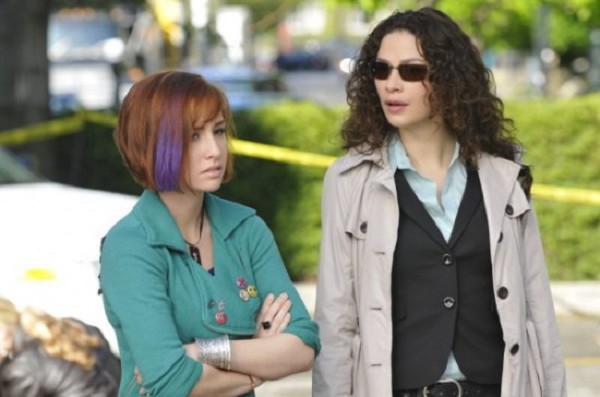 The Girls of Warehouse 13: (L/R) Allison Scagliotti as Claudia Donovan and Joanne Kelly as Myka Bering.



Alphas Is Back For Season Two -- It premiered last summer on July 11, 2011. It was rumored to be canceled as of September 7, 2011. NEW LIFE -- Alphas was renewed for a 13-episode second season and began on Monday, July 23, 2012, at 10 pm.

Alphas takes place in a shared SciFi universe with Eureka and Warehouse 13.

The Alphas operate under the auspices of the Defense Criminal Investigative Service, the criminal investigative arm of the U.S. Department of Defense.

HERE'S A LIST OF TNT NETWORK'S SUMMER SHOWS

(TNT -- We Know Drama)
Dallas - 13th June 2012 (9pm)
(I Watch) Rizzoli and Isles - 5th June 2012 (9pm)
(I Watch) Franklin and Bash - 5th June 2012 (10pm)
Falling Skies - 17th June 2012 (9pm)
(I Watch) The Closer - 9th July 2012 (9pm)
(I Watch) Perception - 9th July 2012 (8pm)
Leverage - 15th July 2012
(I Will Watch) Major Crimes - 13th August 2012 (10pm)

Mark your calendar for August 13th when Closer will have their series Finale' followed by the premier of Major Crimes at 10:00pm.

---
---

O. J. Cunningham




O. J. Cunningham is the Publisher of MyBayCity.com. Cunningham previously published Sports Page & Bay City Enterprise. He is the President/CEO of OJ Advertising, Inc.

More from O. J. Cunningham
---
Send This Story to a Friend!
Letter to the editor
Link to this Story
Printer-Friendly Story View
---
--- Advertisments ---