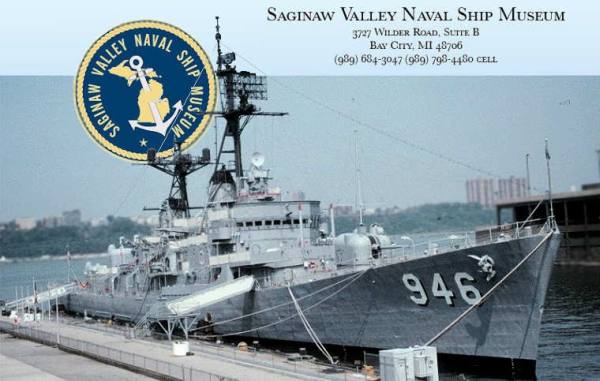 The trip from the Philadelphia Navy Yard has been extended to 19 days from its start on July 18.
---
EDSON HERE MONDAY:
Tug, Destroyer Now in Michigan Waters
Wirt Stone Dock to Provide Temporary Dockage for Museum Ship
July 29, 2012 1 Comments
By: Dave Rogers
(UPDATE: Early Sunday the USS Edson towed by Tug Colonel is in Lake Erie nearing the Detroit River at 5.3 knots. Estimated time of arrival in Bay City has been revised to noon Monday, Aug. 6. Tieup point will be the north end of the Wirt Stone Dock in Essexville, foot of Scheurmann Street.)


The tug and ship are nearing the end of their 2,400 mile voyage from the former Philadelphia Navy Yard, according to Mike Kegley, president of the Saginaw Valley Naval Ship Museum.
Previously anticipated arrival on Friday, Aug. 3 was pushed back two days because travel in the Atlantic Ocean was slowed last week, Mr. Kegley said.
The trip from the Philadelphia Navy Yard has been extended to 19 days from its start on July 18. Seaway passage has brought the tug and ship past Quebec and Montreal and into Lake Ontario and into Lake Erie through the Welland Canal near Buffalo, New York next week. From there the voyage turns into the Detroit River, Lake St. Clair and the St. Clair River and heads north through Lake Huron to Saginaw Bay and ultimately the Saginaw River.
The 78 foot long Canadian tug Ecosse, from Port Dover, Ontario, provided stern control as the Colonel/Edson moved through the St. Lawrence Seaway, according to the Ship Watcher.
Meanwhile, a leaking hull has forced the Grey Fox naval training ship out of Port Huron into dry dock, causing museum officials to cancel a welcome with community well-wishers aboard.
Those who had signed up for the visit and accompaniment of the Edson to the Saginaw River have been refunded their $500 donations, officials said. Some have elected to donate part of their refund back to the ship project.
As of Friday afternoon, the Colonel, a 106 foot long vessel of Dann Ocean Towing, Tampa, Florida, was in the Gulf of St. Lawrence off the Gaspe' Peninsula and New Brunswick and was second in line to enter the St. Lawrence Seaway.
The Colonel is skippered by Capt. Perry Felarise with a crew of three.
The tug/ship passage can be tracked at http://www.marinetraffic.com/ais/default.aspx?mmsi...
Radioreference.com suggests watching the Port Huron St. Clair river cam if ship followers want to see the tug and ship pass the Blue Water Bridge at Port Huton. The river cam can be accessed at http://www.jclary.com/rcam00.html.
According to the tracking, the tug/ship were traveling at 6 knots while it had been slowed to near 3 knots on Wednesday in the ocean.
The ex-Edson initially will be tied up at the Wirt Stone Dock in Essexville (foot of Scheurmann Street) while work is being completed on a Navy mandated docking plan. The U.S. Coast Guard has approved a temporary docking plan north of the Wirt dock and Causley Marine Contractors are to install pilings for tie-up of the ship.
Mr. Kegley said no completion date for the mooring at the dock near the Independence Bridge has been projected by the contractor. Also, no timetable has been announced about when the public will be allowed access to the ship since considerable clean-up and other preparations must be made for public display.
The USS Edson was launched on Jan. 4, 1958, at the Bath Iron Works, Bath, Maine,. First deployment of the 418 foot long destroyer was to the Western Pacific in January 1960. It served during the Cold War and was deployed to Vietnam three times, receiving multiple Meritorious Unit Citations.
According to Paul Yarnell, former Edson public affairs officer, EDSON is one of the relatively few ships of the U.S. Navy named for a United States Marine, in this case Colonel (later Major General) Merritt Austin "Red Mike" Edson who was awarded the Congressional Medal of Honor for heroism defending the U.S. airfield on Guadalcanal against a fanatical Japanese attack. Colonel Edson was Commanding Officer of the First Marine Raider Battalion.
"EDSON's wartime complement consisted of 23 officers and 295 enlisted men," wrote Yarnell. "In her later years as a Reserve Training 'can,' she had an assigned crew of 6 officers and 120 enlisted, plus whatever reserves were being trained at the time.
USS EDSON was commissioned in Boston in 1958 and decommissioned in Newport, Rhode Island, in 1988, said Mr. Yarnell: "In her 30 years of service to our nation she earned a reputation for dependability bearing out her motto, 'Three Guns, No Waiting.' This was exemplified by her eleven deployments to Southeast Asia.
In June of 1961 EDSON sailed to Portland, Oregon to represent the U.S. Navy at the annual Rose Festival. Thirty thousand Portland residents visited EDSON over a five-day period, according to Mr. Yarnell.
He said EDSON was involved in operations with USS TURNER JOY (DD-951) and USS MADDOX (DD-731) during the Tonkin Gulf in 1964, to the recapture of the SS MAYAGUEZ off Cambodia in 1975. In 1968 alone, she fired over 23,000 projectiles.
EDSON became part of the Intrepid Sea-Air-Space Museum in New York City in 1989. Because of her service, EDSON was dedicated by Mr. Zachary Fisher, the Intrepid Museum's founder and benefactor, to the veterans of all the Armed Forces who served in South East Asia.
In 2005 she was moved out of the Intrepid museum to make room for the supersonic aircraft Concorde and she has been anchored in the retired ship storage facility Philadelphia ever since.
###
---
"The BUZZ" - Read Feedback From Readers!
Pnjlyn1 Says: On August 01, 2012 at 07:21 PM

Does anyone have an ETA for the Edison? Would like to go out on Saginaw Bay in a boat to see it being towed in and get some pictures
---

Dave Rogers




Dave Rogers is a former editorial writer for the Bay City Times and a widely read,
respected journalist/writer in and around Bay City.
(Contact Dave Via Email at carraroe@aol.com)

More from Dave Rogers
---
Send This Story to a Friend!
Letter to the editor
Link to this Story
Printer-Friendly Story View
---
--- Advertisments ---