Rotary Celebrates Homecoming
ROSE Award Presented, MCVI Presents Program
November 20, 2012 Leave a Comment
By: Stephen Kent
Rotary celebrated its annual
Homecoming
this Tuesday. The club welcomed a number of guests and visiting Rotarians. Members were encouraged to wear their school colors, and many did. Harry Farris was recognized for his sweater and the fact that he was a Duncan Yo-Yo champion. Various schools were recognized with the usual predominance of MSU and U of M. Of course CMU, SVSU, Delta, Eastern and Western Michigan, Farris, Albion, Northwood and Wayne State were represented. Out state schools represented included Notre Dame, Ohio State, Baylor, Hillsdale, Adrion, Northwestern, Bowling Green, S. Illinois, Kansas, Minnesota, Iowa, Duke and Knox College.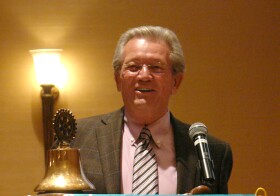 Leo Staudacher
The program dealt with heart disease, CPR, and the
Michigan CardioVascular Institute
(MCVI). Local businessman
Leo Staudacher
, a familiar face and a former Rotarian, described the heart attack he had a year ago at a U of M football game.
In the second quarter, after eating "the last brat I'll ever have", Leo felt a pain in his chest. "Gee, everything I've ever heard says a heart attack feels like this." That's the last he knew as he collapsed on the man in front of him.
Fortunately, Leo collapsed on Marvin Sonne, a dentist from Trenton, MI. Sonne immediately jumped over the seat and started CPR, for which he was trained. Several seats down Jan Tardiff, retired nursing supervisor from Bay City's McLaren Hospital, forced her way through the crowd to help.
Leo was sitting next to a ramp at the foot of which was the paramedic team. They brought an AED which restarted Leo's heart and allowed safe transport to the hospital.
If this heart attack had happened on the way home, Leo said, it would have been a different story. He was with his three grown who had no CPR training. "How would they have felt finding themselves helpless" he said. He encouraged everyone to get trained at their earliest opportunity. A team from MCVI was on hand and offered training to all those who could attend.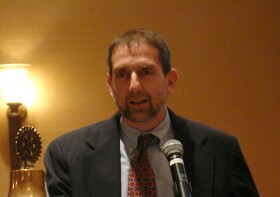 Peter G. Fattal M.D.
Dr. Peter Fattal
, an Invasive Cardiologist with MCVI, spoke about the MCVI Foundation and about heart disease. "When we look at the enormity of heart disease it is overwhelming and daunting" he said.
"What is the face of heart disease?" Leo told one story, and one that's repeated too often. Dr. Fattal went on to describe how the disease strike all ages, all genders and nationalities. Everyone is at risk. But there are survival stories for people from infancy to old age.
Heart disease has a genetic component but it is also affected by choices people make in their lives. How do we fight against something we have some responsibility for? We do have some control.
About seven years ago the focus of the MCVI Foundation changed. Where it was once focused on research it now also focuses on the delivery of health care. They are involved in education and prevention. Fattal went on to describe various program from CPR education to marathons.
For more information visit
MCVI.com
---
CLUB NEWS and ANNOUNCEMENTS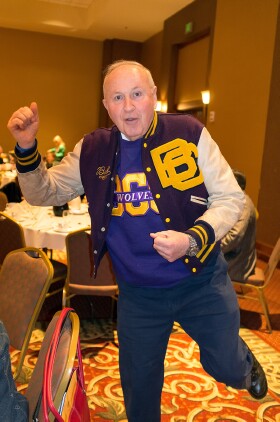 Bob Rogers still fits in his
Bay City Central Jacket.
GO WOLVES!
photo by Andy Rogers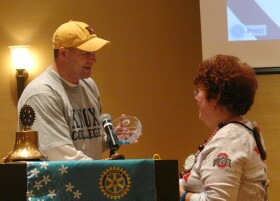 Dee Dee Wacksman receives the
2012 ROSE Award
Rotary Outstanding Service & Excellence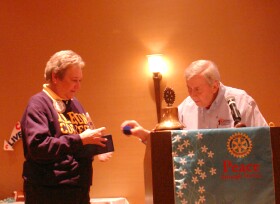 Gena Gates receives crystal as the
newest member of the
Rotary International Bequest Society
---
The
International Night
committee held a wrap up meeting before the regular meeting next Tuesday. This year's event raised almost $25,000 toward club projects. A number of ideas were suggested for changes and improvements for future events. A club assembly will be held soon to discuss the event. After 20 years, it's time for a full club review.
Jerome Yantz presented
Gena Gates
with a crystal award for naming the Rotary Foundation in her estate plans. With this gift Gena becomes a member of the Bequest Society.
Rob Clark presented the 2012
ROSE
(Rotary Outstanding Service and Excellency) Award to
Dee Dee Wacksman
. The award recognizes that Dee Dee has "gone above and beyond to make a positive difference in our club and our community".
Dee Dee has been a member of the club for eight years but is already a major donor. She volunteers for most club projects and is the club's unofficial "spirit coordinator" making sure presidents have funny hats to wear, that members have beads to wear at Mardi Gras, and finishing the room with decorations and candy for almost any special occasion.
And a special thanks to
Rob Clark
who came up with the Homecoming idea during his tenure as President. Rob has kept that ball rolling and organized each year's homecoming.
THANKS ROB
!
SPECIAL FOOD
The Doubletree wants all Rotarians to be aware that they will prepare special food items for those with dietary restrictions or requirements. Just ask one of the staff serving at the meeting.
The program on Dec 4 will be
a panel discussion with area school district superintendents
. The topic of the discussion will be collaboration between school districts. Eric Jylha will moderate the discussion.
If there is a question
you would like to ask the panel please email it to Ed Clements at
clementse1@yahoo.com
.
Invoices
for the first half of 2013 have been mailed. Please respond as soon as possible.
Remember to contribute to the clean water campaign and contest:
Put SILVER in OUR JUG --- PUT BILLS (and checks) in the MORNING JUG
---
DATES TO REMEMBER
School district superintendent panel discussion
Dec 4, 2012.
Rotary Concert
April 11, 2013.
---
Upcoming Programs
(See the official schedule at RotaryBayCity.org )
Nov 13, 2012: 10 Minute Rotarian
Nov 20, 2012: Rotary Homecoming
Organized by Rob Clark
Nov 27, 2012: Michigan Cities Initiative
presented by Rodney Stokes, special adviser to Governor Rick Snyder.
Dec 4, 2012: School District Superintendent's Panel.
Doug Newcombe, Shawn Bishop, John Mertz, Erin Sullivan, and Mike Knopf will talk about collaboration between school districts.

Rotary
is an intimate affiliation of carefully selected business and professional people,
having as its objective the promotion of high ethical standards in private, commercial
and civic life, and dedicated to the ideal that the basis of all worthy endeavor is unselfish service.
---
Current and past
DISTRICT DISPATCH
newsletters are available on the District site shown in the LINKS section below.


Rotary Bay City on Facebook!
Click on the Blue Facebook to visit us there.

Remember! Check attendance sheets at the front desk.
---
LINKS
---
---

Stephen Kent




Steve Kent and his family have lived in Bay City for 40 years. He is VP of Technical Services at MMCC which produces MyBayCity.Com. Kent is active in many Bay City civic organizations.

More from Stephen Kent
---
Send This Story to a Friend!
Letter to the editor
Link to this Story
Printer-Friendly Story View
---
--- Advertisments ---