Rotary Hears Presentation on Dow Gardens and Canopy Walk
March 5, 2019 Leave a Comment
By: Stephen Kent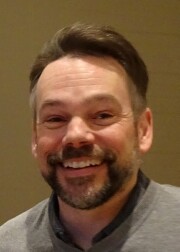 Kyle Bagnall
Kyle Bagnall
spoke to Rotary about the
Dow Gardens
, the
Whiting Forest
, and the new
Canopy Walk
. Kyle has worked at the Gardens for several years and could give first-hand accounts of the history of the Gardens and forest, and the construction of the canopy walk.
The entire Gardens and Forest area is a jewel in the middle of Midland, Michigan. The 110 acres was originally Herbert Dow's back yard. Kyle gave the history of Mr. Dow and his family. The founder of Dow Chemical in 1899, Mr. Dow was able to purchase the land and build homes for his family. Eventually, that land was given to the city and became what it is today.
A central feature of the area is the apple trees. A love of Herbert Dow, he started with cutover stump land and planted trees for a hobby. Eventually, he has over 100 varieties. Today there is one original Dow tree left, and it still produces apples. One of the projects of the Whiting has been to restore the orchards. Today there are about as many trees as in Dow's days.
Kyle illustrated Dow's love of trees with this quote. "If someone were to ask me why I am growing apples, I think I would explain it this way: A man who has money enough can go out and within one year build a very magnificent house, but he cannot build beautiful trees. A house grows old and out-of-date every year. A tree becomes more beautiful and valuable with age. There are beautiful houses wherever men congregate. Beautiful trees, flowers, and grounds are less common and consequently more appreciated."
With pictures and maps, Kyle outlined how the various Dow houses have been restored, repurposed and opened to the public. The Canopy Walk is not the first, but at 1,400 feet it is the longest such feature in the country. The project blends into the forest and provides a unique view to everyone who visits. The construction went out of its way to not harm the forest in any way. The soil and root systems were protected with special mats for machinery to use. Pilings were dug with soil sucking equipment and if a root was encountered the hold was refilled and the piling was moved.
For more information visit
www.DowGardens.org/
.
---
CLUB NEWS and ANNOUNCEMENTS
A note to all members.
Dues invoices
for the January to June term have been e-mailed. Please take care of this as soon as possible.
If you did NOT receive our invoice, please contact the secretary.
In the day's "
Rotary Foundation Minute
",
Lindsay Richardson
, a professional fundraiser, talked about the work done by the Rotary Foundation. She went on to say that the best way to give is to set up an annual gift. She noted that a one time gift of $1,000 is great, but a monthly gift of $100 is better. Foundations can do much more with small gifts that are given on a regular and continuing basis. The Rotary Foundation offers a number of ways to make regular gifts. Members are encouraged to visit the RI web site for information.
Eric Jylha
was given a program from the Club's Golden Anniversary celebration in 1955. That program has been put in the history section of the club web site. It's interesting to see the names from that era.
The club will meet off-site on these dates:
April 9
June 4
June 18
July 30
---
---- DATES TO REMEMBER ----
June 24, 2019: Golf Outing
- 9:00 am Maple Leaf Golf Course

Mitten State Music Revival
22 ACTS!
4 STAGES
One Night May 11, 2019
---
Upcoming Programs
(See the official schedule at RotaryBayCity.org )
March 12, 2019: Mitten State Revival 2019!
Jeff Yantz and Mike Bacigalupo will update the club on the 2019 festival and what to expect this year!
March 19, 2019: Tall Ships
Shirley Roberts will update us on activities of Bay Sail and the return of Tall Ships to Bay City.
March 26, 2019: Active Shooter
With a career in Law Enforcement Henry Reyna returns to Rotary with his wealth of knowledge on the subject of How to survive an Active Shooter Incident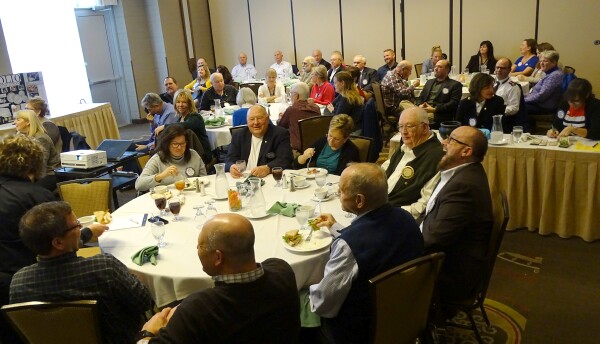 Rotary
is an intimate affiliation of carefully selected business and professional people,
having as its objective the promotion of high ethical standards in private, commercial
and civic life, and dedicated to the ideal that the basis of all worthy endeavor is unselfish service.
---
Current and past
DISTRICT DISPATCH
newsletters are available on the District site shown in the LINKS section below.


Rotary Bay City on Facebook!
Click on the Blue Facebook to visit us there.

Remember! Check attendance sheets at the front desk.
---
LINKS
---
---

Stephen Kent




Steve Kent and his family have lived in Bay City for 40 years. He is VP of Technical Services at MMCC which produces MyBayCity.Com. Kent is active in many Bay City civic organizations.

More from Stephen Kent
---
Send This Story to a Friend!
Letter to the editor
Link to this Story
Printer-Friendly Story View
---
--- Advertisments ---