Bay County is on the Straight and Narrow
November 19, 2012 Leave a Comment
By: MyBayCity Staff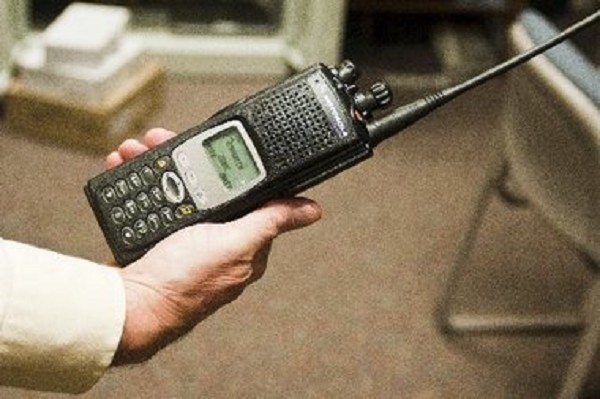 Bay County Central Dispatch Director Leonard Norman holds a new 800-megahertz portable radio at the Bay County 911 Dispatch Center in Bay City. The dispatch center is upgrading from a VHF to an 800-megahertz radio system.
The Bay County Board of Commission authorized the purchase of the equipment necessary to transition to an 800 MHZ system and Narrow Banding, to comply with the FCC mandated narrow banding date of December 31, 2012.
"To address a growing problem of harmful interference to 800 MHz public safety communication systems caused by high-density commercial wireless systems, the (FCC) Commission in July 2004 adopted a comprehensive plan to reconfigure the band.
This plan is designed to protect the lives of first responders and other emergency personnel and fulfills the Commission's obligation to promote safety of life and property through the use of wire and radio communications. Implementation of 800 MHz band reconfiguration is a top priority of the Public Safety and Homeland Security. Rebanding (also called reconfiguration) refers to the changes within the 800 MHz band that are taking place nationwide," states the Bay County 9-1-1 2nd Quarterly Report.
Bay County Central Dispatch and Bay County responding agencies have made great strides with the transition to the 800 MHz radio system. This includes grant funding with very minimal match. In many instances, equipment was acquired at no cost of local agencies. The next phase is to narrow band Bay County's fire paging system, as well as adding a second frequency for northern areas of the county.
Bay County 911 Director Leonard Norman said, "After all of the preparation...narrowbanding and rebanding will soon be realized in Bay County. We have planned and prepared as well as anyone could hope for and this preparation began at the state level and then our own Region 3 level, comprised of 14 counties. In the end it became apparent each county would be responsible for making this 12-31-12 deadline.
A difficult task but with the cooperation of our responding agencies input and assistance it will happen. This achievement will allow all of us interoperability and quality radio transmission on both sides of the public safety radio. From 911 Dispatchers to all Fire, EMS and Police Responders. Most of the equipment needed to accomplish this was obtained through grant funding or dedicated 911 funds."
---
---
---
Send This Story to a Friend!
Letter to the editor
Link to this Story
Printer-Friendly Story View
---
--- Advertisments ---