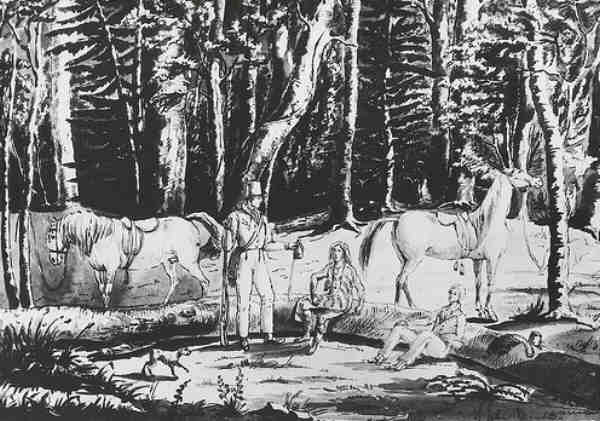 French political observer Alexis de Tocqueville speaks with his Indian guide in Saginaw County July 25-28, 1830. He complained frequently in his journal about the mosquitoes. Sketch was made by companion Gustave de Beaumont.
---
Heading into 19th Civilized Decade, Has Great Lakes Bay Region Found Niche?
Is Solar Energy Golden Goose of Everlasting Life for the Region's Economy?
January 3, 2010 2 Comments
By: Dave Rogers
First, it was furs.
Agriculture was next.
Then lumber and salt.
Manufacturing grew apace as the Industrial Revolution swept into the Great Lakes Bay Region.
Promise of a new Chicago arose in the breasts of the promoters of the new town on the Saginaw River. They built a city hall to rival that of Toronto; it even looks much like the city government center of that Canadian metropolis.
Metalworking, bending, welding and pouring has dominated the region for over the past century.
Now, it appears the way the world will know us here in mid-Michigan is as the center of solar energy.
It seems the heavens have opened and provided economic salvation after lo these many years of uncertainty.
It could be argued that the civilized world discovered this region when two Frenchmen, Alexis de Tocqueville and Gustave de Beaumont arrived at Green Point in south Saginaw in 1831.
That's 180 years ago, meaning we as a regional community begin our 19th decade today, Jan. 1, 2010.
The Frenchmen, both lawyers and literary men, were traveling at the behest of their monarch, Louis Phillipe, to study the corrections system of the still relatively new nation. They broadened their observations to a comprehensive sociological study of the nation, remarking aptly that the nation's promise of equality was not fulfilled regarding blacks and natives.
Here the only residents were a handful of pioneers living in rude log cabins among the Indians.
Toqueville and Beaumont wrote of their visit to Saginaw in romantic terms, describing how they had been warned by a Pontiac innkeeper that Saginaw was the edge of the continent and was a perilous place to attempt to visit.
Another notable observation was their pleasure at finding the Indians at Flint spoke French.
The Frenchmen's books were circulated worldwide and still get considerable attention in literary circles. Most famous of their works was "Democracy in America." New York Times columnist Richard Reeves reprised their travels in 1980, venturing farther north to Bay City and touring Midland with an editorial writer from the Bay City Times named Dave Rogers. In 1982 Simon and Schuster publishers produced Reeves's book "American Journey: Traveling with Tocqueville in Search of Democracy in America."
Leon Trombley apparently had arrived in lower Saginaw in 1831 to teach the Indians to farm; whether he had been here earlier on fur trading expeditions is a matter for discussion among historians, who rarely agree on anything. But there have been reports that Louis Campau, another trader, had been to Saginaw a decade or even two earlier.
A report from the mail carrier from St. Ignace, Peter Grondin, who visited here in the winter of 1833 confirmed that several cabins housed Trombley, his nephews (we believe) Mader and Joseph and Louis Masho.
It was the twilight of the fur trading era and conventional wisdom has it the four pioneers who made lower Saginaw a French village were still surviving on trading with the Indians.
In the following decade, about 1836-1837, Trombley House was built at 24th and Water, a veritable palace scrabbled together from beams from a mill at Pine River, wood planks and glass shipped from Detroit, stone and shale brought in from Charity Island in the middle of Lake Huron, and various local materials.
Trombley House was only one of the momentous developments of the first decade here, others being the establishment of the village of Portsmouth by Judge Albert Miller, purchase of the John Riley Reservation and formation of the Saginaw Bay Company by Henry Rowe Schoolcraft, Gov. Stevens T. Mason and Detroit investors, construction of a few buildings on speculation, the collapse of that company in the financial panic of 1837 and the arrival of James G. Birney and his family in 1842.
Birney promoted the village, brought his brother-in-law, another famed abolitionist Gerrit Smith here to finance a house in a grove across from the later location of City Hall, and established the Presbyterian Church, a legal structure as a justice of the peace, Hampton Township, a school and other elements of civilization.
Birney sketched a map on a sheet of foolscap that became the formational structure of a town he called Bay City. Over the succeeding decades the town grew by mergers with Portsmouth and other villages, Salzburg, Wenona, Banks and, in 1905, an intermediary town, West Bay City.
The town thrived with wood products, shipbuilding, foundries, metal forming, casting and welding factories, agriculture and sugar plants, fabrications of vehicle and airplane parts, textiles and a host of lesser products.
But until recently there has been no one field of endeavor that immediately identified with the newly designated "Great Lakes Bay Region."
But now, it may be that Dow and Dow Corning, companies that have almost miraculously provided bounty from simple elements in the ground like brine and sand, have expanded their economic vision to the heavens.
As we who live here continue to look for the golden goose, the economic panacea that will give everlasting life to the region, it appears more and more that we should look aloft -- to the sun. That apparently is where the future lies. ###
---
"The BUZZ" - Read Feedback From Readers!
dmaillette Says: On January 04, 2010 at 06:55 AM

I'm printing this one and saving it.
cindy Says: On January 04, 2010 at 08:20 AM

I agree with and enjoyed the history and insight. As a direct descendant from the "fur trapper French" I truely am tied to this community. I have a lithograph of my house from when it was moved here from Jones Rd in 1918. It was owned by the Fisk family at that time. Some day I would love to know why it was moved and her history on Jones Rd.

As far as industry I am very hopeful that solar will be a huge factor in our recovery. Lets not get all our eggs in one basket though, being deversitized has always saved us in the end. Nothing lasts forever!
---

Dave Rogers




Dave Rogers is a former editorial writer for the Bay City Times and a widely read,
respected journalist/writer in and around Bay City.
(Contact Dave Via Email at carraroe@aol.com)

More from Dave Rogers
---
Send This Story to a Friend!
Letter to the editor
Link to this Story
Printer-Friendly Story View
---
--- Advertisments ---