Lansing Rumor Has John Engler House-Hunting in Michigan; Senate Run Eyed?
Lansing Mayor Virg Bernero Said New Democratic Frontrunner for Governor
January 6, 2010 Leave a Comment
By: Dave Rogers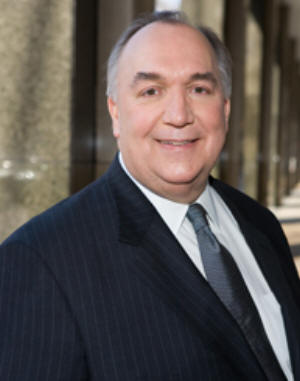 John Engler: rumored to be returning to Michigan.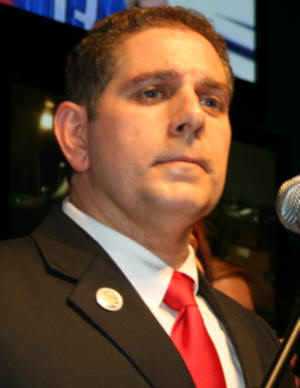 Virg Bernero, Lansing mayor may make run for governor.
Former Gov. John Engler is reportedly house hunting in Michigan, perhaps for a 2012 challenge to U.S. Senator Debbie Stabenaw.
Engler has been getting seven figure big bucks as the head of the National Association of Manufacturers for the last five years, but once a politician ...
Engler may be thinking that he will catch on to a GOP trend that may be developing in 2010 and accelerate as the nation's conservatives rush to try to toss out President Barack Obama in 2012.
Name recognition and a record of education and welfare reform would be Engler's strengths, although some will undoubtedly find much to criticize in his years at the top in Lansing.
His signature reform, Proposal A, thought to be a panacea for real estate taxes, has lately gone out of favor with government and business types alike. It's long-term consequences have left the state desperately short of funds and has not helped homeowners as values decline and taxes remain relatively stable.
Although Engler claimed creation of 800,000 jobs and reducing unemployment from 9 percent to 3.4 percent during his years as governor, 1991-2003 (3 terms), he also will get brickbats for presiding over the NAM as the nation's manufacturing base collapsed.
The Brookings Institution think tank reported more than one-third of the nation's loss of manufacturing jobs between 2000 and 2005 occurred in seven Great Lakes states: Illinois, Indiana, Michigan, New York, Ohio, Pennsylvania, and Wisconsin. Between 1995 and 2005, the United States lost more than 3 million manufacturing jobs. Nearly all of this job loss occurred during the last five years, and 37.5 percent of the loss occurred in the seven Great Lakes states. Michigan lost the most manufacturing jobs between 2000 and 2005 (nearly 218,000), followed by Ohio, Illinois, and Pennsylvania.
Whether those statistics will cause Engler any political grief is an open question, but certainly they will be brought front and center in any statewide campaign.
If rumors hold up (where there's smoke, fire is usually present) Michelle Engler and the couple's triplets Margaret, Hannah and Madeleine Jenny (now 15 and in high school) may soon be living in a new environment after nearly seven years in Washington.
Michelle Engler, also a lawyer, was on the board of the Federal Home Loan Mortgage Corporation (Freddie Mac), appointed by President George W. Bush in 2001 and reappointed in 2002. In 2003 she elected to receive stock in lieu of salary for the post. Her term expired in September 2008.
Michelle Engler has been an Attorney of the JNL Investor Series Trust, an investment company since 1983. She served as Partner of Houston law firm of Nathan, Wood & Sommers. From 1992 to 2000, she served as Counsel to the law firm of Varnum Riddering, Schmidt & Howlett, of Grand Rapids. She serves as an Independent Trustee of the various funds of JNL Family Funds. Ms. Engler served as Chair of Michigan Community Service Commission from 1991 to 2000.
Democrats are definitely on the defensive with the lagging economy and tea baggers boiling water all over the country. What the picture will be like two years from now is anybody's guess.
The governor's race is becoming like a gold rush after withdrawal of Lt. Gov. John Cherry, a Democrat.
Everybody wants to grab a little of the action.
Genesee County Treasurer Daniel T. Kildee, Lansing Mayor Virg Bernero, House Speaker Andy Dillon -- all are possible candidates for the Democratic nomination for governor in the 2010 election.
Bernero earned some chops by heading the mayors' automotive team that stormed Washington during the Big 3 crisis days, along with Bay City Mayor Charlie Brunner. The group came away with a rescue plan the success of which is still up in the air but has shown promise.
He is reportedly a vigorous and gregarious candidate and his potential power may be indicated by an early GOP shot calling him a "minor league candidate." The Michigan Republican Party saw fit to issue a news release calling Bernero a "career politician" who blindly supported Gov. Jennifer Granholm. "Think Howard Dean meets Nancy Pelosi," chortled the GOP.
Bernero, for his part, points to his record of stabilizing Lansing city finances without raising taxes and he was unafraid to challenge city unions, note political observers.
Attorney General Mike Cox, again visited Midland this week trying to jump-start his campaign for the Republican nomination; Mike Bouchard, Oakland County sheriff is pushing his anti-tax and "Michigan Construction Jobs Now" campaign and Ann Arbor businessman Rick Snyder is calling for elimination of the business tax and replacing it with a flat rate 6 percent corporate tax.
Cox is considered to be a strong contender if he can avoid a tar brush for failing to follow up on some nasty reports from a murder that allegedly occurred in the Detroit Mayor Kwame Kilpatrick regime.
Kildee grabbed the national spotlight for managing 9,000 parcels of abandoned property in Flint and developing the concept of "shrinking cities."
Kildee, who has served as chairman of the Genesee Land Bank for the seven years of its existence, was planning to become CEO of the Center for Land Reform in Washington, D.C.
Kildee, a nephew of U.S. Rep. Dale F. Kildee, organized the first Land Bank in Michigan in 2002. About 9,000 properties delinquent in property taxes have been processed by the organization, which has also has initiated multi-million-dollar redevelopment projects like the former Berridge and Durant hotels.
Kildee said recently he refused an appointment by President Barack Obama in the U.S. Department of Housing and Urban Development.
Kildee, as a Lansing outsider not connected in any way to state politics, could be a strong gubernatorial candidate, according to Lansing observers.###
---
---

Dave Rogers




Dave Rogers is a former editorial writer for the Bay City Times and a widely read,
respected journalist/writer in and around Bay City.
(Contact Dave Via Email at carraroe@aol.com)

More from Dave Rogers
---
Send This Story to a Friend!
Letter to the editor
Link to this Story
Printer-Friendly Story View
---
--- Advertisments ---