Granholm 'Endorses' Republican Snyder for Governor, Campaign Says 'Nix!'
Speaker Andy Dillon Latest to Explore Run for Governor as Democrat
January 7, 2010 Leave a Comment
By: Dave Rogers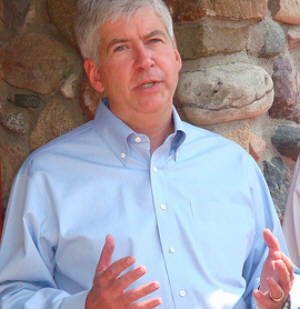 Republican candidate for governor, Rick Snyder, Ann Arbor venture capitalist, has drawn praise from Gov. Jennifer Granholm.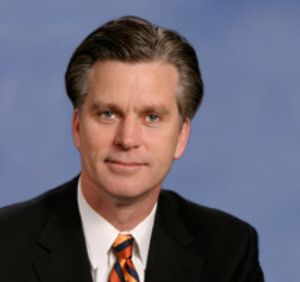 Non-typical Democrat House Speaker Andy Dillon, latest Dem to explore race for governor.
The race for Michigan governor is heating up with five Democrats and six Republicans considering bids.
The whole picture has changed since Lt. Gov. John Cherry dropped out of the race, complaining fundraising trouble. Cherry was the clear Dem leader in the last available polls, grabbing about 20 percent support to about 6 percent for his closest rivals.
A quirky note arose this week when Gov. Jennifer Granholm said she won't be endorsing any of the Democratic candidates and threw kisses to Republican Rick Snyder, a venture capitalist from Ann Arbor who has ideas about growing the economy by scrapping business taxes in favor of a flat 6 percent corporate tax.
Pundits even theorized that it appeared from her comments that Granholm would be voting Republican this time around.
Snyder campaign aides quickly rejected any Granholm endorsement with a "thanks but no thanks," response, an attitude that drew criticism as a continuation of the bitter partisanship that has characterized Michigan politics for decades.
Snyder, who was appointed by Governor Engler to be the first chair of the Michigan Economic Development Corporation, believes that the MEDC has been mismanaged and needs to be restructured and refocused. He noted the agency under his leadership took Michigan to the No. 1 in job growth among states for five years.
"Michigan needs leadership that takes a long-term and consistent approach to job creation and economic development, rather than the current administration's 'quick fix' approach. With a million jobs disappearing this decade, Michigan's economic troubles won't be solved through television ads or taxpayer-funded credits," said Snyder.
"Lansing politicians need to get out of the business of picking winners and losers though incentives. Instead, they should reduce the need for incentives by creating an environment where the tax burden is low, the regulatory environment is reasonable, and businesses have access to the support and resources that will help them create jobs in Michigan."
As the field shapes up, pollster Bernie Porn of Epic-MRA forsees an exciting race and early ad blitzes as candidates scrap for name recognition. Porn says the nod may go to a Lansing outsider who has little or no connection to government, noting that voters appear disaffected.
Whether the angry populist anti-incumbent tone will stay that way is an open question and the mood could shift quickly if the economy rebounds as it appears to be doing.
Democrats
:
House Speaker Andy Dillon;
Lansing Mayor Virg Bernero;
Sen. Hansen Clarke;
Former State Representative John Freeman;
Rep. Alma Wheeler Smith.
Republicans
:
Attorney General Mike Cox;
Oakland County Sheriff Mike Bouchard;
Rep. Pete Hoekstra;
Businessman Rick Snyder;
Sen. Tom George;
Businessman David Kniffen;
Huron County Commissioner Tim Rujan.
Attorney General Mike Cox has been prowling mid-Michigan recently, drawing relatively small crowds in Flushing and Midland and still taking a bashing from the media for a weak response to the Kwame Kilpatrick scandals in Detroit.
Cox and Bouchard lead most GOP polls but both have been up to their necks in government, perhaps opening the door for Rick Snyder who has a solid Ann Arbor base and big bucks as a former Compuware executive.
Rep. Pete Hoekstra, perhaps the most conservative of the GOP half dozen, has gotten some television air time in Washington ripping the Democratic health care plan and sniping at President Obama for allegedly reacting too slowly to the Detroit plane bombing attempt.
He hasn't toed the Democratic line nor pandered to unions, but nevertheless Speaker of the House Andy Dillon is the latest Democrat to file papers to explore a run for the nomination for governor.
In fact, Dillon's no-nonsense bipartisan plan to put all state employees under one health care plan riled labor bosses and traditional Democrats alike.
Besides that, he is a non-typical Dem, having considerable experience as a business executive, a factor that may give him some leverage with ticket splitters.
"Before I entered politics, I spent ten years working with troubled businesses," said Dillon. "I saw communities torn apart when employers left town -- and the jobs left with them. I've seen what stands in the way of economic growth, and I know we can change it.
"To grow our economy and create good jobs, we can't continue the bitter partisanship in Lansing. We can't exclude government from innovations embraced by the private sector. We can't foster a mindset that says 'I'll get mine, no matter what the cost.' Winning a bigger piece of a shrinking pie won't matter if the pie disappears. "We must understand that we will only lift ourselves up by working together -- Republicans and Democrats, business and labor, cities and small towns and suburbs."
A self-proclaimed champion for Michigan's middle class, Dillon is now serving his third term in the Michigan House, and his second term as Speaker.
In the Legislature, Speaker Dillon has been a leading proponent of expanding Michigan's renewable energy sector, which aims to create thousands of "green-collar" jobs in this rapidly growing industry. During his first term, he was one of the chief architects of the 21st Century Jobs Fund, which was created to diversify Michigan's economy and make the state a magnet for the good-paying jobs of the future.
Speaker Dillon is from Redford in Wayne County, where he has lived for most of his life. He graduated from the University of Notre Dame with degrees in accounting and law. Following his studies, Dillon worked in Washington, D.C., for U.S. Senator Bill Bradley, Democrat of New Jersey.
He maintained a successful law practice for seven years before entering the business world. He served as vice president of GE Capital, and was involved in several business turnarounds.
As president of the Detroit Steel Company Ltd. (formerly McLouth Steel), Speaker Dillon testified before Congress on behalf of the domestic steel industry in an effort to preserve manufacturing jobs.
He and his wife, Carol, are the parents of Matt, Jack, Austin and Teagan.
Dillon concluded: "During my time in public office, I've sought new answers to tough problems, and looked for innovative solutions to get us past the tired fights that block our progress. I haven't always succeeded, but I've never quit trying."
"Over the next few weeks, I'll be talking to people across our state, listening to your concerns and your ideas for the future. After those conversations, I'll announce my plans for this year.
"But one thing is for certain: To turn our state around, we can't keep going down the same path. We must chart a new course." ###
---
---

Dave Rogers




Dave Rogers is a former editorial writer for the Bay City Times and a widely read,
respected journalist/writer in and around Bay City.
(Contact Dave Via Email at carraroe@aol.com)

More from Dave Rogers
---
Send This Story to a Friend!
Letter to the editor
Link to this Story
Printer-Friendly Story View
---
--- Advertisments ---