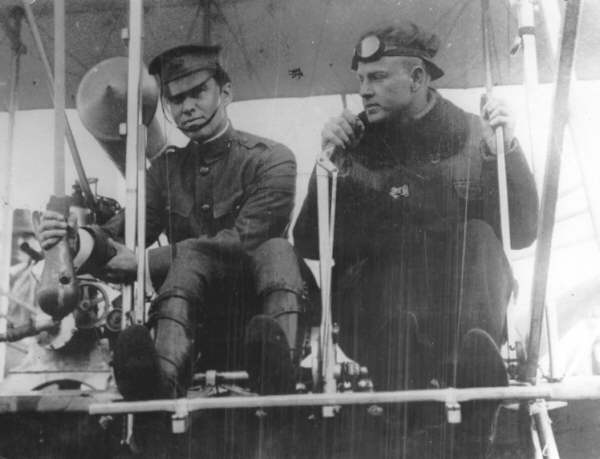 Lt. Myron S. Crissey, left, holding bomb, prepares to go aloft in a Wright plane in San Francisco with pilot Phillip Parmalee.
---
Did Bay Cityan, or Troubled Rival Army Officer, Drop the First Aerial Bomb?
Century-Old Controversy Still Rages About Pioneer Aviation Milestone
January 15, 2010 1 Comments
By: Dave Rogers
Aviation history experts still are trying to sort out who dropped the first bomb: Lt. Myron S. Crissy of Bay City, 99 years ago Jan. 15 1911, or Lt. Paul W. Beck, of Texas, 100 years ago this month.
Bay City aviation historian Geraldine Higgs, in her book "Aloft!," has a photo of Lt. Crissy preparing to drop a small bomb with stabilizing fins by hand from a plane piloted by early aviator Phillip Parmalee of St. John's, Michigan.
Lt. Crissy was a graduate of the old West Bay City High School (located at Wenona and John streets on the site of the present Allen Medical Clinic) and the U.S. Military Academy at West Point, N.Y., where he received his diploma in 1902 from President Theodore Roosevelt.
Eight other Bay Cityans were Army aviators in the World War I era, according to Mrs. Higgs. They were lieutenants James R. Clements, Henry S. Finkenstaedt, Francis L. Lankley, Edward J. Mason, Will C. McGraw, Frank Justin Nelson, Roy Thomas and Charles B. Thomas.
Parmalee was a member of the Wright Brothers Exhibition Team and set many records. He died in a plane crash while barnstorming in Seattle in 1912, Mrs. Higgs reports.
Dwight R. Messimer, author and lecturer in military history at San Jose State University (CA), reporting on the earlyaviators.com website, writes:
"While it is true that Beck, together with Phillip Paulham, conducted a rudimentary bomb dropping test demonstration during the 1910 Los Angeles Air Meet, Beck was not involved in any bomb dropping experiments with Myron Crissy during the 1911 air meet at Tanforan, near San Francisco, nor was he involved in any bomb dropping experiments after his single demonstration at the 1910 Los Angeles Air Meet."
During the August 1913 Congressional Hearings on an aviation bill, Beck told the Congressional Committee that he and Crissy had collaborated on a bomb dropping device, but Crissy hotly denied that he and Beck had worked together at any time.
The aviation journals and newspapers that covered the 1911 event made no mention of any such collaboration, reporting only that Crissy had dropped "live bombs of his own design," and Paul Beck made the first airborne radio transmission.
The Air Force Historical Research Agency has a photo of Crissy and Parmalee (shown above) and reports that Crissy dropped the first live bomb during that flight Jan. 15, 1911 in San Francisco.
Another air historian reports: "Parmalee, in a Wright areoplane, also took part in these military tests when he and Lieutenant Myron Crissy, U.S. Army Air Corps, succeeded in dropping the first explosive aerial bomb from an aircraft in flight. The result was a four-foot by three-foot hole in the ground."
Messimer is working on a book about the first attempt to establish Army aviation as a semi-autonomous unit, 1912-1915. "That first attempt, made in 1912-1913, was launched and, for a short time, orchestrated by Paul Beck," he wrote, commenting more extensively:
"Beck (Right) was a complicated and controversial figure during his initial, 15-month, aviation career, January 1911-May 1912. He was either a farsighted prophet or a self-aggrandizing manipulator, and was probably a little bit of both. His behind the scenes politicking in 1912-1913 earned him the wrath of two CSOs, Allen and Scriven, as well two Chiefs of the Signal Corps Aviation Section, Russell and Reber."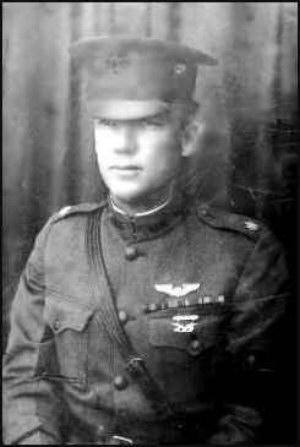 Beck created so many powerful enemies in the Signal Corps, Messimer wrote, that his transfer back to the infantry under the so-called Manchu Law effectively ended his aviation career although he returned to aviation on 9 August 1920.
Beck was reassigned to the Air Service from the Infantry in 1920 and commanded at Post Field in 1921. His wife, Ruth, died in August that year.
Oklahoma Supreme Court Judge Jean P. Day and his wife, Audrey, were friends of Beck and had dinner with him at an elegant restaurant in Oklahoma City on April 3, 1922. Following the dinner, the judge invited a group to an impromptu party at his home.
Early the next morning the judge left Beck and his wife together while he drove the other guests home even though they lived less than a block away. When he returned 40 minutes later, he saw Beck and Audrey embracing. Without a word, the judge went upstairs and got a pistol. He searched the house and came upon Beck hiding in the drawing room. The airman stepped out with his arm raised as if to strike and, by the judge's account, he struck Beck on the head with the pistol barrel and the gun discharged.
Sheriff Ben Dancy said Beck was shot in the back of the head and Oklahoma County Attorney Forrest Hughes didn't believe the judge's story either. But a coroner's jury acquitted Judge Day, ruling that the jurist had killed Beck in the course of protecting his home and his wife's honor.
Judge Day and his wife divorced soon after the slaying. According to Messimer, a board of Army officers ruled that Beck "died in the line of duty." He was 45-years-old.
We may never know the truth either about the first bomb dropping experiment or of the death of Lt. Beck. It is clear, however, that Lt. Crissy of Bay City, Michigan, played an important part in the history of aerial bombardment. ###
---
---

Dave Rogers




Dave Rogers is a former editorial writer for the Bay City Times and a widely read,
respected journalist/writer in and around Bay City.
(Contact Dave Via Email at carraroe@aol.com)

More from Dave Rogers
---
Send This Story to a Friend!
Letter to the editor
Link to this Story
Printer-Friendly Story View
---
--- Advertisments ---