POP EVIL Adds Second Show at the State Theater Bay City
Buy Your Tickets On-Line Today!!!!!
January 16, 2010 Leave a Comment
By: Julie McCallum, Entertainment Editor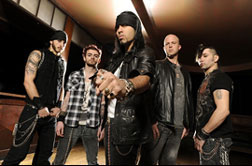 POP EVIL at the Bay City State Theater, Thursday, January 21, 2010
POP EVIL sold out their first show at State Theater on Friday, January 22, 2010 in a matter of days, now they have added a second show on Thursday, January 21, 2010. Here's your second chance to see POP EVIL live, up close in Bay City!
Z-93 KQZ
Presents Pop Evil with special guest Richy Nix on Thursday, January 21, 2010 at 7:00 PM
Tickets are going quickly, get your tickets today!!
Buy Tickets On-Line
POPEVIL comes out swinging With Lipstick On The Mirror (Universal Republic/Pazzo Music), the Grand Rapids quintet revs up rock n' roll. Their first full-length album is just as loud and proud as the midwestern mecca where they hail from. Pop Evil push out a propulsive combination of epic guitar leads, massive sing-a-longs and bombastic beats on songs like 'Breathe' and '100 in a 55.' When all is said and done, these five men provide the proverbial kick in the pants that hard rock needs these days.
When they get together, singer Leigh Kakaty, bassist Matt DiRito, drummer Dylan Allison and guitarists Tony Greve and Dave Grahs make fist-pumping rock with edge and heart. Leigh explains, 'We're very driven by classic rock, and we're more worried about writing good songs than creating a sound. If it gets us excited, we go with it.' Pop Evil formed in 2001 when lifelong friends Dave, Dylan and Leigh began seriously gigging around Grand Rapids. In 2005, they recorded their debut EP with acclaimed producer Al Sutton (Kid Rock).
Quickly, Leigh and Co. unleashed their first single 'Somebody Like You' on local radio station 97.9 WGRD. The track was quickly bumped into regular rotation and it became the most requested tune on the station. Local buzz began to build more and more after the band's radio success. In 2007, Pop Evil rounded out their current lineup with Tony and Matt. Solidifying their creative core, they went back into the studio and cut '100 in a 55,' which landed them at #1 again on WGRD.
Michigan is integral to the band's story in terms of inspiration and support. 'We grew up as fans of Detroit Rock City artists - from Eminem and Kid Rock to Bob Seger,' says Leigh. 'The Detroit Lions, Red Wings and Pistons never get old for people in Michigan. A cranked up guitar, grinding drums and emotional lyrics never get old either. Michigan appreciates rock n roll.'
In 2008, the band churned out Lipstick On the Mirror with Sutton once again behind the board. After releasing the record independently with Pazzo Music through Fontana Distribution, Universal Republic snatched it up.
The new partnership sent the band back to the studio, this time with Chuck Alkazian (Elton John, Dave Matthews Band) at the helm to record a new song for the Universal Republic release. 'Rolling Stone' was born from those sessions and Alkazian even went back and remixed songs which became the version of Lipstick that exists today. 'The album is our timeline,' continues Leigh. 'The band's journey is a central theme.'
The beginning of Lipstick is very rock n' roll, but we bust out the acoustic guitars in the middle. We let people go on a trip with '100 in a 55,' and we take them on an emotional ride. We made this choice to be rock stars years ago, and it's too late to turn back.
Lipstick's first single '100 in a 55' is an undeniable anthem that's been lighting up the airwaves nationally in 2009. 'Another Romeo and Juliet' also paints a vivid portrait, and it gives insight into the band's creative process. 'I woke up with that song in a dream. It's got this 'Eruption' feel at the beginning that's totally rock n roll. We wanted to tell the story of this character's anger and frustration with his chick so it starts off with a ripping solo and breaks off into this very heavy guitar riff. It's very spiritual and exciting to see how it turned out.'
For Leigh, the album title sums up the band's ethos and ethic, and the album's cover art ties in with the story. 'Lipstick On the Mirror is about marking your place. Instead of going in and out of the industry with one or two songs, we're going to create a legacy.
From the standpoint of a female who might've partied with the band in a hotel room, instead of just making a memory and leaving, she decides to write 'Pop Evil' on the mirror, kisses it and leaves her lipstick so we'll never forget her. That's the metaphor on the cover.'
Pop Evil are living the rock life to the fullest, and they're showing no signs of slowing down either. Leigh proclaims, 'Our name is Pop Evil because all five of us are influenced by completely different genres of music. As we come together, the songs take shape through that diversity. It's not a name; it's a lifestyle 'on and off on the stage. This is our path and we're going to run our race.'
On stage, Pop Evil never fails to put on a show. They've played with everyone from Theory of a Deadman, Saving Abel and Puddle of Mud to Tesla. That experience has made them arena-ready for their upcoming run with Judas Priest. 'Our live show is our bread and butter,' says Leigh. 'People don't have money to waste anymore.
They want to leave a concert saying, 'Wow, that was incredible.' When fans used to see Guns N' Roses and Pantera, they had a blast. Everyone will have a good time at a Pop Evil show. We do our part to bring the fun back to rock n' roll.'
In the end, Pop Evil invites you to join the party too. 'We want to get back to good old grimy guitar playing, raw soloing and relatable, catchy choruses that you can't get out of your head 'whether you like the song or not. We're trying to build a relationship with our audience and give them an experience. We want to create our own musical family.'
Pop Evil is certainly a family worth being a part of. Tickets are Only $ 10.00
Buy Tickets On-Line
---
---
---
Send This Story to a Friend!
Letter to the editor
Link to this Story
Printer-Friendly Story View
---
--- Advertisments ---