Bay County-Based Dow Corning Creating 1,500 Jobs in Solar Technology
Dow Corning Silicones Used in World's Tallest Building in Dubai
January 12, 2010 1 Comments
By: Dave Rogers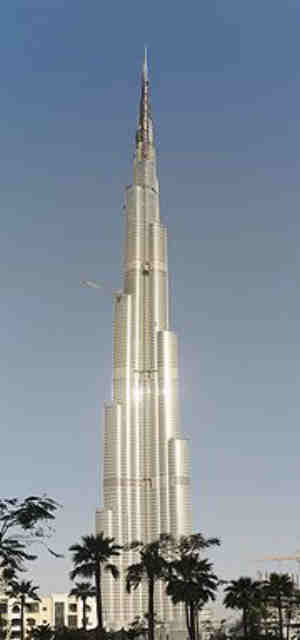 Dow Corning silicones went into construction of Burj Khalifa, a more than half mile high tower opened recently in Dubai, United Arab Emirates.
The global presence of Dow Corning Corp. is adding 1,500 manufacturing employment opportunities in solar technology, including many in the Great Lakes Bay Region.
The firm recently provided materials including special sealants for the world's tallest building, Burj Khalifa, a billion dollar more than half-mile high spire in Dubai, United Arab Emirates.
Involvement in landmark buildings is not a recent trend for Bay County-based Dow Corning Corp, says Ron Fillmore, global executive director for construction for the firm.
However, the positioning of glass and metal panels equivalent to 27.5 acres, or 17 football fields, on the 160 story Dubai tower presented a new set of technical challenges, he said.
The risk of pressure buildup within the insulating glass units was alleviated through the use of Dow Corning 3362 Silicone Insulating Glass Sealant as a secondary perimeter seal.
Dow Corning 993 Silicone Structural Glazing Sealant provides a strong adhesive bond, UV resistance and fast cure in the joints between the insulating glass units and the curtain wall frame.
Dow Corning has project partners across Europe, the Middle East, Korea and China.
President Barack H. Obama recently announced that Dow Corning Corporation and the Hemlock Semiconductor Group will receive approximately $169 million in Recovery Act Advanced Energy Manufacturing Tax Credits for manufacturing projects supporting the growing solar technology industry.
The tax credits include $141.9 million for Hemlock Semiconductor's recently announced expansion of its Michigan polycrystalline silicon operations, and $27.3 million for a Dow Corning monosilane plant.
"These manufacturing tax credits are a critical step in establishing new clean-technology manufacturing jobs to the United States," said Stephanie A. Burns, chairman, president and CEO of Dow Corning. "This bold investment will propel America into an era of sustained, renewable energy use and help put Americans back to work."
"Green jobs are real, and this announcement shows that the United States is serious about becoming a global leader in alternative energy technologies," said Rick Doornbos, Hemlock Semiconductor president and CEO.
"Hemlock Semiconductor is creating more than 1,500 jobs while investing billions of dollars in Michigan and Tennessee and will continue to grow as the country and world commit to a clean energy future."
The tax credits received by Dow Corning and Hemlock Semiconductor were part of $2.3 billion in tax credits targeted at "putting Americans back to work by building a robust domestic manufacturing capacity to supply clean and renewable energy projects." President Obama also proposes to provide another $5 billion in tax credits to this program.
Dow Corning silicon-based materials are used in solar cell manufacturing, solar module assembly and installation. In the past five years, Dow Corning and its joint venture, the Hemlock Semiconductor Group, have announced investments of more than $5 billion to research, develop and expand production of materials critical to the solar industry.
"We've been involved in many of the landmark buildings around the world for more than 60 years, through curtain wall structural glazing, assembly and weather proofing, insulating glass assembly and interior sealing. That experience and the proven performance of our silicone technologies played a critical role in this project," said Fillmore.
Dow Corning silicones protect the Burj Khalifa Tower from desert conditions, promote energy efficiency and help protect the super skyscraper from the harsh desert climate.
The Burj Khalifa, formerly called Burj Dubai, soars to 828 meters (more than a half mile) above ground level and is visible from a distance of 95 km in all directions. Amongst the features planned in this 160 level building, are the world's highest mosque on the 158th floor and highest swimming pool on the 78th floor.
The Burj Khalifa set the record for the tallest installation of an aluminum, silicone and glass façade, and required record-breaking quantities of steel bars and concrete for its construction. With a total of more than 24,000 cladding panels over a total curtain-wall area of 132,000 square meters, the Burj Khalifa's shimmering façade minimizes heat transmission and saves energy. The cladding materials were specially made using advanced engineering techniques and include high-performances reflective glazing, silicone sealants and structural adhesives, aluminum mullions and textured steel spandrels with vertical stainless steel tubular fins.
The project was unique in all its dimensions: size, complexity, and the global industry cooperation. The harsh environment offered yet another unique challenge since the construction materials have to withstand the test of time in an often scorching desert.
"We love these sorts of challenges at Dow Corning. They're perfectly aligned with the properties of our silicones, which are incredibly durable and ideal for such a demanding environment," said Jean-Paul Hautekeer, Global Marketing Manager for Building Projects.
The solutions for the Burj Khalifa Tower included Dow Corning's proven global project support services, which are now marketed as a fully client-focused and integrated program called Quality Bond®.
Dow Corning designed the materials for the cladding panels over a total curtain wall area of 132,000 square meters (nearly 1.42 million square feet).
"Dow Corning Quality Bond lifts silicone bonding and sealing to a new level through the introduction of a collection of services and commitments, which are relevant to all members in the construction project specification chain. They offer guaranteed performance and peace of mind," said Tim Efthimiady, Construction Industry Commercial Director for Europe & Middle East, adding:
"The Burj Khalifa was the ideal opportunity to offer our Quality Bond program to the various companies involved in the project from the curtain wall and glass contractor to the main contractor, architect and consultant."
###
---
---

Dave Rogers




Dave Rogers is a former editorial writer for the Bay City Times and a widely read,
respected journalist/writer in and around Bay City.
(Contact Dave Via Email at carraroe@aol.com)

More from Dave Rogers
---
Send This Story to a Friend!
Letter to the editor
Link to this Story
Printer-Friendly Story View
---
--- Advertisments ---