How Did Flint's Mark Ingram, Heisman Trophy Winner, Wind Up at Alabama?
MSU Fans Remorse Boils Over in Wake of Fantastic Sophomore's Super Season
January 17, 2010 1 Comments
By: Dave Rogers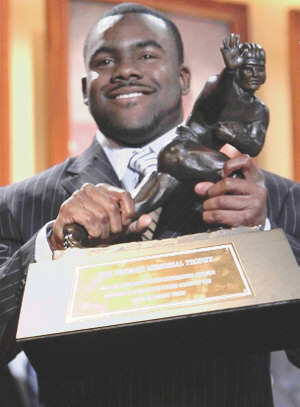 Mark Ingram Jr., Heisman Trophy winner at Alabama.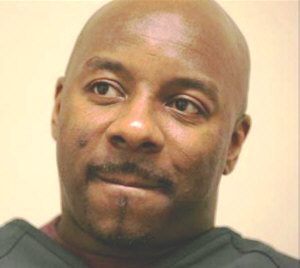 Mark Ingram Sr., faces up to 10 years in prison.
Sports bloggers are going wild on the Internet blaming former Michigan State coach Bobby Williams for luring Mark Ingram to Alabama.
Go back to this time about two years ago and Flint Flash Ingram was seriously considering MSU.
Headlines and sportscasts were full of how Ingram would revitalize the Spartans, how he would be a great successor to the great Spartan running backs like Javon Ringer, Blake Ezor, Lorenzo White, etc.
Lots of sports fans assumed that young Ingram would gravitate to East Lansing where his father's football career took off.
His grandfather, Art Johnson, played for Flint Northern in the glory days of Flint football in the Saginaw Valley. He also was a Spartan, 1956-58, scoring seven TDs and averaging seven yards per carry under Coach Duffy Daugherty. Johnson also played professionally, starring in the Canadian Football League for seven years.
Lots of 50s era sports fans from the Bay City-Saginaw area remember Art Johnson burning up the track and leading the Flint Northern basketball team to Valley basketball titles as well as all state performances on the gridiron.
Johnson's daughter is Shonda Ingram, a Grand Blanc social worker and mother of Mark Ingram Jr.
Elite athletic bloodlines run strong in the Johnson-Ingram family.
Ingram Senior came out of Flint Northwestern High School while his son attended Grand Blanc High for three years and finished at Flint Southwestern Academy.
In fact when Flint Southwestern ran roughshod over Bay City Western in 2007, with young Ingram gaining more than 300 yards, his grandfather, Art Johnson, was sitting in the stands in Auburn.
But two generations of Spartan heritage was not enough to lure Ingram Jr., one of the nation's top prospects coming out of high school, to East Lansing.
Instead, as the story goes, under the influence of Williams, Ingram Jr. wound up at Alabama and led the Crimson Tide to the national championship, scooping up the Heisman for himself along the way.
Despite his gridiron success. Alabama's first Heisman was not a foregone conclusion. There was substantial competition from Stanford running back Toby Gerhart and Nebraska lineman Ndamukmong Suh.
The vote was closest in history. Ingram won four of the six regions, garnering 227 first-place votes and 1,304 points. Gerhart took the west region with 222 first-place votes and 1,276 points. Suh won the southwest region, finishing fourth. Texas quarterback Colt McCoy, last season's runner-up, received 203 first place points and a total of 1,145 points but finished third. Previous winner Tim Tebow of Florida was fifth.
But it may not have been just Williams who persuaded young Ingram to go to Alabama. Some opinion has the major influence Mark Ingram Sr., who played for Nick Saban when Saban was an assistant coach under George Perles at Michigan State way back in 1983-87.
Father and son are as close as they can be, despite the father's troubles with the law. Ingram Sr. has led a troubled life since leaving the NFL, but he strongly supports his son and his advice is apparently a key to the boy's success.
Ingram Jr., who started playing flag football at age 4 in Florida when his father was with the Miami Dolphins, by all accounts is a model student. He goes to church, attends summer school, and has made the dean's list. A Communications major, he is preparing for a broadcasting career -- perhaps as a football analyst? -- when his NFL days are over.
On January 7, 2010, Ingram Jr. was named the offensive most valuable player in the BCS Championship game as he led the Crimson Tide to a 37-21 victory over the Texas Longhorns. Ingram rushed for 116 yards on 22 carries, scoring two touchdowns.
After the big game ended, Ingram's first thought was to find his mom in the stands. It was a tender, and telling moment.
The young man has drawn wide praise for his humility and deportment as well as his football ability.
Young Ingram, who credits his father for his football savvy, talks to his father several times a week.
A long and successful NFL career is forecast for the son when he decides to leave Alabama.
His father, whom he worships, faces a long prison term.
Ingram Sr. has faced many legal troubles since retiring from the NFL in 1996. He served six months in jail following a July 2001 arrest when he was caught with over $3,250 in counterfeit money. Ingram then served a one-year prison sentence in October of 2004 for stealing a credit card.
In 2007, Ingram was arrested after breaking into a building near his Flint home, allegedly to steal a purse. In September 2008 he was convicted of bank fraud and money laundering. He was sentenced to seven years in a federal prison, plus five years of probation, and ordered to pay $252,000 in restitution.
Although scheduled to surrender to police in December of 2008, Ingram reportedly fled to be able to watch his son play college football with the Alabama Crimson Tide. He was arrested on January 3, 2009 and is currently in the Queens, N.Y., Private Correctional Facility, awaiting sentencing.
He may get an additional two years in prison for failing to report on time.
As his son won the Heisman Trophy in New York City on Dec. 16, his father was only 17 miles away -- but he was behind bars, watching on television. He was surrounded by more than a dozen other inmates awaiting sentencing.
New Yorkers know Ingram Sr. well; they recall that he was the first round draft pick of the New York Giants out of Michigan State in 1987. And who can forget his run after a third down catch that helped the Giants win Super Bowl XXV in January 1991?
Williams, you will recall, was head coach of the Spartans 1999-2002. Although he had no head coaching experience, he was promoted from assistant coach to head coach -- a popular move at the time.
He followed a guy named Nick Saban (ever heard of him?) as head coach of the Spartans when Saban abruptly departed for Louisiana State University.
In his final year at MSU, Saban led the Spartans to a 9-2 record including wins over Notre Dame, Michigan, Ohio State, and Penn State. Following the final regular-season game against Penn State, Saban abruptly resigned to accept the head coaching position with LSU. Saban's assistant head coach and successor, Bobby Williams, then coached MSU to a Citrus Bowl victory over Florida, giving the Spartans an overall record of 10-2 for the 1999 season -- best for the Spartans since 1965.
As running backs coach from 1990 to 1999, Bobby was instrumental in the development of many top runners for the Green and White. Nine Michigan State backs racked up individual 1,000-yard rushing performances under Williams, including T.J. Duckett, first-round draft choice of the Atlanta Falcons in 2002.
Williams also guided Michigan State to a 7-5 mark in 2001, his second full season as the team's head coach ended with a victory over Fresno State in the Silicon Valley Football Classic. With that win Williams became the first coach in Michigan State history to lead his team to victories in his first two bowl appearances.
After leaving MSU, Williams was wide receivers coach for the Detroit Lions where he worked with the ill-fated Charles Rogers of Saginaw High who he had recruited and coached at MSU.
Williams followed Saban from LSU to the Miami Dolphins but was fired as running backs coach after two years. On Jan. 18, 2008, Williams and Saban were reunited when Bobby became tight ends coach and special teams coordinator at Alabama.
Soon after, before the football season, young Ingram enrolled at Alabama.
And, as the saying goes, the rest is history . . . ###
---
---

Dave Rogers




Dave Rogers is a former editorial writer for the Bay City Times and a widely read,
respected journalist/writer in and around Bay City.
(Contact Dave Via Email at carraroe@aol.com)

More from Dave Rogers
---
Send This Story to a Friend!
Letter to the editor
Link to this Story
Printer-Friendly Story View
---
--- Advertisments ---