Free Agent Spartan Blair White from Saginaw Popular with Indy Colts Fans
"Kid is Sure to Make the Practice Team," Says One Backer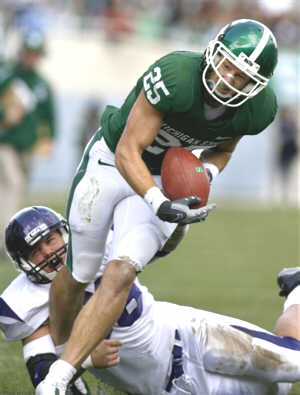 MSU's Blair White
How tough is it to make the National Football League?
Just ask, Blair White, who was a force with the Michigan State Spartans for several seasons at wide receiver. Despite fabulous stats, White is walking on again, like he did at MSU.
The 6-2 Saginaw Nouvel graduate was passed over in the NFL draft, some say because of previous back injuries, but has signed with the Indianapolis Colts and may get a chance to play with QB Peyton Manning.
The MSU Football website noted that White closed out his collegiate career with a game-high seven catches for 93 yards in the Jan. 23 East-West Shrine Game in Orlando, Fla. He caught a 13-yard pass from Northwestern's Mike Kafka on the game-winning drive as the East rallied for a 13-10 victory in the final 1:49.
"His 70 catches (second), nine TD receptions (fourth) and 990 receiving yards (seventh) rank among the Top 10 single-season totals in Michigan State history. Forty-six of his 70 catches (66 percent) resulted in either a first down or a score, including 15 gains of 20 or more yards. He led the team in receptions in nine of 13 games in 2009.
"A first-team All-Big Ten selection by the coaches, White ranked among the conference leaders in TD receptions (tied first), receiving yards (third at 76.2 per game) and receptions (third at 5.4 per game). He also finished among the NCAA leaders in both receiving yards (No. 35) and receptions (tied for No. 40)," MSU observers said.
"Blair White had an outstanding senior season," Michigan State head coach Mark Dantonio commented. "He was our go-to receiver all year long, and he had a number of huge touchdown receptions. Blair is a sure-handed receiver, who runs disciplined routes. He was a major contributor on offense the last two years because he played with such consistency. We could count on Blair to show up on game day.
"I don't know that I've ever coached a player who grew more than Blair did during his career. He became an All-Big Ten receiver because he had all of the intangibles to go along with his raw athletic ability. Blair also provided great leadership for our team both on and off the field. He did a tremendous job here in all aspects - on the field, off the field and in the classroom."
ESPN analyst Mel Kiper Jr. had projected White as a potential fifth- or sixth-round selection in the April NFL Draft. But it didn't happen.
"I really like Blair White a lot," Kiper had been quoted as saying. "At 6-2, he's got good size, finds ways to get open and made a lot of clutch catches over the last two years.
"With the way NFL teams spread the field now, Blair could become a solid contributor as a third, fourth or fifth receiver. A few years ago, those third, fourth and fifth receivers made their livings on special teams, but not anymore. Those guys are in the regular playing rotation.
"Since the NFL has become a pass-happy league, there's definitely a role for someone like Blair. If he runs in the 4.5 range at the Combine or in individual workouts, he'll put himself in a great position to be drafted."
The 6-foot-2, 200-pound White had six catches for 114 yards against Texas Tech in the 2010 Valero Alamo Bowl, including an 8-yard TD grab from wide receiver Keshawn Martin in the third quarter. His 114 receiving yards tied the fifth-best bowl-game total in MSU history. He also had a 49-yard reception during the same scoring drive. It marked White's fourth 100-yard receiving game of the season and the sixth of his career.
After the Colts signed White, one Indy fan blogged: "This kid is a flat out player. He is the closest thing to a lock making at least the practice squad as there is of all the UFA's (undrafted free agents) coming in.
"The question is, why wasn't he drafted? He has great stats, great numbers, shone on the all-star circuit, was a proven leader on his college team.... I was certain that the Colts would use at least a 7th rounder for a wide receiver, but I'm glad they didn't need to.
"I love this pick up, and it should be fun to watch him and Guigere battle in camp." (Note: Samuel Guigere is a 5-11, 215 pound wide receiver from Sherbrooke, Quebec, Canada, signed in 2008 as a free agent. He played in one game last year as a reserve.)
SPARTY SAYS: "Blair White has had to battle perception his entire career, the MSU Football site commented. It was no different at the NFL Scouting Combine held recently in Indianapolis.
"But there's one simple way to battle perception: performance. And once again, White showed at the combine why he's one of the top wide receiver prospects in this year's draft.
"After elevating himself from walk-on to team captain and All-Big Ten performer during his career at Michigan State, he was back at square one in front of more than 600 NFL personnel, including head coaches, general managers, scouts and medical staff, at Lucas Oil Stadium.
"In perhaps the nation's most high-profile job interview - which was not only attended by all 32 NFL teams but also hundreds of media members in addition to being televised on the NFL Network - White proved he belonged and was ready for the next level."
Among the 44 wide receivers invited to the combine, White ranked in the top six in four of seven testing categories. He led all receivers in the 60-yard shuttle with a time of 11.07 seconds, and was second in the 20-yard shuttle at 4.03 seconds. In the 3-cone drill, White finished third at 6.69 seconds. He also showed his strength by ranking sixth in the bench press with 18 reps at 225 pounds.
Prior to the combine, White showcased his skills on the field with a game-high seven catches for 93 yards in the East-West Shrine Game on Jan. 23 in Orlando, including a 12-yard grab on the game-winning drive.
White, who has been working out in Irvine, Calif., this winter, has returned to the West Coast to continue his preparation for Michigan State's Pro Day, held March 17. He recently met up with msuspartans.com to talk about his draft preparations, the East-West Shrine Game, and his performance at the NFL Combine.
WHITE: "You don't know what to expect as far as who they are as people and players. It is interesting to play with those guys who you have competed against your whole career. You come to realize that they aren't that different from yourself and that they are just like the rest of us. It is nice to be able to get to know those guys.
MSU: "What was the feedback you received after the East-West Shrine Game?"
WHITE: "I had a little bit of feedback, but I don't know if they put a lot of emphasis on that game. They did say that I ran some decent routes. I think a lot of people saw me as a possession receiver, so I think I did some things to try and disprove some of that. I don't know if I was completely successful, but I think I did some things that coaches saw and put in the back of their heads."
MSU: "What did you do to prepare for the NFL scouting combine?"
WHITE: "It is a day-by-day process. You have to be ready for the interview process and be ready physically. From the weight room, working on the field to position drills, there is a whole spectrum of things to be worked on. There is a small window of time between the All-Star game and the combine so I was working hard every day to do the best I could at the combine."
MSU: "What was the atmosphere like at the NFL Combine and how do you think you performed?"
WHITE: "It can be very restrictive as to where you are supposed to be and even what you are supposed to wear. There is more to it than what you see on TV, there are physicals, interviews, meetings and all kinds of things I didn't know about before I went. Overall, I think it went well and as far as performing, I think I did okay. I had some decent shuttle times and I had a decent 40, but the 40's I ran in California were even lower, so I was a little disappointed in that. I think it went well overall and it was a good experience.
"There's so much emphasis on the 40-yard dash time, but you got first in the 60-yard shuttle and second in the 20-yard shuttle. You even got sixth in the bench press, to show your strength as well as your speed."<br>
WHITE: "I think to be successful at the next level you have to be well versed in all aspects of the game. There is more to it than just your time in the 40-yard dash. Even though your speed is important, it is good to be well-rounded."
MSU: "For someone who hasn't seen you play, what are the reasons an NFL team should draft you?"
WHITE: "Well, I am not one of those guys that has blazing speed, but I can run a little bit. One of the things that sets me apart is my ability to catch the ball. That is something that I pride myself in and something I have control over. I am also a student of the game, including knowing what to do, not blowing assignments, and coverage. I think that is one area of the game that is under recognized. Those are the two areas I feel that I have an edge over the other guys."
MSU: "How did your time at Michigan State prepare you for the NFL?"
WHITE: "I have learned a ton from MSU. And what we are doing here isn't entirely different than what I did at Michigan State. We are working in the weight room everyday and running in order to get faster. So my whole college career was really preparing me for this year. Especially (Strength & Conditioning) Coach (Ken) Mannie, he did a great job preparing players."
###
---
---

Dave Rogers




Dave Rogers is a former editorial writer for the Bay City Times and a widely read,
respected journalist/writer in and around Bay City.
(Contact Dave Via Email at carraroe@aol.com)

More from Dave Rogers
---
Send This Story to a Friend!
Letter to the editor
Link to this Story
Printer-Friendly Story View
---
--- Advertisments ---