Trinity Episcopal Plans "The Music of Holy Week" on Sunday, April 9
The program begins at 4:00pm
March 28, 2017 Leave a Comment
By: O. J. Cunningham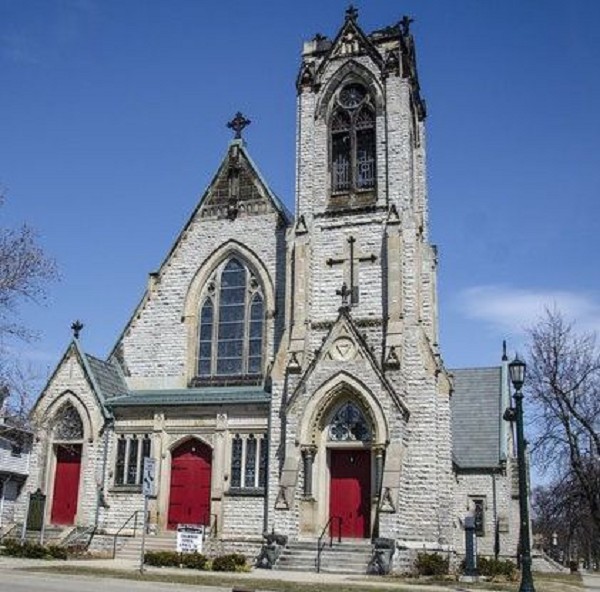 Trinity Episcopal Church in Bay City
Trinity Episcopal Church in Bay City announces its plans for "The Music of Holy Week" on Sunday, April 9, 2017, at 4:00 p.m. The program will feature hymns, collects, organ music and anthems for Palm Sunday, Maundy Thursday and Good Friday.
Participants include Exultate Deo Chamber Choir, Robert Sabourin, Director; Steven Egler, Organist; and Jett Whitehead, lector.
Choral music will include "O Bone JesuV by Marc' Antonio Ingegneri (c.1535-1592); "Hosanna to the Song of David" by Arthur Hutchings (1906-1989); "Jesu, Grant Me This I Pray" by C. H. Kitson (1874-1944); "Nole Mortem PeccatorisV by Thomas Morley (1557/8-1602); "Panis Angelicus" by Giovani P. daPalestrina (1525-1594); "If Ye Love Me" by Peter Aston (1938-2013), "Ubi Caritas" by Maurice Durufle (1902-1986); "God so Loved the World" by John Stainer (1840-1901); "That Virgin's Child" by Thomas Tallis (1505-1585); and "There is a Green Hill Far Away" by Herbert Sumsion (1899-1995).
Organ music will include "Benedictus" by Max Reger (1873-1916); VUbi Caritas" by Gerald Near (b. 1942); "Choral Dorien" by Jehan Alain (1911-1940); and "Stabat Mater" by Alan Viner (b. 1951).
Hymns that will be sung by the choir and congregation include "At the Name of Jesus" by Ralph Vaughan William (1872-1958); "Cross of Jesus" by John Stainer; "God is Love" by Richard Proulx (1937-2010); and "Stabat Mater" (Melody from the Maintzisch Gesangbuch 1661).
The service is open to the public free of charge. Trinity Episcopal Church is located at 815 North Grant Street on the corner of Center Avenue and Grant in downtown Bay City. Barrier free access is from the church parking lot on 5th Street. Friends of music will host a reception in the Guild Room following the service. For more information, please call 989-892-5813.
Members of Exultate Deo include the following:
Soprano Alto Tara Aukerman, Midland Patti Bowen, Midland Allison Dakos, Saginaw Mary K. Freel, Bay City Valerie Fargo, Midland Sue Gamble, Mt. Pleasant Sarah Giekas, Bay City Jennifer Jarvis, Bay City Diane Gladstone, Saginaw Peggy Knutson, Saginaw Sarah Haskett, Midland Tiffany Wika, Saginaw Deanna Patton, Saginaw Emily Wollner, Lansing Robin Von Wold, Midland Jan Wollner, Midland
---
---

O. J. Cunningham




O. J. Cunningham is the Publisher of MyBayCity.com. Cunningham previously published Sports Page & Bay City Enterprise. He is the President/CEO of OJ Advertising, Inc.

More from O. J. Cunningham
---
Send This Story to a Friend!
Letter to the editor
Link to this Story
Printer-Friendly Story View
---
--- Advertisments ---