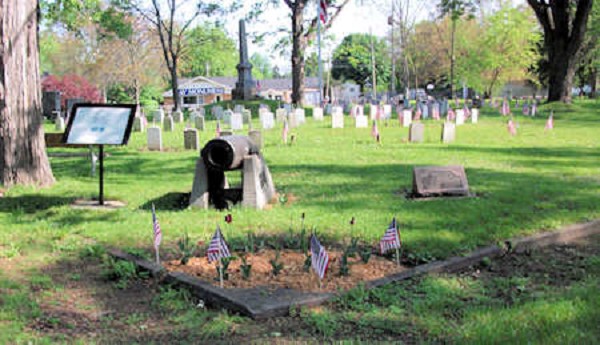 Soldiers' Rest at Pine Ridge Cemetery will be the scene of a memorial service to Civil War veterans on Monday, May 28 at 11 a.m.
---
MEMORIAL: Pine Ridge Cemetery/Soldiers' Rest to Honor Civil War Vets
A memorial program for Civil War veterans will be held on Memorial Day, Monday, May 28, at 11 a.m.
Participating will be the following groups: Sons of Union Veterans of the Civil War, U.S. Grant Camp 67; Gov. Henry Crapo Camp 45, and LeValley-Heusted Camp 255, Sons of Veterans of the 14th Michigan Infantry, Co. A; and Daughters of Union Veterans of the Civil War.
Among soldiers to be honored are: Frank Berdan, Co. K; Francis Duchine, Co. A; Leonard Jewell, Co. A; and Ransom W. Randall, Co. I.
Jim Petrimoulx, local historian and member of the Friends of Pine Ridge Cemetery, announced that six men who were Civil War veterans and were not previously known to be veterans and had unmarked graves have been identified and now have military headstones provided by the Veterans Administration.
The six men to be honored include Charles Windate Cate of Co. E 11th Michigan Cavalry who came to Bay City after the war and was employed by Michigan Central Railroad. He died in Duluth, MN, Nov. 7, 1900, and his remains were brought back to Bay City and buried in Pine Ridge Cemetery.
Another was Gustavus A. Green, who enlisted from Portsmouth as a sergeant in Co. B, 29th Michigan Infantry. He was a farmer in Portsmouth Township and was a member of Ralph Cummings Post 67 of the Grand Army of the Republic. He died Oc. 5, 1917 and was buried in Pine Ridge Cemetery.
William Jones, a private in Co. E, 18th Michigan Infantry, married Caroline Towne Williams in Saginaw in 1899, died at the Soldiers' Home in Grand Rapids June 6, 1901, and was buried in Pine Ridge Cemetery.
Sgt. Horatio C. Knight served in the Massachusetts Light Artillery and after the war was a well-borer and bartender in Bay City. He died June 6, 1865, and was buried in Pine Ridge Cemetery.
Martin Oakley enlisted at Tittabawassee; he married Phoebe Ashley July 4, 1950, and died Sept. 25, 1911, and was buried in Pine Ridge Cemetery.
Robert Thayer enlisted as a private in Co. D, New York Infantry and was discharged for disability Dec. 10, 1862. He worked as a shoemaker and grocer and died June 3, 1902, and was buried in Pine Ridge Cemetery.
Co. A, 14th Michigan Infantry was recruited primarily from Saginaw, Bay and Genesee counties. It was organized at Ypsilanti and mustered into service Feb. 13, 1862. The 14th was originally recruited to become part of the Irish Brigade since there was a large contingent of the Fenian Brotherhood in the regiment. In March 1863 Col. Henry Mizner secured horses for the men and the 14th became a mounted regiment.
The 14th saw service guarding trains in Murfreesboro, Tennessee in 1863; It joined Sherman's March to the Sea and was engaged in the Siege of Atlanta and the Campaign of the Carolinas.
One member of the 14th, Leonard Jewell, was employed as a hunting and fishing guide after the war. American Fly Fisherman featured his work as a guide in a recent article. "Leonard was always described as a gentleman. If you were boorish or uncouth you could not hunt or fish with Leonard. He spoke against the over-fishing of the Grayling and the slaughter of passenger pigeons.
The magazine article continued: "He was not a saint. In his early days of land looking he had sailed into Thunder Bay at Alpena and was supplementing his income by selling untaxed liquor. He was arrested and pleaded guilty. He said he needed to go to his boat to get the funds to pay his fine. The sheriff had removed the rudder, but Leonard rowed to his boat on a small skiff, used the oar from the skiff as a rudder and sailed off."
Members of U.S. Grant Post 67 of the GAR presided at his burial in 1886 at Soldiers' Rest" in Pine Ridge Cemetery. He is buried in the second ring from the flagpole.
###
---
---

Dave Rogers




Dave Rogers is a former editorial writer for the Bay City Times and a widely read,
respected journalist/writer in and around Bay City.
(Contact Dave Via Email at carraroe@aol.com)

More from Dave Rogers
---
Send This Story to a Friend!
Letter to the editor
Link to this Story
Printer-Friendly Story View
---
--- Advertisments ---