Rotary Gets Update on Saginaw Basin Land Conversency
July 10, 2018 Leave a Comment
By: Stephen Kent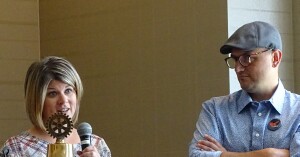 Lisa Cleland and Zak Brannigan
"In 2017 we had an idea". The opening statement on
Zak Brannigan's
slideshow was a good start to his presentation on the many new things that the
Saginaw Basin Land Conservancy
is doing. But it was by no means the only idea from the
SBLC
.
Zak commented that he's spoken to Rotary a number of times. "Each visit I feel like I'm talking about a new organization", he said. That's because the SBLC has grown and evolved continuously since Zak came on board. When he started he was the only employee. Now there are six!
Following that first statement, the idea was "What if we built a rain garden at the Saginaw Art Museum?". With funding from that organization SBLC staff and volunteers transformed an unused parcel of land behind the Art Museum's property into a beautiful garden.
That was part of the Pollinator Project, an initiative which has become a signature project of the SBLC. Zak and Lisa talked about projects throughout Saginaw where the vacant property that was once homes is being transformed by SBLC into park-like areas that attract both people and native pollinator insects, birds and small animals.
Lisa Cleland
is familiar to many in Bay City. She spoke about work in Bay City. Two examples are the Discovery Preserve on South Euclid and "Destination Middlegrounds", an ongoing project that started with the Michigan Sugar Trails, the location of Rotary's annual Zombie Run event.
Rotary's contributions to SBLC enabled them to rent a large, tracked "Marsh Master" to mow down invasive phragmites on the Middlegrounds. "I wish we could buy that machine!", said Zak. A video illustrated the tractor-sized machine making short work of the invasive plant.
SBLC's original mission was to take ownership of donated property and permanently protect. Today the organization has continued that mission but has also moved into the urban communities as they translate their values into action.
For more information visit
www.sblc-mi.org/
.


---
CLUB NEWS and ANNOUNCEMENTS
The club held it's monthly Board Meeting prior to the regular meeting. President Harvey outlined a few of the actions taken.

Harvey also repeated a bit of advice he was given at "PETS". He's president for just a year. That's probably not long enough to screw up a good club.

An objective promoted by RI is to have Rotary collaborate with other service clubs in their area. Harvey noted that we do that already. He said that Habitat for Humanity is looking for help with a project now and that this would be a good collaboration opportunity.

Tim Holsworth reported that the Golf Outing did, in fact, exceed $10k and may end up being close to $11k. The $1,000 drawing went to Hidden Harvest and a formal presentation will be made at an upcoming Rotary meeting.




PLEASE NOTE

The club must account for all raffle tickets. If you still have tickets, please return them to Tim or to Cindy Chadwick immediately.

Rob Clark presented his guests, the Michigan Sugar Court. The young ladies each told a bit about their plans for continued education over the coming years.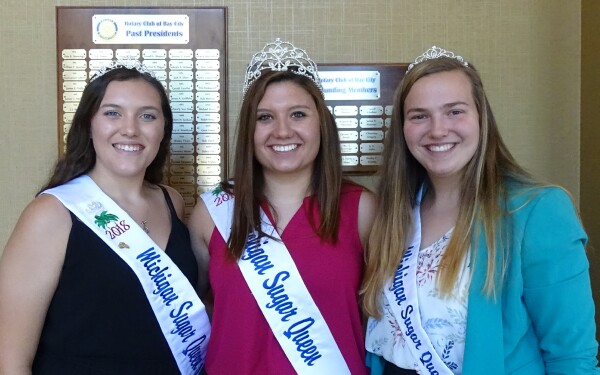 Michigan Sugar Court, Guests of Rob Clark
Rachel Phillips, Paige Lupcke, Ashley Gibbs
www.michigansugar.com/community/sugar-queen/
.
The July to December, 2018 dues cycle is under way.

Dues notices were delivered by E-MAIL on June 6.
Past due notices have also been e-mailed.

If you have not paid your dues, or have not received your invoice please inform the Secretary!

You may mail your dues as usual, or deliver them to the Secretary at a meeting.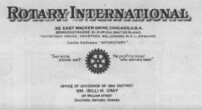 click picture for details
MEMORIES

Dig out your favorite Rotary memory photos and
let Brenda Scramlin use them for the weekly
Club slide show. It'll be fun for everyone!



---
---- DATES TO REMEMBER ----
---
Upcoming Programs
(See the official schedule at RotaryBayCity.org )


July 17, 2018: International University of Shanghai presented by Dom Monastiere. 25 students from the International University in Shanghai will visit SVSU. They will tour the campus and have lunch with Rotary. The program will describe the partnership between the two universities.

July 24, 2018: Hidden Harvest Samantha McKenzie, President & CEO will update the club on the activities of Hidden Harvest, which was the winner of the $1,000 cash prize at the Golf Outing on June 25, 2018.



Rotary
is an intimate affiliation of carefully selected business and professional people,
having as its objective the promotion of high ethical standards in private, commercial
and civic life, and dedicated to the ideal that the basis of all worthy endeavor is unselfish service.
---

Current and past DISTRICT DISPATCH newsletters are available on the District site shown in the LINKS section below.







Rotary Bay City on Facebook!
Click on the Blue Facebook to visit us there.

Remember! Check attendance sheets at the front desk.
---
LINKS
---
---

Stephen Kent




Steve Kent and his family have lived in Bay City for 40 years. He is VP of Technical Services at MMCC which produces MyBayCity.Com. Kent is active in many Bay City civic organizations.

More from Stephen Kent
---
Send This Story to a Friend!
Letter to the editor
Link to this Story
Printer-Friendly Story View
---
--- Advertisments ---