SVSU and the International University of Shanghai
July 17, 2018 Leave a Comment
By: Stephen Kent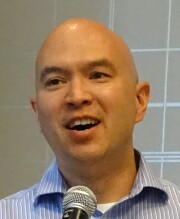 Dr. Brian Thomas
Rotary hosted a group of 20 students and advisors from Shanghai Normal University. SNU is a partner with SVSU in programs that exchange students and faculty each year for study abroad.
Dr. Thomas is SVSU's Director of Global Engagement where he cultivates and facilitates some 25 partnerships with schools in other countries. Thomas has been doing this for thirteen years but SVSU has been involved in exchanges for 30 years.
SVSU has about 8,617 students and 630 of those are international students. Another 200 SVSU students go abroad each year. The goal is to reach about 860 students, inbound students.
Shanghai Normal has about 20,000 students on two large campuses. Their exchange with SVSU started with faculty programs and later added student programs. This particular group will be here for three weeks.
Dr. Thomas said that study abroad gives US students a definite advantage when looking for jobs. This will only become more important as time goes on. He foresees a time when it will almost be a requirement for meaningful employment.
Among the benefits of the international study, and living in another country, is that it teaches about culture. At home, people tend to take the little things for granted. Americans don't realize how loud they are until they visit someplace like China. We don't realize how large our meal portions are. "When you travel you get to learn about your own culture", said Thomas.
Thomas also said that study abroad can be very affordable. There are numerous programs to assist with transportation, lodging, tuition, and expenses. He noted that in many cases it can be less expensive than domestic education.
For more information visit
SVSU.EDU
.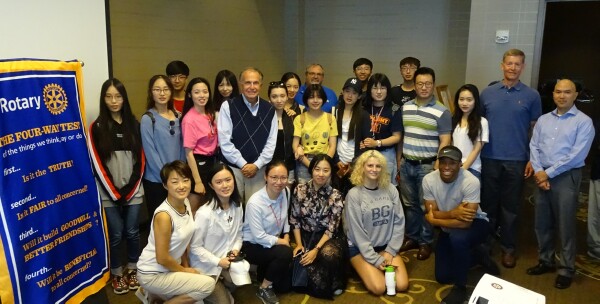 Chinese Students
---
CLUB NEWS and ANNOUNCEMENTS
Chris Girard said the Zombie Run committee will begin meeting to plan this year's event. If you can help, please see Chris.

The maple tree that the club planted in the Kantzler Arboretum will need some care. There is no water source nearby, and the tree is planted on a slight hill which allows water to flow away. If you can help, talk to Harvey. Dee Dee volunteered to do some watering the first time. Harvey also noted that a plaque will be installed near the tree soon.

PLEASE NOTE The club must account for all Golf Outing raffle tickets. If you still have tickets, please return them to Tim or to Cindy Chadwick immediately.

The July to December, 2018 dues cycle is under way.

Dues notices were delivered by E-MAIL on June 6.
Past due notices have also been e-mailed.

If you have not paid your dues, or have not received your invoice please inform the Secretary!

You may mail your dues as usual, or deliver them to the Secretary at a meeting.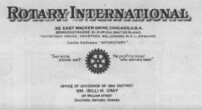 click picture for details
MEMORIES

Dig out your favorite Rotary memory photos and
let Brenda Scramlin use them for the weekly
Club slide show. It'll be fun for everyone!



---
---- DATES TO REMEMBER ----
---
Upcoming Programs
(See the official schedule at RotaryBayCity.org )


July 24, 2018: Hidden Harvest Samantha McKenzie, President & CEO will update the club on the activities of Hidden Harvest, which was the winner of the $1,000 cash prize at the Golf Outing on June 25, 2018.



Rotary
is an intimate affiliation of carefully selected business and professional people,
having as its objective the promotion of high ethical standards in private, commercial
and civic life, and dedicated to the ideal that the basis of all worthy endeavor is unselfish service.
---

Current and past DISTRICT DISPATCH newsletters are available on the District site shown in the LINKS section below.







Rotary Bay City on Facebook!
Click on the Blue Facebook to visit us there.

Remember! Check attendance sheets at the front desk.
---
LINKS
---
---

Stephen Kent




Steve Kent and his family have lived in Bay City for 40 years. He is VP of Technical Services at MMCC which produces MyBayCity.Com. Kent is active in many Bay City civic organizations.

More from Stephen Kent
---
Send This Story to a Friend!
Letter to the editor
Link to this Story
Printer-Friendly Story View
---
--- Advertisments ---