Hidden Harvest Receives Check From Rotary
July 24, 2018 Leave a Comment
By: Stephen Kent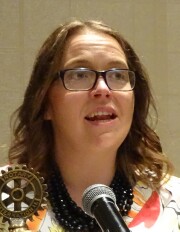 Samantha McKenzie
Samantha McKenzie, President, and CEO of Hidden Harvest was the Guest Speaker at Rotary on Tuesday, where she received the Club's $1,000 check for winning the Non-Profit drawing at the recent Golf Outing. The prize was a new idea for Rotary this year. Rather than designating one charity in advance, players were asked to choose an area non-profit from a list and each player's choice went into a pot. At the end of the outing, one non-profit was drawn from the pot and won a $1,000 cash prize.
Samantha went on to talk about Hidden Harvest and the work they do. A sad fact of life is that tons of usable foods end up in landfills every day. Much of that food could be rescued and passed on to people who regularly lack good, nutritious food.
As a central food recovery and distribution service, Hidden Harvest rescues over 2 million pounds of food every year. The service partners with food pantries, churches, the Rescue Mission, and other services to distribute that food to those who need it.
Hidden Harvest trucks can be seen around the area. They'll be at food drives, but also at stores and restaurants, in farm fields, and even at the site of accidents. The food delivery system has stricter requirements than other food handling uses. A refrigerated truck with a temperature just a couple of degrees off the requirement must discard their load. That food is still good and acceptable for organizations like Hidden Harvest and the organizations they service.
Some of the food comes from out of the area. After a short period on sale, Trader Joe's and Whole Foods stores in Detroit discard 50 dumpsters of food daily. Hidden Harvest sends trucks down once a week to collect food. They've been told to come daily if possible.
Samantha gave a number of other examples. An 18 wheeler hauling fresh potatoes was disabled. With the time and temperature limits expiring the called Hidden Harvest to send a truck and rescue the load. Some farmers partner with Hidden Harvest by planning an extra row or two of vegetables for that use. A farm implement company that plants experimental plots donates all of that produce to Hidden Harvest.
The fact is that there are food deserts all around us. People, even in America, go hungry every day. Hidden Harvest is a central service working to address that need.
For more information visit
www.HiddenHarvestShares.org
.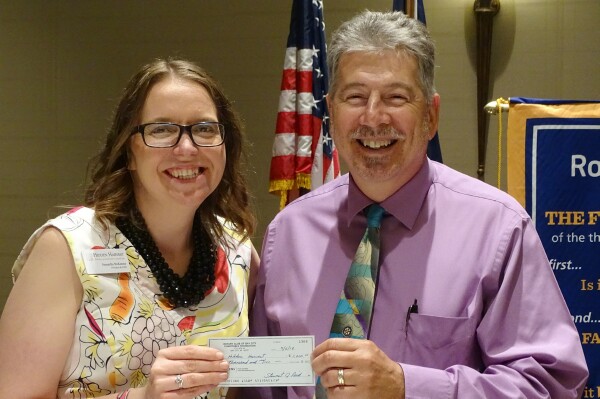 Samantha McKinzie receives $1,000 check from Golf Chairman Tim Holsworth.
---
CLUB NEWS and ANNOUNCEMENTS
Thanks to Andy Rogers for providing musical accompaniment on his vintage "squeeze box" for the opening song at Tuesday's meeting.

The District Governor, tentatively scheduled for August 14 will be here the following week. We will have a special program on the 14th. The meeting will be held

offsite at the Planetarium

.

Thanks to Chuck Cusick who gave a brief history of the origin of the Rotary Foundation. Additional background will be presented at future meetings.

Harvey announced that all of Bay City's service clubs will hold a joint social in the Wenona Park Pavilion on the evening of Tuesday, September 18. Put it on your calendar and plan to attend.

PLEASE NOTE The club must account for all Golf Outing raffle tickets. If you still have tickets, please return them to Tim or to Cindy Chadwick immediately.

The July to December, 2018 dues cycle is under way.

Dues notices were delivered by E-MAIL on June 6.
Past due notices have also been e-mailed.

If you have not paid your dues, or have not received your invoice please inform the Secretary!

You may mail your dues as usual, or deliver them to the Secretary at a meeting.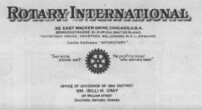 click picture for details
MEMORIES

Dig out your favorite Rotary memory photos and
let Brenda Scramlin use them for the weekly
Club slide show. It'll be fun for everyone!



---
---- DATES TO REMEMBER ----

September 18, Service Club Social All of Bay City's service clubs will hold a joint social in the Wenona Park Pavilion on the evening of Tuesday, September 18. Put it on your calendar and plan to attend.


---
Upcoming Programs
(See the official schedule at RotaryBayCity.org )


July 31, 2018: Bay City Housing Study. Bill Phillips will report on the new and exciting direction in providing affordable housing in Bay City while implementing recommendations in the Bay City Housing Study.

August 7, 2018: Chalk Walk Art Festival. Tara Welch will update the club on the Chalk Walk Art Festival which will be hosted on August 18th. Along Water Street and 3rd street, Bay City will enjoy artists, family events, music and an art fair. This event is free for the public to enjoy.

August 14, 2018: The Normandy Institute (Tentative) Dylan Steele researched the life of a local WWII soldier, PFC Donald Owen Freidinger from Linwood who died on D-Day as part of The Normandy Institute program. The program included a week in Washington DC and a week in France culminating in Dylan's eulogy of PFC Freidinger at the cemetery in Normandy. August 14 was PFC Freidinger's birthday.



OFF SITE MEETING AT THE PLANETARIUM







Rotary
is an intimate affiliation of carefully selected business and professional people,
having as its objective the promotion of high ethical standards in private, commercial
and civic life, and dedicated to the ideal that the basis of all worthy endeavor is unselfish service.
---

Current and past DISTRICT DISPATCH newsletters are available on the District site shown in the LINKS section below.







Rotary Bay City on Facebook!
Click on the Blue Facebook to visit us there.

Remember! Check attendance sheets at the front desk.
---
LINKS
---
---

Stephen Kent




Steve Kent and his family have lived in Bay City for 40 years. He is VP of Technical Services at MMCC which produces MyBayCity.Com. Kent is active in many Bay City civic organizations.

More from Stephen Kent
---
Send This Story to a Friend!
Letter to the editor
Link to this Story
Printer-Friendly Story View
---
--- Advertisments ---