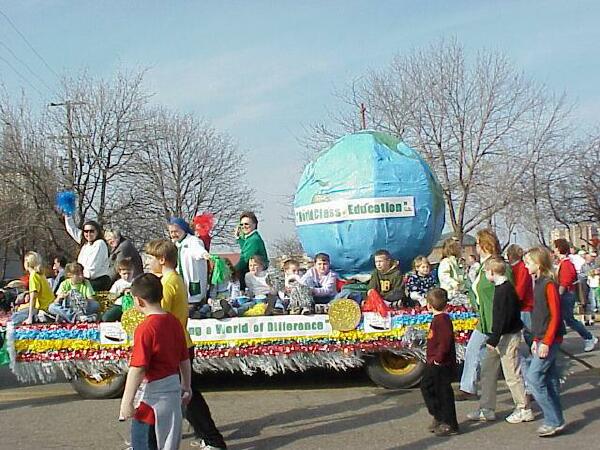 St. Pat's Parade Floats
Let's take the next step in the life of our famous parade
March 17, 2003 Leave a Comment
By: Stephen Kent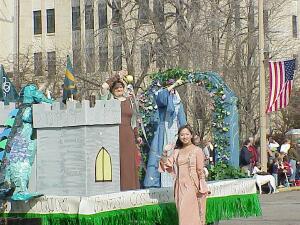 Bay City's St. Patrick's Day parade is a local institution and a "Rite of Spring". This year's parade was one of the best. The attendance seemed, to me, to be the largest in years. The weather was warm and the sky was bright. There were lots of bands, and high school queens, and pets and smiling people. The only thing in short supply was parade floats.
Perhaps it's just a personal taste, although others have said it too, but I'd like to see more floats in our parade. This year I counted about a dozen entries that could be classified as floats. That's a dozen out of about 120 units in the parade.
Now I'd be the first to admit that building real floats takes time and money. But maybe not as much as folks might imagine. Many moons ago I was a student at Baylor University.
Baylor's Homecoming Parade
is said to be the largest such parade in the nation. And it's a parade full of floats!
The last float I helped build was in 1968. It was not too elaborate, yet it looked great. Seems it took about three weeks, working at night, for a dozen of us to construct the frame, which rode on top of my 1962 Ford Falcon. We covered the frame with chicken wire which is easy to form into shapes. We then had a one night party stuffing squares of colored crepe paper into the chicken wire to provide the covering.
Now building a float in Michigan, in February and March, might pose some weather challenges that we didn't face in central Texas. When we built our floats, various buisnesses would donate space in warehouses and other large buildings for several weeks. Several floats might be built in each location. That could work here too.
So maybe it's time to take another step in the evolution of the Bay City St. Pat's parade. A couple of really cool floats next year would probably get things going. Think about it.
Just for the fun of it, you might want to check out these St. Pat's stories from previous years. It's interesting just to see how digital cameras have evolved since 2002:
2019
,
2018
,
2017
,
2016
,
2015-a
,
2015-b
,
2015-c
,
2014
,
2013-a
,
2013-b
,
2012
,
2011
,
2010
,
2009
,
2008
,
2007-a
,
2007-b
,
2006
,
2006-b
,
2005
,
2004-a
,
2004-b
,
2003-a
,
2003-b
,
2003-c
,
2002
For another take on the subject of parades, check out what was going on in 1978 in this
1978 Flashback
article from the archives of the Bay County Sports Page & Bay City Enterprise newspapers. Published from 1976 through 1984, those papers were the "grandparents" of today's MyBayCity.com.
---
---

Stephen Kent




Steve Kent and his family have lived in Bay City for 40 years. He is VP of Technical Services at MMCC which produces MyBayCity.Com. Kent is active in many Bay City civic organizations.

More from Stephen Kent
---
Send This Story to a Friend!
Letter to the editor
Link to this Story
Printer-Friendly Story View
---
--- Advertisments ---