Browsing Old Sports Page Issues Brings Back "Fond?" Memories
Jay Hahn took my pencil -
Held it up to my face - and SNAP!!
April 15, 2003 Leave a Comment
By: O. J. Cunningham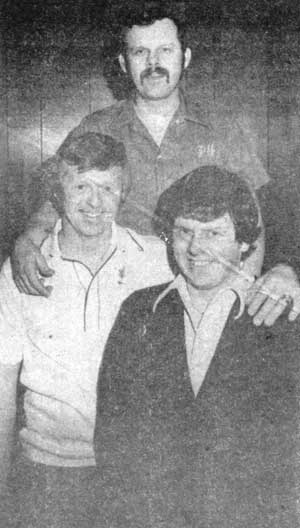 I fondly remember
The Hahns
- Jim (left), Jay (right) and Jeff (top)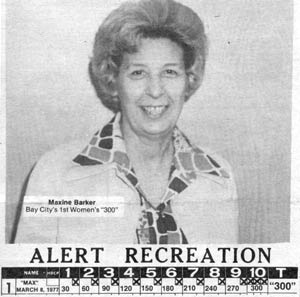 Max Barker - 300 Game, March 8, 1977
A 6,000,000 shot for BC women bowlers
25 Years Ago -
I covered local bowling and basketball for Bay County Sports Page/Bay City Enterprise in Bay City for almost 10 years between 1976 and 1985. Bowling was good for Sports Page. Sports Page was good to bowling.
I spent nightafter night in local alleys (bowling, that is) and local bars chasing bowling scores and team pictures and just grabbing pictures of ordinary bowlers that shot extraordinary scores on any given night.
I have three (3)
"fondest"
memories when it comes to bowling anecdotes. Browsing through 25 year-old papers for a flashback feature, this week brought me face-to-face with the picture on the right - The 3 Hahns. Wow!
My first memory has to do with the great 3413 Team Series that a Bell Bar team shot at Alert on a Wednesday night. I was there! At the time, it was the highest team series ever bowled in Bay City. However, the paper was already at the press. (Publication was Thursday morning). It was a classic case of
"Hold the Presses."
I went back to the office, reset, and re-designed the front-page so that we could "scoop" the daily paper on the following day. I would bet 50 cents that one of the Hahns in the picture to the right was on that team. Hahns were everywhere in local bowling circles.
But that's not what made me run the picture or write about bowling anecdotes this week. What I remember is another specific night in a small watering hole down on the corner of Lafayette and Water Streets -- I think it's the Lighthouse Bar now. I was in the bar trying to get a quote or two from either a rec basketball team or a softball team manager. I honestly do not remember which. I was sitting at the bar and along came Jay Hahn.
Jay and I got into a meaningful discussion about Sports Page coverage (or most likely, the lack of it.) Right in the middle of our discussion,
Jay got totally frustrated with me . . . reached over . . . took my pencil . . . held it up in front of my face . . . and ceremoniously broke it in half . . . SNAP! I always remember being glad that he chose to snap my pencil and not my nose. From that day on, I think I always referred to him as "The Fiery Jay Hahn."
Finally, Maxine Barker's 300 Perfect Game on March 8, 1977 continues to be one of my all-time favorite bowling stories. (Even though, Max never broke my pencil, of course.) In addition, what I always have remembered was how Max tried to downplay her part in the accomplishment.
She thanked Don Crane for drilling her ball correctly.
She thanked Pat Langley for all her coaching.
She thanked Sally Miller for her calming help during the final few frames.
I remember getting out a calculator and figuring there were probably six million games bowled in Bay City by women bowlers before Maxine Barker buried her 12th straight strike to notch her one-in-six-million bowling fete. It could not have happened to a nicer lady.
One Final Memory ------> Who remembers this quote by a local bowler back in the late 1970s? --

"Anyone who doesn't think I'll win the bowling tournament is either On Drugs or Stupid"
E-mail me your answer and I'll give you credit for being an old-timer in next week's edition of MyBayCity.com
---
---

O. J. Cunningham




O. J. Cunningham is the Publisher of MyBayCity.com. Cunningham previously published Sports Page & Bay City Enterprise. He is the President/CEO of OJ Advertising, Inc.

More from O. J. Cunningham
---
Send This Story to a Friend!
Letter to the editor
Link to this Story
Printer-Friendly Story View
---
--- Advertisments ---