Dow Plans $5 Billion China Investment; Kuwait Joint Venture Key
Largest U.S. Chemical Firm Becoming Bigger Player in World Markets
December 30, 2007 Leave a Comment
By: Dave Rogers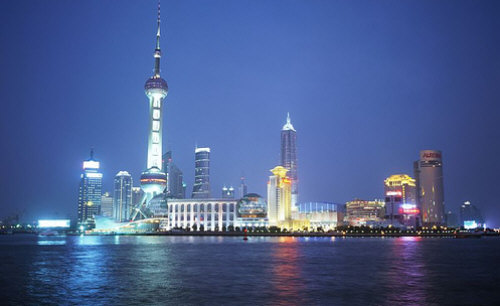 Shanghai, China, where Boston College's Global Workforce Roundtable Summit will be held February 26-28, 2008, co-sponsored by Novartis and Dow Chemical.
Dow Chemical Co. plans to invest $5 billion in China over the next 10 years, and its new joint venture with a state-owned Kuwaiti partner may be a foot in the door, according to analysts.
Dow said the value of its five global businesses that will form the joint venture is about $19 billion. Dow expects a deal to be completed by late 2008 for a 50-50 joint venture with Petrochemical Industries Co. (PIC) of Kuwait.
Dow wants to expand its business in China's booming petrochemical sector, Chairman and Chief Executive Officer Andrew N. Liveris said at a news conference in Shanghai.
The Midland based firm also is eyeing a potential multi-billion-dollar coal-to-chemicals project in Shaanxi Province. Dow and Chinese partner Shenhua Group Corp are conducting a feasibility study about that project, according to international news reports.
The study brings the U.S. and China partners closer to building a world-class coal-to-chemicals complex. The project will use "clean coal" technologies to convert coal to methanol to produce ethylene and propylene, compounds used to produce a variety of plastics and chemical products.
The feasibility study will include environmental impacts, water supply, engineering design, economic, market and product considerations, and logistics.
The success of this project will provide China a new and viable way to produce chemical products from its indigenous coal and salt resources, helping it to reduce its reliance on oil imports and maintain sustainable growth, said Mr. Liveris.
Dow, the largest U.S. chemical maker, already has invested $500 million and plans another $400 million stake in China, its third-largest market behind the U.S. and Germany.
"China is playing a leading role in Dow's global commitments and its business success - and this will only increase in the future," Liveris said.
China's Sinopec Corp. has $5-billion joint venture oil refinery and petrochemical project with Kuwait Petroleum Corp. in Guangdong Province.
Liveris said Dow is interested in large integrated refining and petrochemical projects in China.
"Our joint venture with Kuwait means that we have an opportunity to participate if the Kuwaiti petroleum company finds a right project in China," Liveris said.
"China may prefer such partners from Kuwait and Saudi Arabia which can bring crude oil resources for its large petrochemical projects, while western firms typically provide technology and management skills," said Wang Jin, analyst at Orient Securities.
Dow officials said the joint venture company will manufacture and market polyethylene, polypropylene, polycarbonate plastics, ethylenamines and ethanolamines.
Amines are a family of chemical compounds with a broad range of properties that are used in various applications, including wood treating, pharmaceutical processing and coatings.
Dow said the transaction with Petrochemical Industries Co., a subsidiary of state-owned Kuwait Petroleum Corp., is subject to definitive agreements and approval by regulatory agencies.
The joint venture will be based in the U.S. and employ more than 5,000 people worldwide, mostly current Dow employees, the company said.
Public relations officials said that the Plaquemine, Louisiana plant, of Dow has about 1,600 workers and 1,400 contract workers. In Hahnville, LA, Dow has about 1,200 employees and 1,000 contract workers.
Meanwhile, India Times has expressed concern about a possible Dow venture with Reliance Industries, India's largest industry.
"India is in the race for rising fastest ever possible by leveraging the Western capital and access to capital," the newspaper wrote. "It is a gamble. If it worked, India will be a big gainer. If it fails, India will experience deep depression."
###
---
---

Dave Rogers




Dave Rogers is a former editorial writer for the Bay City Times and a widely read,
respected journalist/writer in and around Bay City.
(Contact Dave Via Email at carraroe@aol.com)

More from Dave Rogers
---
Send This Story to a Friend!
Letter to the editor
Link to this Story
Printer-Friendly Story View
---
--- Advertisments ---