Warrior Girls Season Ends in First Round of District Play
Mount Pleasant Too Much for Western
February 20, 2008 Leave a Comment
By: Kevin Leahy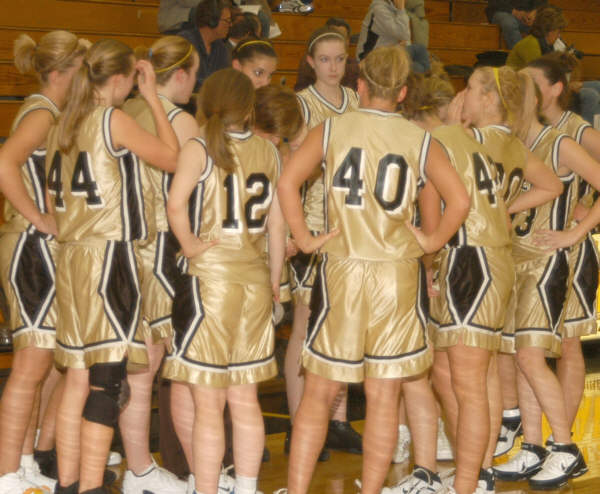 Western team gathers around to listen to the head coach Kim Klein's strategy for the remainder of the game.
(MyBayCity Photo by John Keuvelaar)
Western knew it had to play a perfect game in order to keep their season alive against Mount Pleasant.
The 16-5 Oilers were simply too much for the Warriors as they downed their SVL counterparts 58-23, as girls Districts got under way Monday night at Western.
The taller and more physical Oiler team used their intense defense and height advantage to deny Westerns offense.
Lead by point guard, Katie Carbee, Mt. Pleasant ran out to an 11-0 lead mid-way through the first quarter. Western scored their first point with a free throw at the 4:21 mark.
In an attempt to counter the Oiler up-tempo attack, the Warriors went to a full court press.
The Oilers spread the court out then used quick passes to move the ball up and find open shots near the basket.
The Warriors never did recover from the 23-5 first quarter.
Carbee directed the Oiler offense with penetrating drives resulting in open shots for herself or her teammates in the paint.
Whenever Western worked the ball inside the Oiler defense blocked shots and hurried others.
The Warriors switched to a perimeter game looking to can some 3-point shots to get back into the game. Their shots didn't drop and there were down 39-11 at the half.
Although down by 28, Western came out unaffected as they clamped down on defense and made a run at the Oilers.
The Warriors were able to hold Mt. Pleasant to 8 points, but only able to generate seven themselves and were down 47-18 at the end of the third.
The damage was done and so were the Warriors as both teams went to their benches in the fourth.
Coach Kim Klein reflected on the game and their season following the game, "Mt. Pleasant was tough and played just as we expected. They are so athletic and physical that it is hard to work inside against them. We had our looks but couldn't execute. This year we accomplished a lot, I'm proud of our girls."
The Warriors finish their season 7-14.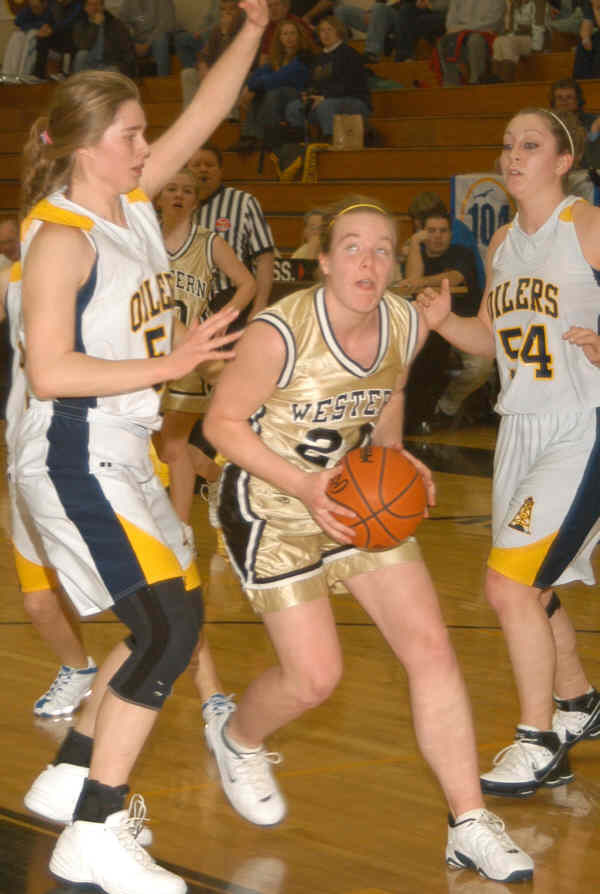 Western 24 Meghan Lynch prepares to shoot the ball as Mount Pleasant Oilers try to block it.
(MyBayCity Photo by John Keuvelaar)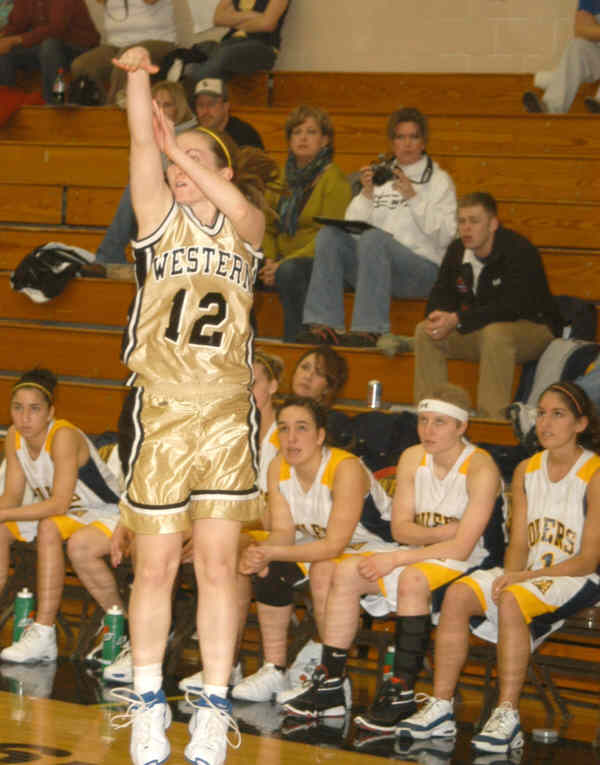 12 Jessica Malkin of Western pull off a perfect jump shot from the corner.
(MyBayCity Photo by John Keuvelaar)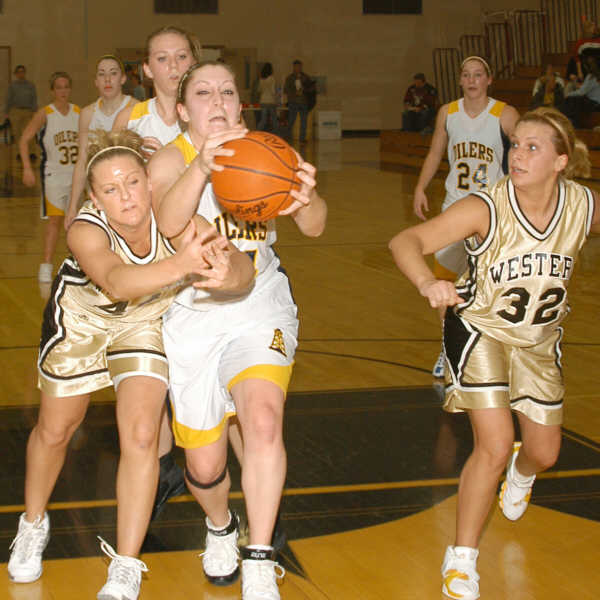 Western 40 Meagan Reder tries to grab the ball from Oilers 54 Samantha Armstrong
(MyBayCity Photo by John Keuvelaar)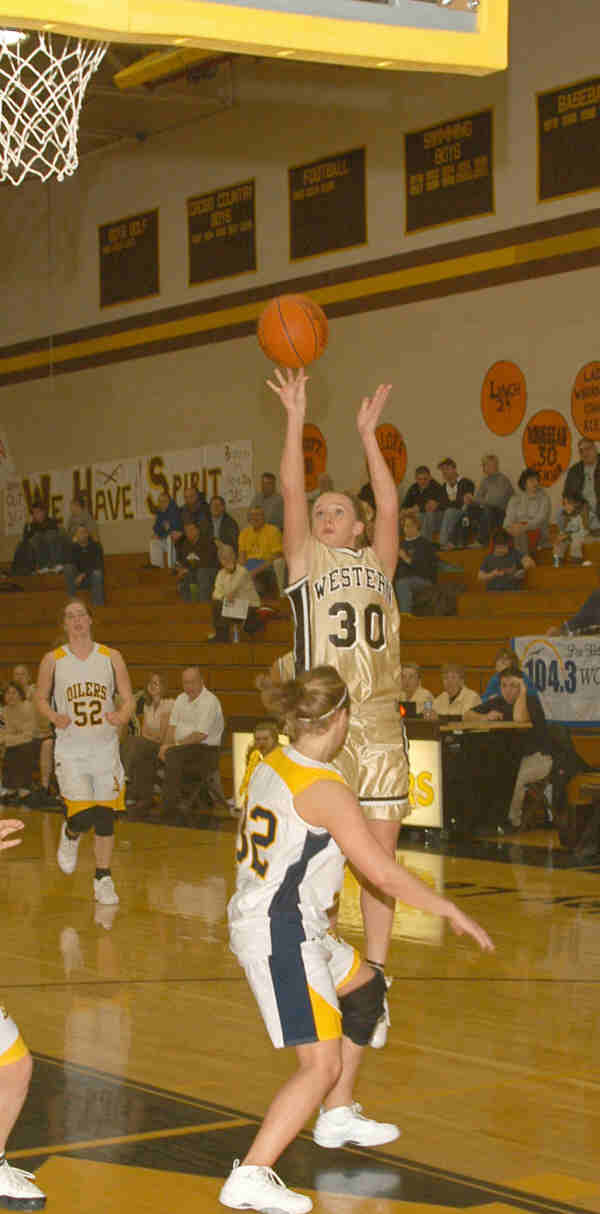 54 Courtney Rousseau launches the ball from above.
(MyBayCity Photo by John Keuvelaar)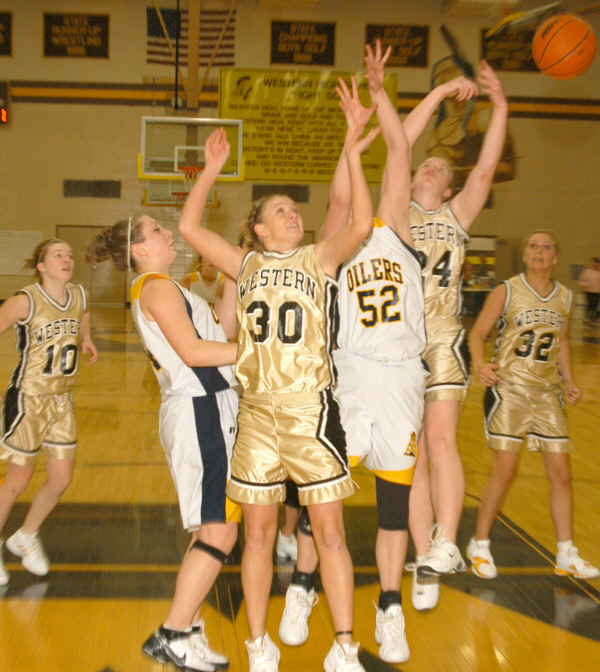 Arms fly as both Western and Mount Pleasant teams try to regain the air bound ball..
(MyBayCity Photo by John Keuvelaar)
---
--- Advertisements ---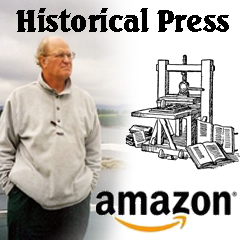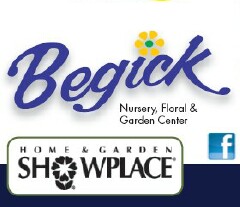 ---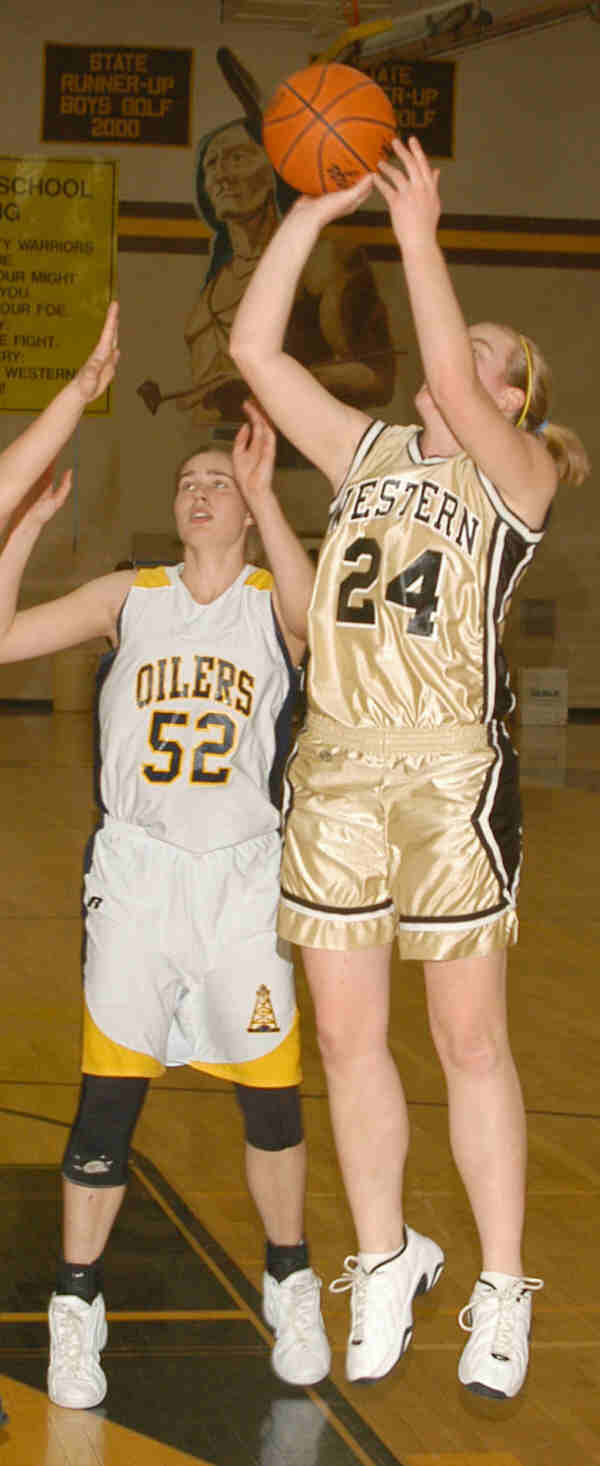 Meghan Lynch of Western goes for a jumper while being covered by oiler defense.
(MyBayCity Photo by John Keuvelaar)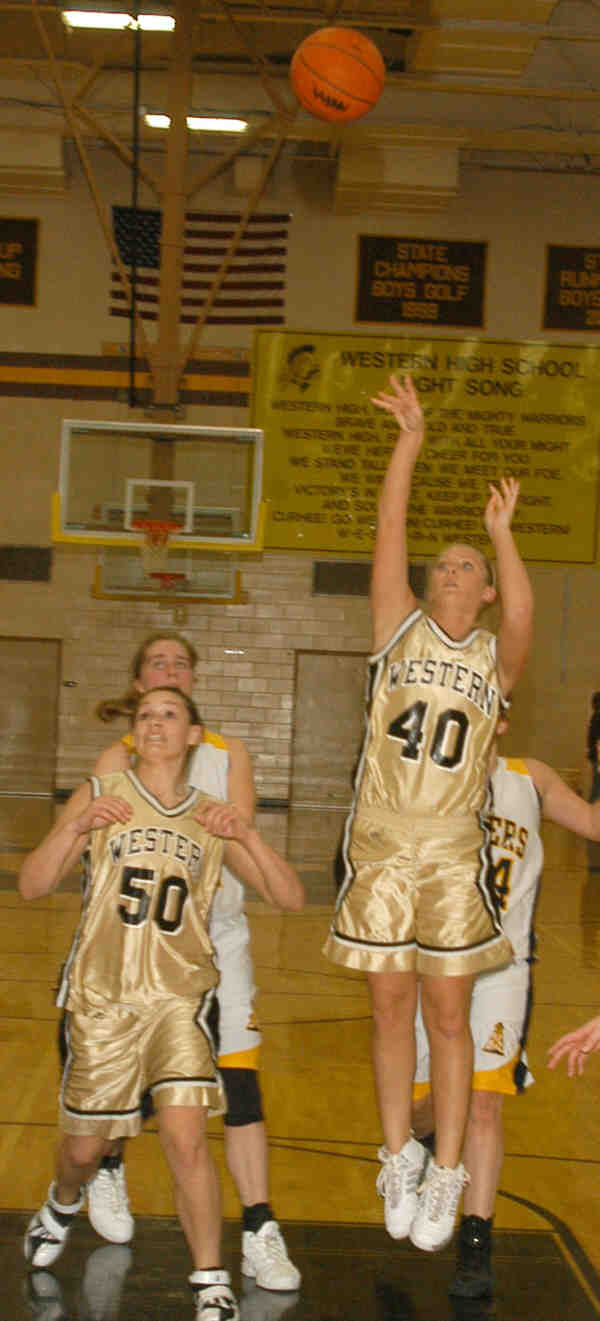 Meagan Reder launches the ball at the basket.
(MyBayCity Photo by John Keuvelaar)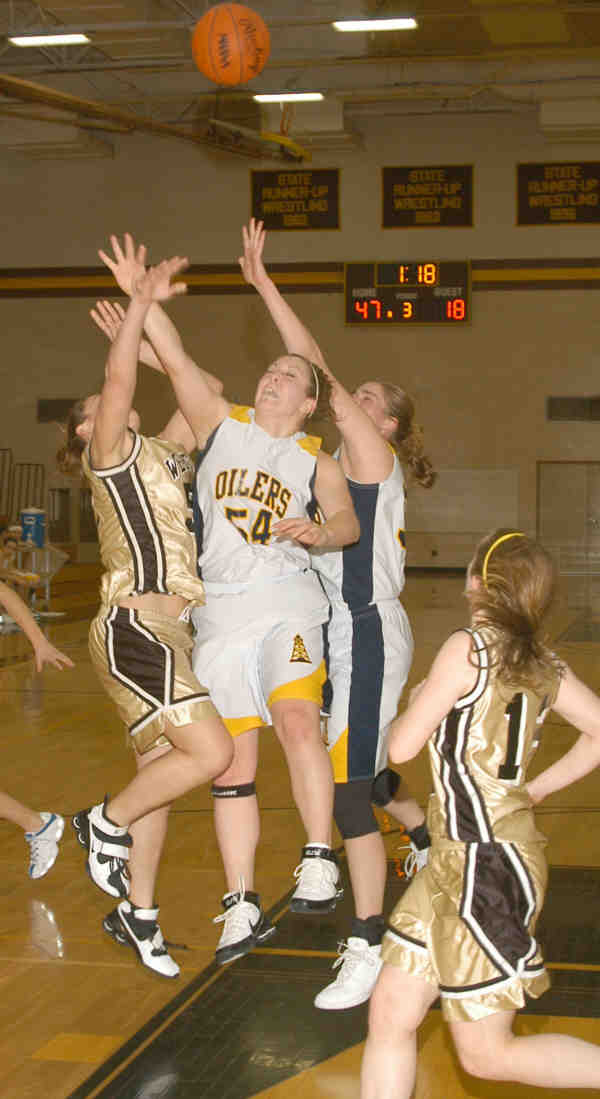 Westerns Sara Kernstock gives it her all in her shot as she gets swarmed by Oilers just seconds afterwards.
(MyBayCity Photo by John Keuvelaar)
---
---

Kevin Leahy




Kevin Leahy has an interest in all sports-related activities at the Local, State and National levels. Looking for the inside story? Leahy's got it . . .

More from Kevin Leahy
---
Send This Story to a Friend!
Letter to the editor
Link to this Story
Printer-Friendly Story View
---
--- Advertisments ---