Born in No Man's Land, Charlton Heston Had Michigan Ties, Loved Bay City
Just Call Me Chuck, Heston Said at Delta College Appearance in 1982
April 13, 2008 Leave a Comment
By: Dave Rogers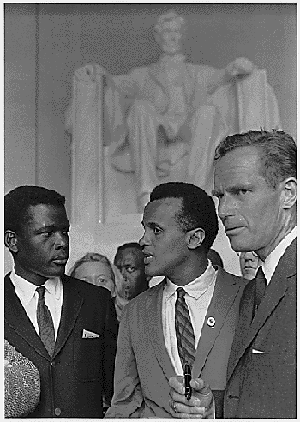 Charlton Heston with Sidney Poitier and Harry Belafonte at 1963 civil rights march in Washington, D.C.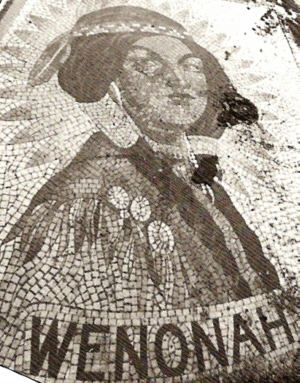 Heston sent a check for $100 to help the campaign to preserve the Princess Wenonah Mosaic.
(EDITOR'S NOTE: Actor Charlton Heston died April 5 at age 84 in his Beverly Hills home following a battle with Alzheimer's disease. About 300 persons including Nancy Reagan and Gov. Arnold Schwarzenegger attended the funeral service at the Episcopal Parish of St. Matthews in Pacific Palisades.
Holly Heston Rochell recited Shakespeare her father loved and her brother, Fraser Clarke Heston, told of his father's love for tennis, which he played every Sunday with friends.
Heston talked about his father's devotion to America and said he "loved his country." Heston had been cremated, and a small family ceremony was held before the public funeral.
Charlton Heston's childhood memories of visiting Bay City helped save an icon, the Princess Wenonah mosaic.
After the Wenonah Hotel fire Dec. 10, 1977, the mosaic of Princess Wenonah that graced the lobby languished, mud spattered, in a farm field.
A photo and news story about the mosaic found its way to Hollywood and to Charlton Heston, at that time a 54-year-old actor at the peak of screen fame.
Heston sent a check for $100 to preserve the Princess. In a letter the actor related how he had fond memories of seeing the mosaic of Princess Wenonah on many trips from his home in St. Helen.
The check with the great man's signature ended up on my desk at The Bay City Times and was turned over to the business manager for safekeeping. The check had been returned because there was no official organization to receive the money. Of course the check probably would be worth far more than $100 today because it had the signature of a film legend.
The idea of a fund drive never materialized, although his interest helped spark an effort to save the mosaic and it ended up in City Hall where it was on display for many years. Later it was given to the Bay County Historical Museum where it resides today.
In 1982 Heston gave a lecture at Delta College and had dinner with college officials before returning to Hollywood. Hal Arman, then assistant to Delta President Donald J. Carlyon, recalled that Heston said "just call me Chuck" and that college officials found the actor humble and given to self-deprecating humor.
Carlyon recalled his wife, Betty, riding to and from a dinner at Bay Valley in a limo with Heston, and enjoying chatting with the film celebrity.
In his lecture, that was offered free by the college, Heston talked about his acting career, observing that all his leading ladies had bad breath because filming went on for 10-12 hour stretches without break, giving them no chance to freshen up.
As he departed for the airport to return to Hollywood, Heston graciously signed autographs and favored an adventuresome female fan with a kiss on the cheek. "If you're ever out in California, stop in and I'll buy dinner," Arman recalled Heston saying.
Heston was born John Charles Carter in No Man's Land, an unincorporated area between Evanston and Wilmette, Illinois in 1923. The son of Lilla Charlton and Russell Whitford Carter, a lumber mill operator and real estate developer from St. Helen, Michigan, Heston was of English and Scottish descent and claimed membership in the Fraser clan.
Heston, (at right, serving in a tennis match,) once played in a charity fundraising event in Bloomfield Hills in the 1980s.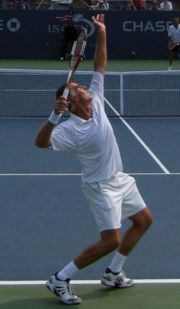 Heston spent much of his boyhood growing up in St. Helen and the Houghton Lake area, trimming Christmas trees on the extensive family forest property. It was during this period that he came to Bay City, staying in the Wenonah Hotel with his father who was here on business. His mother and Russell Carter divorced when the boy was 10. She married Chester Heston, a factory superintendent, and the family lived in Wilmette, Illinois, a northern suburb of Chicago, where Heston attended the elite New Trier High School.
New Trier's active drama program attracted young Heston and his first acting was in the silent 16 mm amateur film adaptation of Peer Gynt by classmate David Bradley, who later was a film maker. Heston's acting roles in the Winnetka Community Theatre earned Heston a drama scholarship to Northwestern University.
Heston served in the U.S. Army Air Force in 1944-45 as a B-25 radio operator and gunner stationed in the Alaskan Aleutian Islands with the Eleventh Air Force, rising to the rank of Staff Sergeant. Heston married Northwestern student Lydia Marie Clarke in 1944.
After the war Heston and his wife worked as artists' models in New York City. Their first experience in the theater came by managing a playhouse in Asheville, North Carolina in 1947.
In 1948 Heston was offered a supporting role in a Broadway revival of Shakespeare's Antony and Cleopatra, starring Katharine Cornell. Film producer Hal B. Wallis of Casablanca saw Heston in a 1950 television production of Wuthering Heights and offered him a contract. Heston replied, "Well, maybe just for one film to see what it's like."
On Broadway he played the title role in Macbeth, Sir Thomas More in A Man For All Seasons, and Mark Antony in Julius Caesar and Antony and Cleopatra.
His first professional movie was Dark City, a film noir, in 1950. Heston hit the big time when Cecil B. DeMille cast him as a circus manager in The Greatest Show on Earth that won the Academy Award as the best picture of 1952. His most iconic role was as Moses in The Ten Commandments, cast by DeMille who thought the athletic, chisel-faced Heston looked like the Moses depicted in Michelangelo's statue.
The 1959 title role in Ben-Hur, turned down by Marlon Brando, Burt Lancaster and Rock Hudson, won Heston the Academy Award for Best Actor, one of 11 Oscars won by the film.
Heston had leading roles in epic films El Cid (1961), 55 Days at Peking (1963), as Michelangelo in The Agony and the Ecstasy (1965), and Khartoum (1966).
While he was a film star, Heston would visit Bay City and come to the newspaper to see his cousin, Marshall Carter, the advertising manager. His extensive Roscommon County property was recently acquired by the State of Michigan for land conservation.
Heston was a supporter of civil rights and marched with Martin Luther King Jr. at his "I Have A Dream" march Washington in 1963 although he later opposed affirmative action. Although he was a supporter of gun control in 1968, he also backed conservative causes and candidates and headed the National Rifle Association for five years. In 2003 he received the Presidential Medal of Freedom from George W. Bush.
In 2002, Heston became aware of the onset of symptoms of Alzheimer's disease and announced his retirement from public life with a letter, the text of which follows:
A Personal Message: August 9, 2002
Los Angeles
My Dear Friends, Colleagues and Fans:
My physicians have recently told me I may have a neurological disorder whose symptoms are consistent with Alzheimer's disease. So... I wanted to prepare a few words for you now, because when the time comes, I may not be able to.
I've lived my whole life on the stage and screen before you. I've found purpose and meaning in your response. For an actor there's no greater loss than the loss of his audience. I can part the Red Sea, but I can't part with you, which is why I won't exclude you from this stage in my life.
For now, I'm not changing anything. I'll insist on work when I can; the doctors will insist on rest when I must. If you see a little less spring in my step, if your name fails to leap to my lips, you'll know why. And if I tell you a funny story for the second time, please laugh anyway.
I'm neither giving up nor giving in. I believe I'm still the fighter that Dr. King and JFK and Ronald Reagan knew, but it's a fight I must someday call a draw. I must reconcile courage and surrender in equal measure. Please feel no sympathy for me. I don't. I just may be a little less accessible to you, despite my wishes.
I also want you to know that I'm grateful beyond measure. My life has been blessed with good fortune. I'm grateful that I was born in America, that cradle of freedom and opportunity, where a kid from the Michigan Northwoods can work hard and make something of his life. I'm grateful for the gift of the greatest words ever written, that let me share with you the infinite scope of the human experience. As an actor, I'm thankful that I've lived not one life, but many.
Above all, I'm proud of my family... my wife Lydia, the queen of my heart, my children, Fraser and Holly, and my beloved grandchildren, Jack, Ridley and Charlie. They're my biggest fans, my toughest critics and my proudest achievement. Through them, I can touch immortality.
Finally, I'm confident about the future of America. I believe in you. I know that the future of our country, our culture and our children is in good hands. I know you will continue to meet adversity with strength and resilience, as our ancestors did, and come through with flying colors - the ones on Old Glory.
William Shakespeare, at the end of his career, wrote his farewell through the words of Prospero, in The Tempest. It ends like this:
Be cheerful, sir. Our revels now are ended. These our actors,
As I foretold you, were all spirits and
Are melted into air, into thin air:
And, like the baseless fabric of this vision,
The cloud-capp'd towers, the gorgeous palaces,
The solemn temples, the great globe itself,
Yea all which it inherit, shall dissolve
And, like this insubstantial pageant faded,
Leave not a rack behind. We are such stuff
As dreams are made on, and our little life
Is rounded with a sleep.
Thank you, and God bless you, everyone.
Sincerely,
Charlton Heston
###
---
---

Dave Rogers




Dave Rogers is a former editorial writer for the Bay City Times and a widely read,
respected journalist/writer in and around Bay City.
(Contact Dave Via Email at carraroe@aol.com)

More from Dave Rogers
---
Send This Story to a Friend!
Letter to the editor
Link to this Story
Printer-Friendly Story View
---
--- Advertisments ---