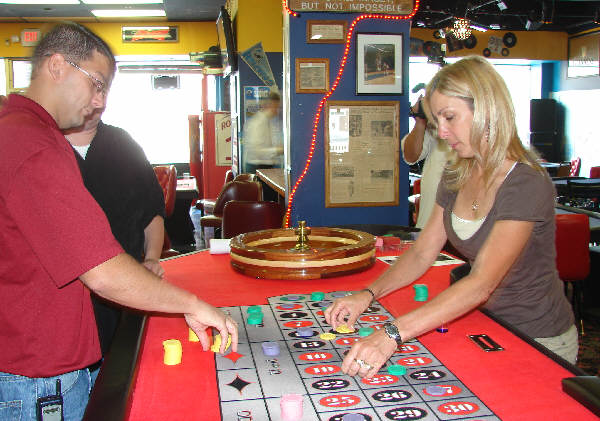 Wendy Dore (Right) Deals Roulette at the Big House During Press Conference
---
Non-Profit Casino to Open Thursday at Big House Sports Bar
Art Dore Has Sanction from State Lottery Commission to Run Gaming Here
LET THE GAMES BEGIN!!!
Non-profit organizations are lining up to benefit from a new gambling scheme organized by entrepreneur Art Dore at his Big House Sports Bar on Midland Street.
"You're probably going to see a little bit of gambling go on here with the proceeds to local charities," said Mr. Dore at a news conference Tuesday morning at the gaming site.
He indicated all the bases have been touched with the State Lottery Commission and all requirements have been met for legal gaming operations.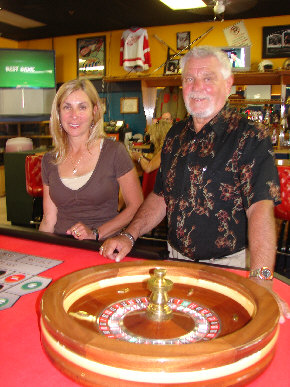 (Pictured Right) Wendy Dore, Art Dore at the Roulette table.
(Photo by Julie Munger)
In fact the Bay City Fireworks Festival will open the "casino" at 5 p.m. Thursday and will be the beneficiary of half the profits until Monday when the Boys and Girls Club of Bay County takes over for four days.
Dealer and pit boss training starts tonight, according to the promoters. Dealers provided by the Big House are paid $50 per night by the charity, total cost estimated at $600-$700 per night. The pit boss provided by the Big House receives $100 per night from the charity.
All the money is handled by officials of the sponsoring charity and the gross profits are split 50-50 with the Big House for the use of Big House facilities and equipment after all expenses (e.g., worker pay, advertising, etc.) are paid.
On hand for the news conference were Mayor Charles Brunner, Commissioner Chris Shannon, State Rep. Jeff Mayes and State Sen. James A. Barcia.
Steve Coppler, manager of the operation, said non-profits that get a "Millionaire's Party" license from the Michigan Lottery Charitable Gaming Division can apply to Dore to be a partner in the operations. He estimated that a charity may make up to $3,000 to $5,000 over four days the license is valid.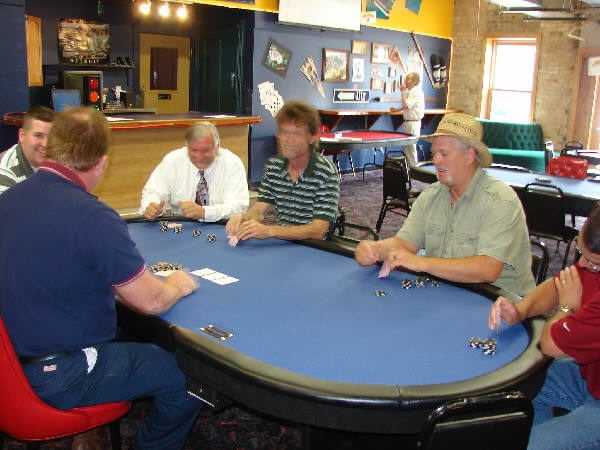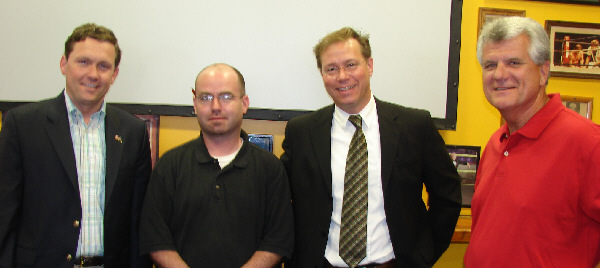 (Pictured Above) State Rep. Jeff Mayes, Manager of Big House James McClure, City Commissioner Chris Shannon, and Bay City Mayor Charles Brunner.
(Photos by Julie Munger)
(Pictured Below)
Bill LaMere and State Sen. James A. Barcia.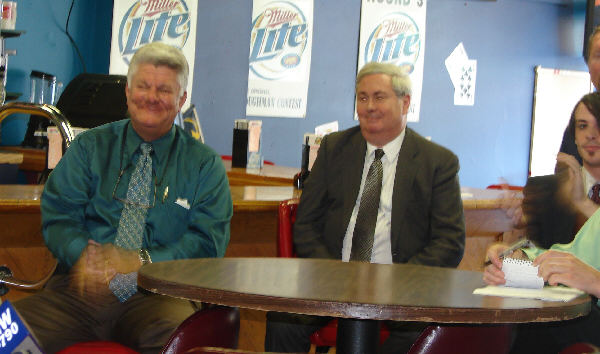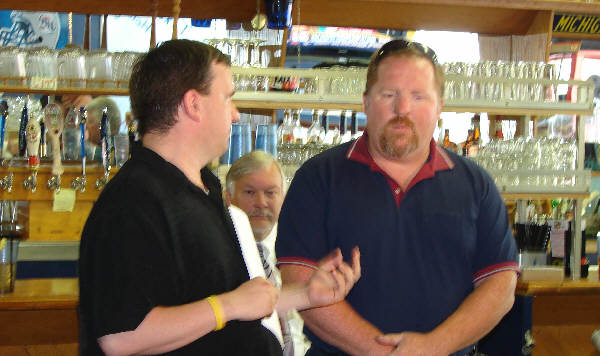 (Above L/R) Coppler and Clark.
Doug Clark, chairman of the Bay City Fireworks Festival Committee, who will be temporary pit boss at the Big House, said any Las Vegas style game can be offered. These include: poker, roulette, black jack and dice games. (Photo by Julie Munger)
Advertising on the Big House bar windows proclaim: "Texas Hold 'Em & 5-Car Stud Tournaments, 4-Card Poker (Jacks or better), Roulette, Lo Ball, Casino Games, Blackjack, Keno, RAZZ, Omaha, High Low, Tournaments Nightly, Open 7 Days.
Already attached to the Big House sign is the word "Poker."
"This meets a huge need and gives people a chance to play every night," said Clark. "And, the charities can use their Millionaire's Night license the legal limit of four nights in a row instead of just one night that is common now."
He noted there are dozens of such card rooms throughout the state. In fact, the idea for the local operation came from Lori Branshaw, who runs bingos for the Boys and Girls Club on Lafayette Avenue. Ms. Branshaw has been working with Flint game rooms to benefit the local club for some time.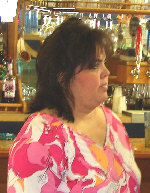 (Pictured Left) Lori Branshaw
"Lori brought the idea to me and I took it to my father and here we are today," said Wendy Dore, an executive of Dore Enterprises, who is a board member of the Boys and Girls Club here.
The Boys and Girls Club utilized its non-profit designation and Millionaire's Night license at the Flint Poker Room, she said.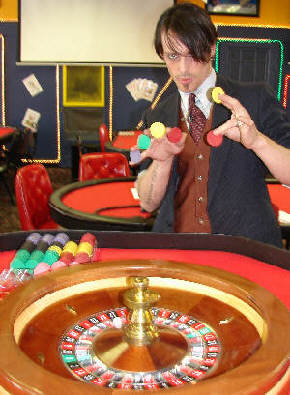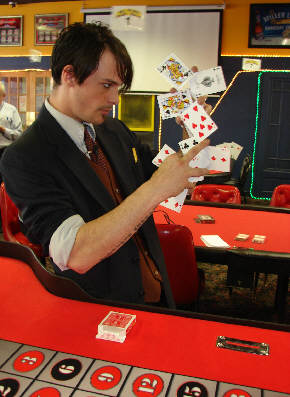 (Above) On hand for the Big House press conference event was Illusionist Jason Jewell who showed his talents with cards.
(Photos by Julie Munger)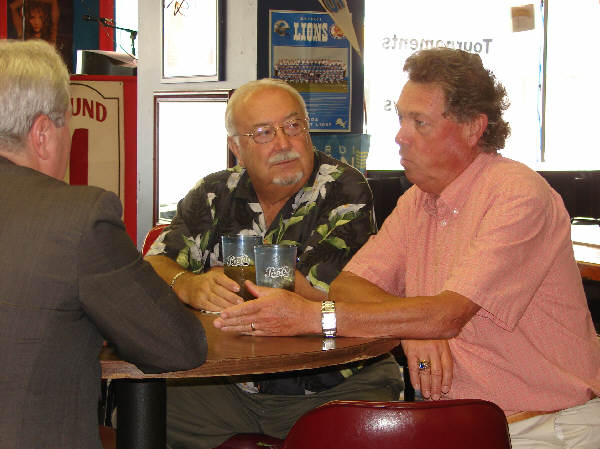 (Pictured Above)
Rex Gibson (Left and Bob Darbee chat with State Senator Jim Barcia (Far Left).
"It's going to be fun and there will be a festive atmosphere each day," said Coppler, urging charities wishing to be involved to call him at 684-8410.
The Big House will provide insurance, gaming tables, gaming chips, all dealers, waitresses, security, and maintenance.
The charity applies for and receives a Millionaire Party license in four-day blocs (four four-day licenses are available each year to a charity); two licenses for eight consecutive days are preferred; the charity provides 2-3 members to work each night selling casino chips and handling paperwork.
The Big House Poker Room will be operated Mondays - Thursdays 5 p.m. - midnight; Fridays 5 p.m. - 2 a.m.; Saturdays and Sundays, 2 p.m. - 2 a.m.
The Big House will continue to operate a full service bar and restaurant.###
---
---

Dave Rogers




Dave Rogers is a former editorial writer for the Bay City Times and a widely read,
respected journalist/writer in and around Bay City.
(Contact Dave Via Email at carraroe@aol.com)

More from Dave Rogers
---
Send This Story to a Friend!
Letter to the editor
Link to this Story
Printer-Friendly Story View
---
--- Advertisments ---