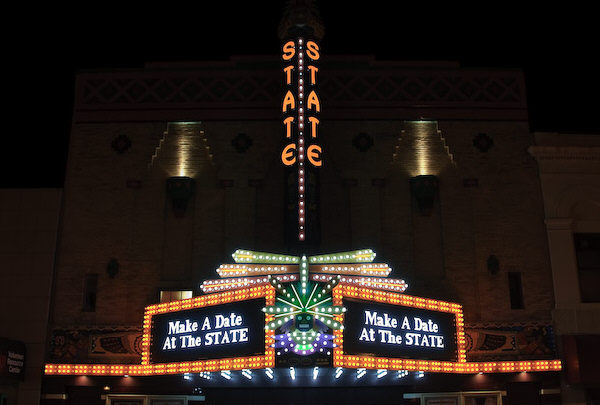 Oscar Winning Piaf Biopic to Show at State Theatre in Bay City
La Vie En Rose won Two Academy Awards® Including Best Actress
October 2, 2008 Leave a Comment
By: Mike Bacigalupo - State Theatre
Bay Musical Arts, Inc. will present the 2007 Oscar-winning film La Vie En Rose at the State Theatre in Bay City, Michigan on Monday, October 6, 2008 at 7PM. All tickets are $5.00.
The movie is un-chronological look at the life of the Little Sparrow, Edith Piaf (1915-1963). Her mother is an alcoholic street singer, her father a circus performer, her paternal grandmother a madam. During childhood she lives with each of them. At 20, she's a street singer discovered by a club owner who's soon murdered, coached by a musician who brings her to concert halls, and then quickly famous.
Constant companions are alcohol and heartache. The tragedies of her love affair with Marcel Cerdan and the death of her only child belie the words of one of her signature songs, "Non, je ne regrette rien." The back and forth nature of the narrative suggests the patterns of memory and association.
Even if one is not particularly interested in Edith Piaf, the film is worth seeing just to watch actress Marion Cotillard in the title role.
Critical praise has been lavish. Rex Reed says, "The great Marion Cotillard, in one of the most devastating, inspired and breathtaking performances in film history, does not imitate Piaf . . . she channels her eyes, body language, energy, madness, tragedy and outrageous humor in a chemical and emotional transformation that is electrifying." The New York Times says, "(Her) feral portrait of the French singer . . . as a captive wild animal hurling herself at the bars of her cage is the most astonishing immersion of one performer into the body and should of another I've ever encountered in a film."
And Peter Travers, in Rolling Stone, says, "For her stirring, soul-deep performance as tortured French chanteuse Edith Piaf . . . Cotillard goes to the front of the line for every Best Actress award out there." Cotillard did, in fact receive the Best Actress Academy Award in 2007, in addition to Best Actress awards from the Golden Globe and the British Academy of Film and Television Arts.
Bay Musical Arts is presenting this film as in introduction to its season opening concert entitled Gay Paree! The concerts will be given on Saturday, October 18 at 8pm and Sunday, October 19 at 2pm in the State Theatre. The program presents popular French music from the opera and ballet traditions as well as familiar songs from the French music halls including several selections made famous by Edith Piaf.
Soloists for the concert are Kristin Stewart, who will sing several French pops songs as well as the "Jewel Song" from Faust, and Julien Labro, French virtuoso of the musette accordion.
Movie patrons will be treated to a brief video previewing The Bijou Orchestra's coming season. Tickets for the film are $5, but admission is free for all Bijou Orchestra subscribers who have paid for their 2008-09 subscription. Movie-goers will have an opportunity to purchase Bijou subscriptions that evening, and will also have a chance to purchase tickets for Gay Paree! at a discount.
Movie and concert ticket information is available at www.bijouorchestra.org or by calling the Bijou Box Office at (989) 892-4200. Tickets will also be available at the door.
The orchestra is supported in part by grants from the National Endowment for the Arts, the Michigan Council for the Arts and Cultural Affairs and the Bay Area Community Foundation. Major corporate sponsors include, Dow Corning, Bay Regional Medical Center, OmniSource and Thelen Auto Group.
---
---
---
Send This Story to a Friend!
Letter to the editor
Link to this Story
Printer-Friendly Story View
---
--- Advertisments ---