Western Now 6-1 After 28-7 Win Over Arthur Hill
Bay City Western rolling in the Saginaw Valley League contest
October 12, 2008 Leave a Comment
By: Tom Baird
Bay City Western pulled away from Saginaw Arthur Hill in the second half for a 28-7 victory to move a step closer to their goal of a Saginaw Valley League Championship.
In what was expected to be a much closer contest, the Warrior clung to 7-0 halftime lead. Coach Jim Eurich stated "I was very concerned at halftime because we were outplaying them," Eurich said. "Our defense wasn't giving them anything."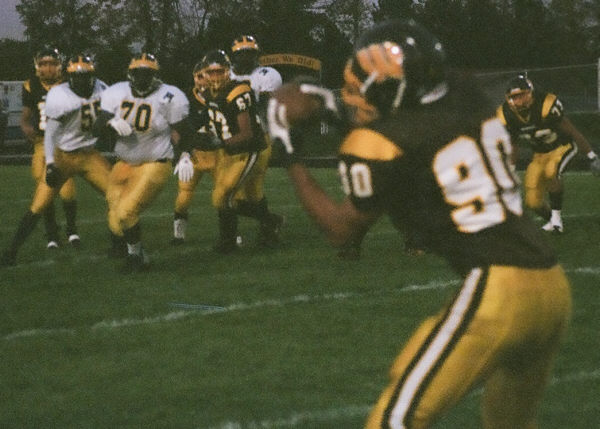 Split End senior Jacob Boileau hauling a 12 yard pass from Bay City Western quarterback Matt Grew in the first quarter.
(MyBayCity Photo by Tom Baird)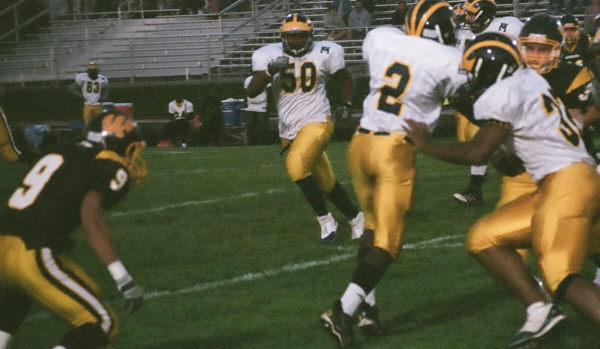 Bay City Western cornerback #9 senior Dan Alba closing in to make tackle on Omari Humes from Saginaw Arthur Hill
(MyBayCity Photo by Tom Baird)
With two of its starting running backs on the shelf with injuries, the Warriors found a new hero in Zach Lang who got the Warriors on the board in the second quarter. After an Arthur Hill turnover deep in their own territory, Lang bulled his way in from 3 yards out with 9:18 to play in the half.
The high powered Lumberjack offense was held in check through out the evening by the Western defense that is getting stronger each game.
Starting quarterback Matt Grew, who has been banged up most of the season, gave another gritty performance in leading the Warriors to their 6-1 record. Head Coach Jim Eurich who was facing his former school (where he lead them to a 1991 Class A State Championship) said that "Matt was hurting out their tonight."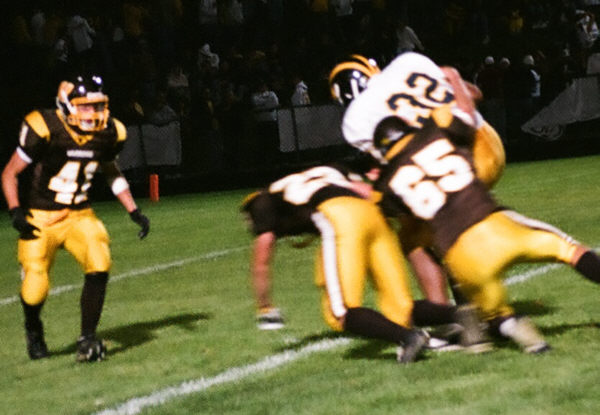 Saginaw Arthur Hill running back Omari Humes being brought down by Bay City Western senior #23 Scott Osentoski and #65 junior Alex McQuarter at the 3 yard line in the 3rd quarter.
(MyBayCity Photo by Tom Baird)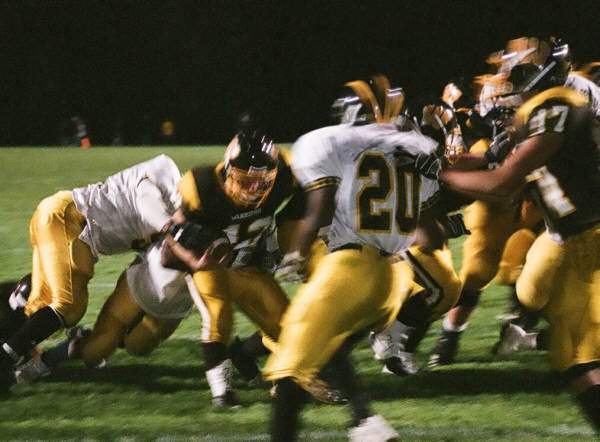 Western Warrior #42 Zac Lang plows into the endzone from 1 yard out with 7:25 left in the 3rd quarter.
(MyBayCity Photo by Tom Baird)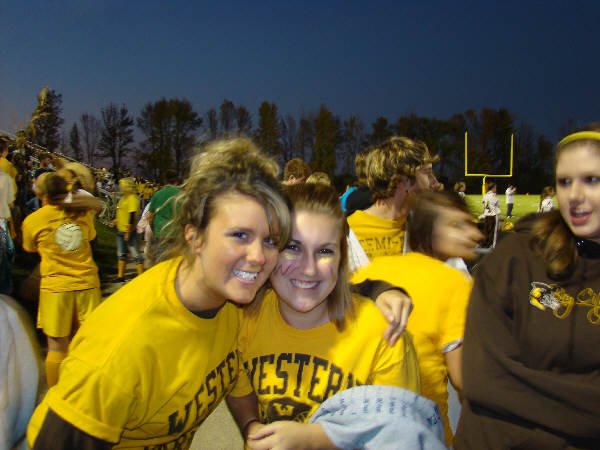 Alyssa Uhlman and her "posse" pose for MyBayCity camera
(MyBayCity Photo)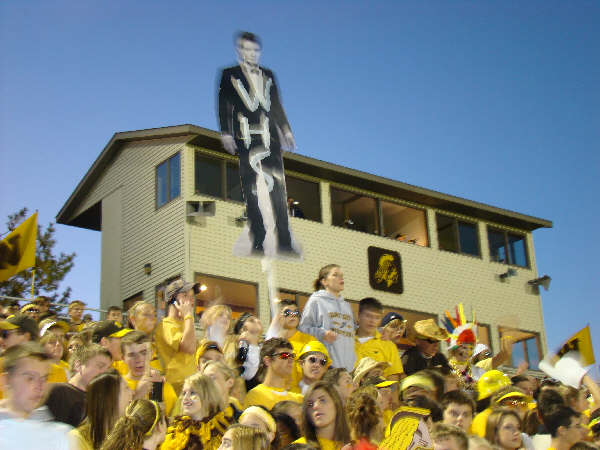 The Warriors were our in full force for this Homecoming game!
(MyBayCity Photo)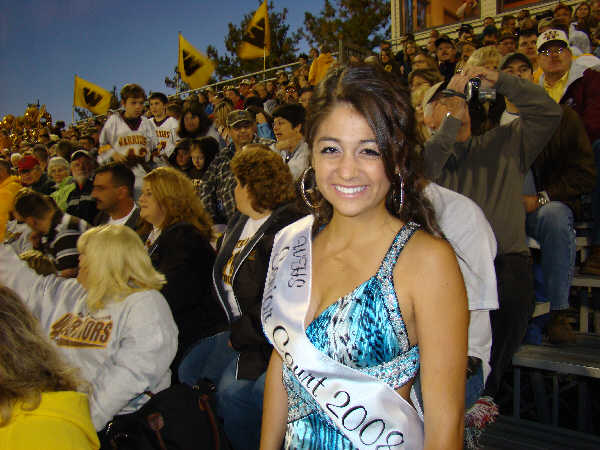 Queens Court beauty queens were showing off their pearly whites throughout the Homecoming festivities!
(MyBayCity Photo)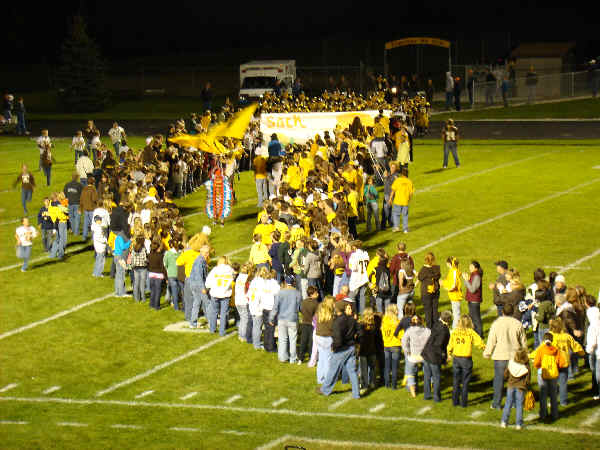 Fans welcomed the Warriors back onto the field after the half time events with pride and honor
(MyBayCity Photo)

The Warriors warmed up to face off in the second half for "round two"!
(MyBayCity Photo)
That is where Zac Lang stepped in to lead the Warriors with 37 rushing attempts for a total of 127 yards and two touchdowns.
The Homecoming victory put Western in a strong position to host a first round game in the upcoming MHSAA playoffs. That honor was secured tonight with a victory.
Saginaw Arthur Hill Head Coach Fred Townsend said right after the loss that "Bay City Western is a solid team." "But I feel that we're a playoff team also," Townsend said. "We will need victories in our next two games," Townsend said. The Warriors bottled up Arthur Hill's Jerrell Wilson all night long. The Saginaw Valley's leading rusher from a year ago was held to 14 yards on 14 carries. Quarterback Mike Schaaf was also held in check by the Warrior defense as he completed only 10 of 24 passes for 174 yards.
Good field position during the first half was the primary reason for the Lang touchdown.
But it was the the Warriors who moved the ball effectively in the second half. Matt Grew marched the ball down the field and hit Scott Osentoski with a 10 yard touchdown. Osentoski then scored in the waning seconds of the contest with a 24 yard run to make the final score 28-7.
Coach Eurich was still not satisfied with his offensive line play. "That is something we will work on in the next week at practice."
The Warriors who achieved one of their goals by making the playoffs still have their eye set on the bigger goal of winning the Saginaw Valley Championship. The Warriors next travel to Flint Northern before finishing their season at home versus an improving Bay City Central.
All in all it was good evening out at the Cornfield for the Bay City Western Warriors.
---
---
---
Send This Story to a Friend!
Letter to the editor
Link to this Story
Printer-Friendly Story View
---
--- Advertisments ---