Port of Bay City Could Benefit From Tax Cut on Short Sea Shipping
Seaway Administrator Pushes Congress to Adopt Bill Slicing Harbor Levy
December 31, 2008 Leave a Comment
By: Dave Rogers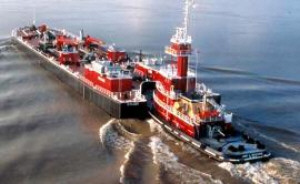 University of Toledo working with business & private sector to identify & alleviate shipping congestion.
Short sea shipping, believed to have potential for the Port of Bay City, would be boosted by elimination of a Harbor Maintenance Tax, (HMT) says the U.S. administrator of the St. Lawrence Seaway.
Traffic through the Port of Bay City has been hampered for several decades by the fact that containerized shipments go through larger ports.
Despite that fact, Bay City is the second busiest port of 32 in Michigan.
Elimination of the tax shippers must pay based on the value of goods imported through ports, "is essential for the promotion of short-sea shipping through the Great Lakes-Seaway system," Collister "Terry" Johnson told the news media recently.
Bills to eliminate the tax have been under consideration in Congress for the past few years but have not advanced.
"We hope the rhetoric heard so much about waterborne transportation assets being cheaper than other modes, helping the environment, taking trucks off the roads and cargo off the rails, will help to remove the HMT and other obstacles to short-sea shipping," Johnson said.
Seaway officials want to attract more shipping between the U.S. and Canada via Great Lakes routes, Mr. Collister indicated. A boost in transshipping from Atlantic seaports to Montreal and through the Seaway to inland ports also is favored.
The HMT is a significant obstacle to increasing shipping, said Johnson.
Another change, Johnson says, would be to the U.S. Jones Act requiring coastal and other short-sea shipping to be operated by ships owned and crewed by Americans.
Similarly, Canada would have to end its 25-percent duty imposed on short-sea ships built outside of Canada.
Potential benefits of short sea shipping include:
* The existing waterway system has the ability to access existing population centers;
* Lower transportation rates to shippers;
* Reduced energy consumption by transportation activities;
* Fewer vehicle emissions, traffic accidents, and related social costs, and less need to build roads and rail facilities;
* Reduced truck driver shortages and shorter operating periods for drivers;
* Improved utilization of waterways with potential for expansion;
* Potential for increased investment and employment in shipbuilding, intermodal transportation services, etc.
The costs associated with setting up new logistics channels, increased time of delivery, and lack of infrastructure are factors discouraging manufacturers from further consideration of short sea shipping.
Some shippers will not even consider the possibility of using short sea shipping, a study has shown, citing automobile manufacturers as highly reluctant to use this mode.
About 90 percent of Great Lakes tonnage moved consists of bulk commodities; the major ones in 2004 were iron ore (24 percent) and grain (21 percent, the St. Lawrence Seaway Management Corporation reports.
Commodities that now move, or have good potential to be moved, by short sea ships on the Great Lakes include aluminum, aggregates, lumber and wood derivatives, metal castings, calcium ammonium nitrates, feed pellets, brine, raw sugar, machine parts, auto parts, containers, and garbage, as well as the traditional Great Lakes bulk cargoes of salt, coke, coal, iron ore, and grain.
Although several cross-lake ferries have been proposed for moving automobiles and trucks, the major short sea shipping market in the Great Lakes today is for bulk commodities.
The Great Lakes offers tremendous and tangible possibilities for Short Sea Shipping in this country, said Johnson in testimony before Congress last year. "It has a wealth of marine assets already in place to facilitate this type of commerce. It also has several established U.S. and Canadian companies and well-financed entrepreneurs who are making sizeable investments in marine transportation. In addition, the region is the location of the greatest international flow of goods anywhere in the world."
Johnson estimates that the Seaway currently operates at only 50-60 percent of its potential capacity where other modes of transport are straining under the weight of growing congestion.
According to the Canadian-American Business Council, Canada and the United States exchange goods worth an average of $1.2 billion per day. Canada buys nearly one-quarter of all U.S. exports of goods and no fewer than 37 U.S. states count Canada as their number one export destination.
The Ambassador Bridge, which links Detroit, Michigan, and Windsor, Ontario, annually carries more cargo by value than the entire U.S. imports received from Japan, our fourth largest trading partner.
The Ambassador Bridge is the world's busiest border crossing, accounting for 26 percent of the total 13.6 million annual commercial crossings between Canada and the United States.
Since the passage of the North American Free Trade Agreement (NAFTA) in 1993, bilateral commerce between our two countries has grown at a 6 percent annual rate and is expected to continue performing at least as well into the future.
Johnson noted there is tremendous congestion at this country's land border-crossing points. "Traffic delays at the Ambassador Bridge of more than two hours during peak traffic periods are common. The congestion statistics for the border bridges in and near Buffalo, N.Y. are equally sobering. The costs associated with this congestion, in terms of lost productivity, wasted fuel, air pollution, and infrastructure degradation are enormous."
The Ontario Chamber of Commerce claims that the annual loss to the U.S. economy as a result of such congestion is $4.1 billion and notes that 73 percent of U.S. exports to Canada moved by truck. More than 37,000 trucks cross our northern border every day, a rate that works out to one truck every 2.5 seconds. With the cost of an idling truck estimated to be $150 per hour, more and more shippers are eager to explore a waterborne solution to a growing surface-congestion problem.
Although the Great Lakes are a vast inland sea with deepwater access to the world markets through the Seaway, the entire Great Lakes region has only one active Short Sea Shipping truck ferry service, the Detroit - Windsor Truck Ferry, which is a niche carrier ferrying hazmat cargo and oversize project cargo.
---
---

Dave Rogers




Dave Rogers is a former editorial writer for the Bay City Times and a widely read,
respected journalist/writer in and around Bay City.
(Contact Dave Via Email at carraroe@aol.com)

More from Dave Rogers
---
Send This Story to a Friend!
Letter to the editor
Link to this Story
Printer-Friendly Story View
---
--- Advertisments ---