GOOD SAMARITANS? Mysterious Helpers in Quebec Restore Faith in Humanity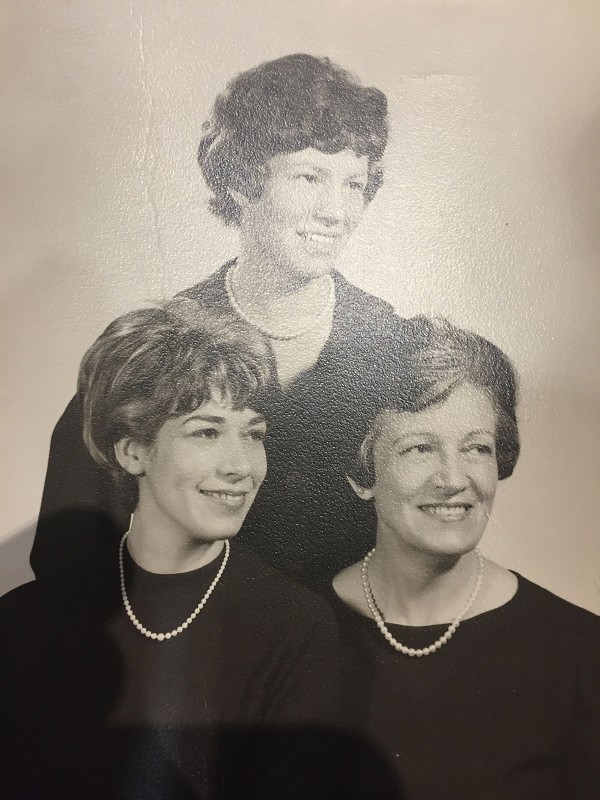 FIRST NATIONS COUSINS: Lise LaFramboise, left; her mother Lucette Bastien LaFramboise, right; and JoAnn LaFramboise Frechette, top.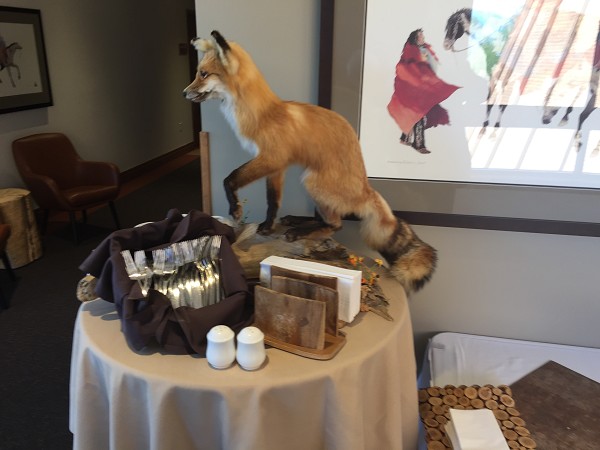 Stuffed fox presides haughtily over second floor hallway at the Wendake Hotel of the Huron Nation, Quebec, Canada.
It was very hot that day. I don't know, 80-85 degrees.
I was in Quebec, a province of Canada that Michigan once was a part of -- when the Brits ruled North America. (1763 until the revolution, 1776-1781.) Thank God we won! No offense to the Brits, of course, but as soon as we get this country straightened out we'll all feel better.)
By the Way, a friend of mine among the History Buffs who spend so much time defining our heritage, bemusedly opines: " I was just sitting here after reading to day's paper and wondering, if we wrote a conciliatory note to Queen Elizabeth saying we are sorry about that misunderstanding in 1775 and regret throwing all that good tea in Boston Harbor; would she consider recolonizing some of us?"
But I digress. Back to Quebec. Just arriving to attend the funeral of one of my last remaining LaFramboise first cousins, Lise, a member of the Huron tribe who have lived there since my uncle Paul left Notre Dame in 1933 and married a full-blooded Huron woman, Lucette, a member of the Bastien family.
The Huron have established an amazing reservation at Loretteville with a resort hotel called the Wendake. The hotel sits on the rushing St. Charles River, a joy to hear and view morning and night. Stuffed animals and skins like those of actual wolves decorate the entire hotel. Indian music plays everywhere and seemingly always.
However, my ecstasy at being in the middle of the Canadian woods, returning to my family's French-Canadian and Indian roots, was soon dissolved. I was distressed to find I had forgotten my pills in Bay City! Panic was setting in. Walking the mile to the pharmacy, at the reservation shopping area, I was really dragging because of the heat. Seemed like two, maybe three miles.
The pharmacist was a generous soul, Christian Roby by name -- I'll never forget him. "Oh, yes, we get these kinds of requests all the time; people often forget their pills," he observed with a kindly smile.)
He gave me enough pills to last me the remaining three days of my trip.
"Do you have taxicabs here? Would you please call one for me? I pleaded to a cashier. "Sure," she said, picking up the phone.
Going outside, eager to get back to the hotel, I waved at the first driver I saw. Although the car had no taxi sign, he motioned me to get in. At the hotel, I asked "how much" He answered, "nothing," waving off my proffer of payment.
Thanking him profusely, while shaking my head in disbelief, I went inside, took my pills and regrouped, thanking God for the Good Samaritan who appeared out of nowhere to cart me back to the hotel without charge.
Returning to the pharmacy the next day for some other necessities, I said to the clerk: "Thank you for sending that man in the car -- I assume it was your husband, to pick me up yesterday." She demurred: "No, that was not my husband, I have no idea who it was. There are people around who just do that -- help other people."
Huh?
The idea seemed incredulous. People, who go around just helping people; with no financial motive? Father Flanagan and Mother Teresa on the loose?
Good Samaritan laws take their name from a parable found in the Bible, attributed to Jesus, commonly referred to as the Parable of the Good Samaritan which is contained in Luke 10:25-37. It recounts the aid given by a traveler from the area known as Samaria to another traveler of a conflicting religious and ethnic background who had been beaten and robbed by bandits.
Yup, that's right. I have since found this kind of behavior actually is the law in Quebec.
"Quebec embodies a positive duty in legislation that you must come to the aid of anyone in peril:
"Every human being whose life is in peril has a right to assistance.
"Every person must come to the aid of anyone whose life is in peril, either personally or calling for aid, by giving him the necessary and immediate physical assistance, unless it involves danger to himself or a third person, or he has another valid reason."
Only in Quebec does the law protect the Good Samaritan from liability for any damage or harm that may come from their philanthropic gesture.
And only in Quebec does a person have a general duty to respond, as detailed in the Quebec Charter of Human Rights and Freedoms.
Well, whether or not I was in peril is an unanswered question. Who knows? The heat might have gotten to me and I may have keeled over right there on the Huron reservation. But the driver who was my savior had no way of knowing that. Maybe he was out of people in real peril and I was the next best choice?
Maybe he sensed this old guy looks like he needs help.
Whatever. God bless him for what he did, and God bless Quebec for the Good Samaritan law. What with all the partisan nastiness, the 93 gun deaths a day, the lack of focus on positive goals for the country, we need to consider that kind of policy here in the U.S., don't you think?

###

---
---

Dave Rogers




Dave Rogers is a former editorial writer for the Bay City Times and a widely read,
respected journalist/writer in and around Bay City.
(Contact Dave Via Email at carraroe@aol.com)

More from Dave Rogers
---
Send This Story to a Friend!
Letter to the editor
Link to this Story
Printer-Friendly Story View
---
--- Advertisments ---